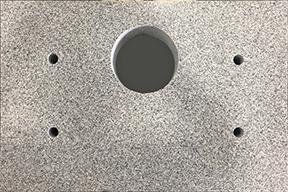 The granite surround is polished on the top, unpolished on the bottom and has rock sides.
Additional Product Information
We will email you a digital rendering for your review and approval within 2-3 business days.
Price $1,830.00 without liftgate service or $1,950.00 with liftgate service
Provided for sale is a bronze grave marker with vase and a granite base.  Shipping is included.
Matthews Bronze Marker New Horizon Rose Series 24 x 12 with Bronze Vase.  Bronze memorial is finished with Matthews Bronze patented Diamond Shield proprietary finish. Gray Granite Base Surround 28 x 16 x 4 that is polished on the top surface and has rock vertical edges. Bolts are attached to the back of the bronze marker.  The granite base for the bronze marker is drilled with corresponding holes in which the bolts from the bronze marker are inserted.  A washer and a nut are then fastened to the bottom of the bolt on the bottom side of the granite base thus attaching the bronze marker to the granite base.  The vase will ship in a seperate box.  The bronze vase is attached to a grooved area on the bronze marker and the granite vase is drilled with a corresponding hole for when the bronze vase is not in use.
Price includes Name, 4 words of inscription such as BELOVED WIFE MOTHER GRANDMOTHER, dates of birth and passing, 3 standard emblems, set of hardware and shipping to the lower 48 states.
A link to Matthews Bronze Emblems Catalog is here  http://www.matthewsbronze.net/designbook/db2/db2.htm
Type: Emblems (under category)
Then Types something in the Description Box:  For example, type :  dogs
*We recommend not putting any size requirement's, but please be cognoscente of the SPACE for each emblem and the actual SIZE of the emblem
Price DOES NOT include - administering/completing cemetery paperwork, any dealings with the cemetery, foundation layout, foundation construction, cemetery fees, setting, or installation.
We will create a drawing for your review before placing your order and we recommend that you present the drawing to your cemetery for their approval prior to ordering.  Memorial will arrive within 8 - 10 weeks of purchase.  No returns accepted and nothing can be cast on the memorial once drawing is approved.
Matthews bronze 24 x 12 marker with roses, vase and granite for sale | $1,830.00 | Order a Matthews Bronze 24 x 12 marker with roses, vase and granite base.