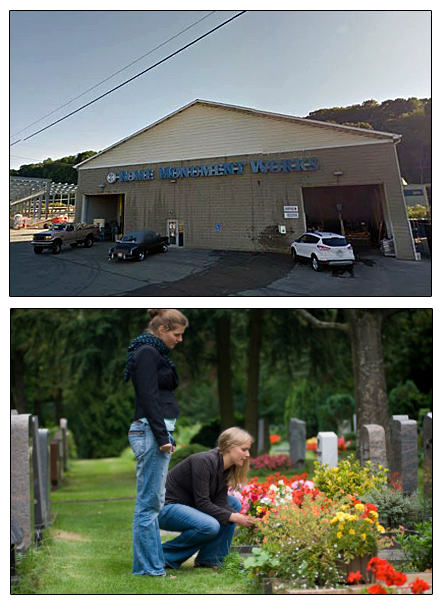 The Rome Monument memorial artisan center and the mausoleum manufacturing and production facility is located at 2080 Pennsylvania Avenue, Monaca, PA 15061.
Rome Monument Artisan Center in Monaca, PA
Rome Monument Artisan Center
The Rome Monument Artisan Center, also know as the Rome Monument Works production and processing facility is pictured to the right. The facility in the Borough of Monaca in Beaver County, PA is located about 30 miles northwest of downtown Pittsburgh. All monument and gravestone sandblasting, carving and lettering is done by certified master carvers in this modern 30,000-square-foot manufacturing space. Our craftsman are experts at stone cutting, sculpting and etching funerary art, including the finest details in stone relief. Headstones, grave markers, granite memorial benches and mausoleums for Pittsburgh cemeteries are manufactured here. This facility is also the monument wholesale distribution center and warehouse  where monuments and grave markers are produced and shipped to monument dealers, cemeteries, funeral homes and end users/end consumers.
Customer Tours
Customers who have commissioned Rome Monument to design and handcraft a monument or memorial are always welcome to view the work in progress at the Artisan Center. To schedule an appointment to tour of the Artisan Center and/or to view your monument or memorial during the production process, call 724-770-0100.
Use The Google Map Below To Get Directions To Our Showroom
To Contact The Artisan Center Please Call 724-770-0100 Or Complete The Form Below