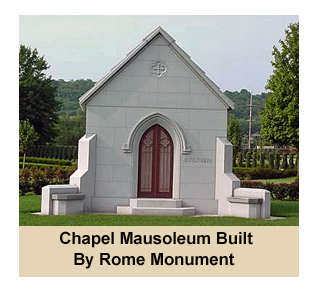 About Our Mausoleum Construction Company
Rome Monument is a mausoleum construction company, mausoleum contractor and mausoleum builder with over 80 years of experience as a design/builder of private family mausoleums for cemeteries and memorial parks.
We design, build and install single crypt mausoleums, two crypt mausoleums, private estate mausoleums, family mausoleums, chapel mausoleums and garden mausoleums for families throughout the United States.
Mausoleum Design Plans and Construction Contracts
We draft mausoleum design plans using CAD software and present these drawings and renderings to our clients for approval before beginning construction.
The mausoleum construction drawings we produce and submit to our clients include precise dimensioned architectural plans, structural plans, electrical plans and mechanical specifications. We present out customers with construction contracts that define how much it will cost to build their mausoleum.
Click here to view pictures of mausoleums designed and built by Rome Monument.
Mausoleum Construction Standards
Our rigorous and meticulous mausoleum construction standards ensure the following safeguards and customer service requirements. 
Safe and permanent
Quality construction, craftsmanship and reliability
Engineering excellence
Thorough site condition acceptability
Competent architectural design and structural analysis
First-rate granite and marble installation
Design and construction for seismic load protection
Resistant to hurricanes and storm damage
Resistant to fire and use incombustible materials
Plumbing work complies with provisions of the Uniform Plumbing Code
Properly ventilated mausoleums and crypts
Electrical work complies with the provisions of the National Electrical Code
Adequate drainage
Permanently secure and protected doors, windows, walls and crypts
Proper selection of building materials
Compliance with existing zone laws
Prevention of 'mausoleum odors' created by decomposing human remains
Adequate crypt foundation plans
On-time and on-budget
Surpassing performance requirements
Qualified field supervision and management
Professional installation methodologies
Quality control
Permitting process, inspection and third party vendor compliance
Post construction support
Prices For Private Family Mausoleums, Single Crypt Mausoleums, Two Crypt Mausoleums and Walk In Mausoleums
How People Commission the Design and Construction of a Mausoleum
The design and construction of a custom mausoleum from Rome Monument starts with a personal consultation at your home, office, or our showroom.  To get started on your private family mausoleum: 

This video shows you examples of custom designed private family and estate mausoleums for sale by Rome Monument. It also explains how you can order or purchase a completely customized private family mausoleum from a Rome Monument Showroom in Pittsburgh and Western Pennsylvania, or from your home anywhere in the United States. Once designed and constructed, the mausoleum is delivered, assembled and installed in the cemetery of your choice.  You can order, buy, purchase and commission a Private Family Mausoleum with any number of crypts in different styles, shapes, sizes, and price ranges.