Watch this Mausoleum Buyer's Guide:
Private Mausoleum Design Options, Builders And Prices
(Condensed)
---
Transcript Of The Video Narration
---

---
For anyone considering a mausoleum for their family resting place, this is the essential buyer's guide to private family mausoleums.
You'll learn the ins and outs of planning designing and building your family mausoleum and the cost to be buried in a mausoleum.
---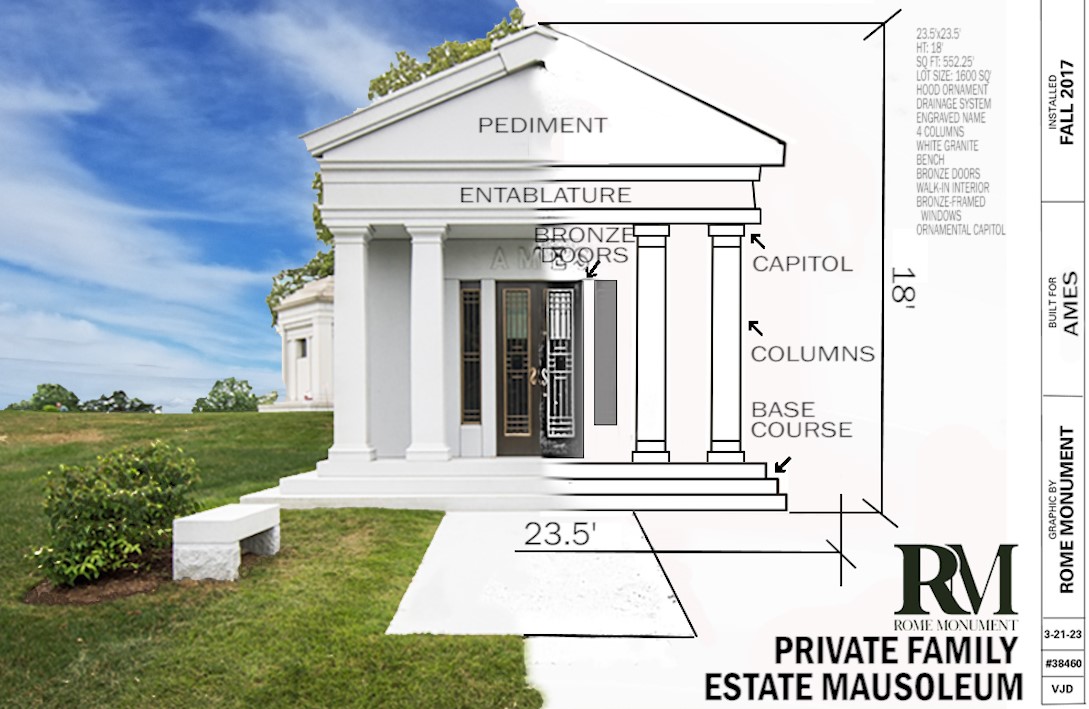 Private family mausoleums refer to any style of mausoleum that holds the bodies and remains of the family that personally commissions the design and building of the mausoleum.
As opposed to headstones that mark below ground graves, mausoleums are freestanding above ground structures that hold the bodies or ashes of the deceased.
Private mausoleums can be built to contain crypts for caskets and niches for ashes and cremation urns. 
---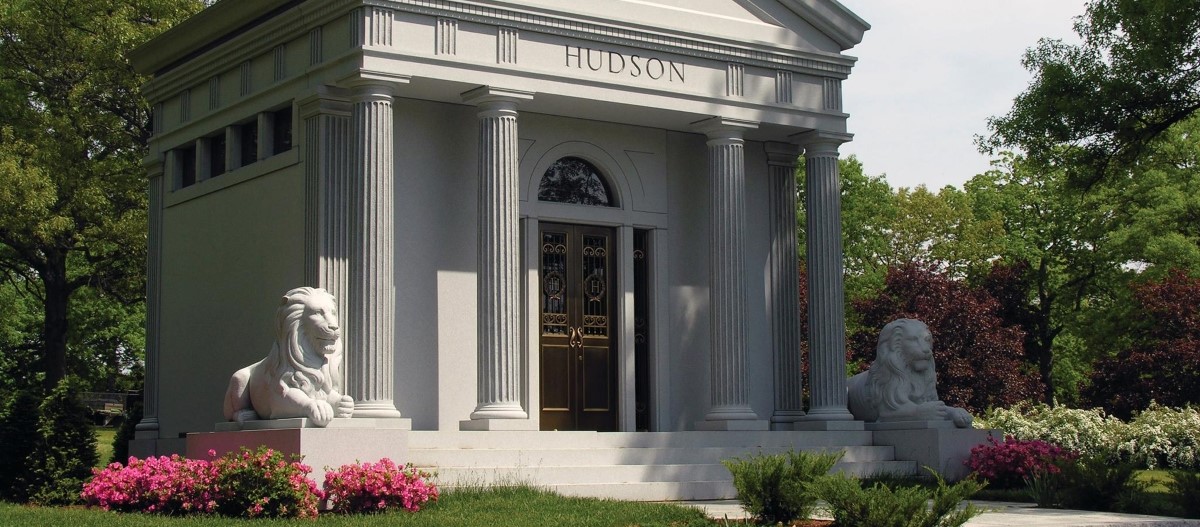 ---
There are three basic types of mausoleums: above ground burial vaults, garden or outdoor mausoleums, and estate walk-in and non-walk-in mausoleum buildings.
Above ground burial vaults can contain any number of crypts and be for any number of people.
---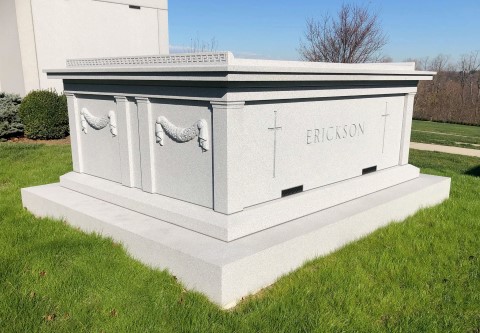 ---
A crypt is a chamber in a mausoleum that holds the casket of the deceased. Single Crypt lawn mausoleums hold just one casket.
---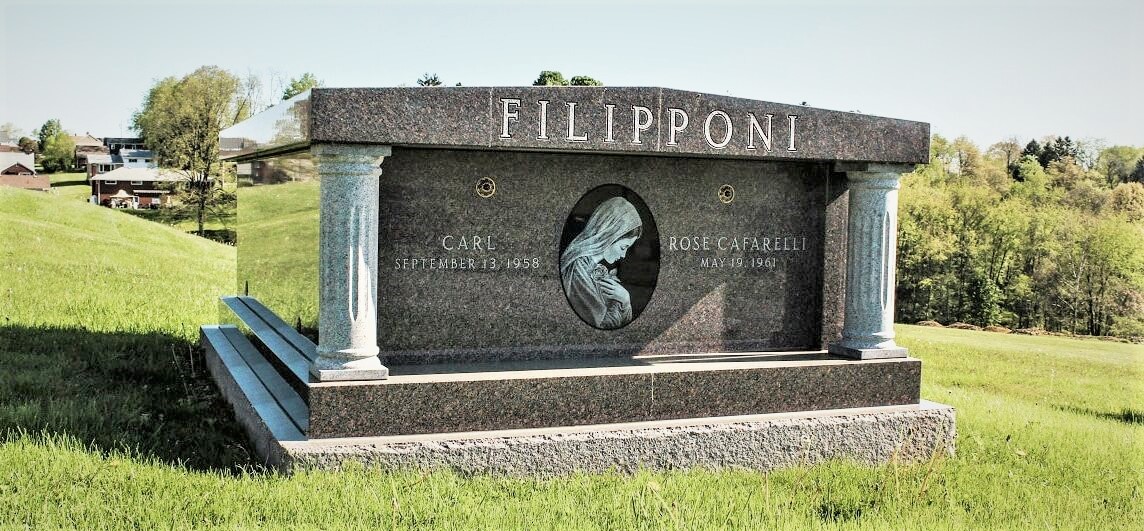 ---
Two Crypt or companion lawn mausoleums store two caskets.
---

Family lawn mausoleums hold anywhere from three to dozens of Crypts and urns.
---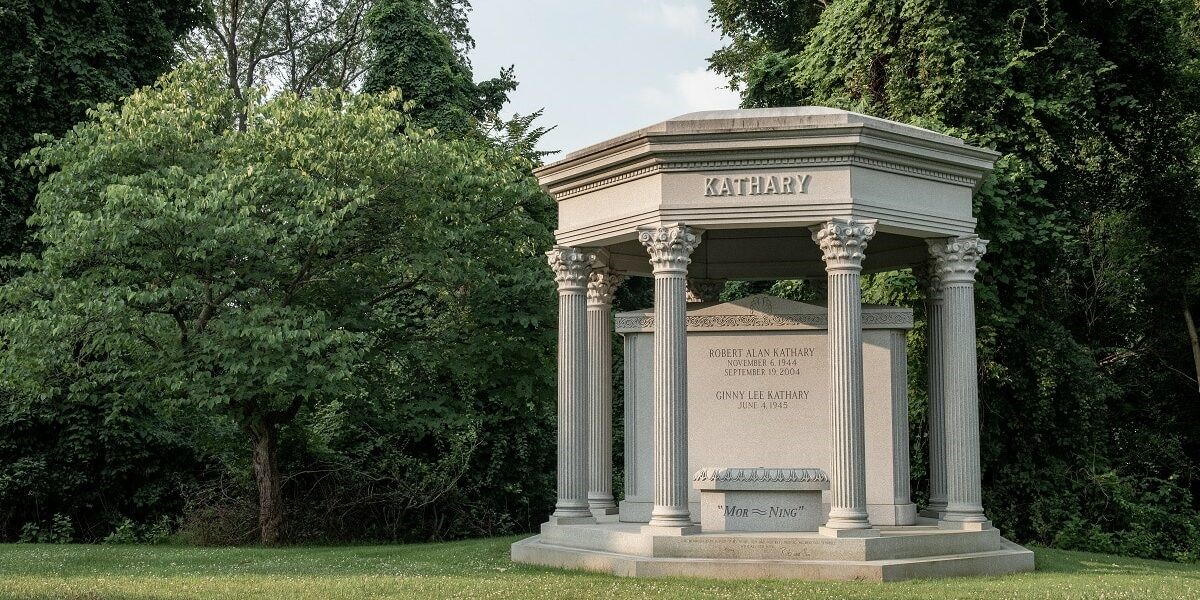 ---
This is a garden Mausoleum, an open air structure without a defined walk-in interior.
A non-walk-in mausoleum building is a large structure with Crypt openings on the outside.
An estate or walk-in Mausoleum is a building with Crypt openings typically on the inside.
---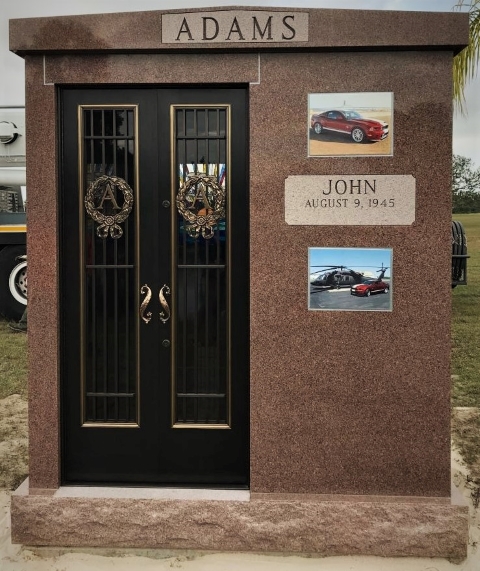 ---
Walk-in Mausoleum buildings have a working door and an interior space for the family to visit.
Niches in the walls or a columbarium can hold cremated remains.
---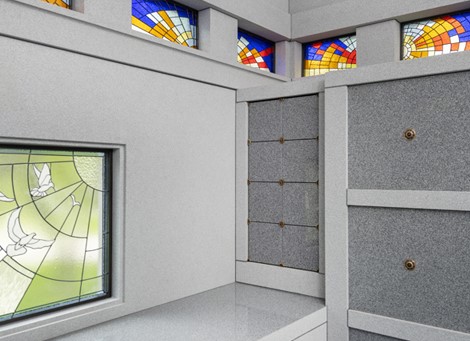 ---
The protected interior can have one or more rooms for prayer and to display funerary art and artifacts of remembrance.
There are many variations to lawn, garden, and estate mausoleums.
When deciding which type you want you'll need to take into consideration the number of family members you expect to be interred, the style you prefer, the price you can afford, and the availability and requirements of spaces in your cemetery.
---

---
Mausoleums are not just built by the rich and famous as symbols of prestige. Over many centuries mausoleums have been built for people in every level of society for a variety of reasons. First, mausoleums keep families together in one convenient location, and future generations won't have to worry about finding their own burial plot or buying a headstone. You can have as many crypts and urns as you need. With walk-in mausoleums families can visit any time of year, rain or snow. The bigger size and taller height makes a mausoleum stand out in a cemetery. Mausoleums are eco-friendly. One family mausoleum plot generally will require far less of a footprint than a grouping of family grave sites. If you live in an area with high rainfall or high water tables, an above ground mausoleum with proper drainage keeps the crypts safe and dry. Mausoleums create a place to relax and reflect on the life of loved ones who are interred in a mausoleum. Crypts can be added to mausoleums any time of year. Inside a walk-in mausoleum you have plenty of room to display personal art and artifacts that tell the stories of your family members lives. You can't take it with you but you can certainly leave it for your heirs to enjoy. A mausoleum says you've made significant contributions in your life and to your family. Mausoleums are expressions of majestic love. When the cost of a mausoleum is shared among all the family members, your cost becomes a fraction of the total cost. And some people simply don't want to be buried in the ground with dirt and weeds and whatnot.
Designing, building and installing a mausoleum can take months. If not years. That's why planning ahead in advance of the passing of any family members is a smart decision when ordering a mausoleum. When you order pre-need, you pre-design, pre-plan, and prepay for a truly high quality Monument prior to a passing and according to everyone's wishes. Start your pre-need purchase by having your family meet with a professional Mausoleum designer to discuss your options in an unhurried, thoughtful and compassionate manner. Project how many family members might be interred in the mausoleum. How many crypts and cremation earns. Choose a mausoleum type and style. What color and texture of granite do you prefer? What artwork and wording do you agree on? Where will you install the mausoleum? How much do you want to spend?
Every Cemetery has rules and regulations about what kind of memorials they allow and where they can be placed - and that includes mausoleums. There are basically five types of cemeteries which allow new private family mausoleums: veterans cemeteries, public cemeteries, green cemeteries or natural burial parks, religious cemeteries, and municipal or district cemeteries. Cemeteries have different rules and regulations concerning mausoleums. Some only allow certain types of mausoleums, certain sizes and styles, and some don't allow mausoleums at all. You may need to find out what their policy is on the disposition of cremated remains. If the cemetery is affiliated with a church do they allow other faiths to be buried there? Does the cemetery have a mausoleum plot that's affordable for you and your family? How will the mausoleum grounds be managed and cared for? Top-notch security and well-maintained grounds can come at a high cost.
Cemeteries offer four types of ground plots: single plots, companion plots, family plots. In addition to a plot, you may also need to purchase endowment care or perpetual care, opening and closing of the grave, installing the mausoleum, and annual maintenance fees. Public cemeteries offer the most affordable option for burial plots. Private cemeteries are more expensive. 
If you can't find a suitable cemetery to house your mausoleum, there is another option - install it on your property. That's right, most states allow you to build a mausoleum at your home.
Over half the people who die in the U.S. are cremated. There are many ways to preserve their ashes for posterity including placing them in a mausoleum or columbarium. Once a body is cremated, the container with the ashes is delivered to the family who have several options for the ashes disposition. They can scatter the remains. Place them in an urn. Place them in a personalized cremation marker or cremation monument. Bury the cremains in a grave in a cemetery. Entomb them above ground by placing the ashes in a niche or mausoleum in a cemetery. If you care to create a truly lasting remembrance of a loved one a mausoleum columbarium burial is probably your best option.
In a private family mausoleum, an urn can share space with a casket in a crypt, or it can occupy its own crypt. A more common option is to design smaller cremation niches in the interior or exterior mausoleum walls for urns and ashes. A group of niches for ashes or cremation urns is called a columbarium. A columbarium can either be a freestanding granite structure or incorporated within the construction of a mausoleum. Many cemeteries, churches and other institutions have a columbarium with niches for sale to the public or their members. These can be quite large and are an option for those who do not mind sharing a space with non-family members.
Mausoleums are subjected to harsh weather conditions. Extreme heat and cold. Direct sunlight. Ground moisture. Ground movement. And of course time. For that reason they are built with construction materials that ensure their durability and longevity. Granite is the hardest and most durable construction material used in mausoleums and also the most popular. The best granite comes from reputable quarries in the U.S and Canada and is high in quartz and feldspar, making it extremely durable. Granite comes in a variety of textures, patterns, and rich colors.
Marble mausoleums may be stylish and stunning but they are not nearly as durable as granite mausoleums and will cost you more. Marble is a good choice for interior uses for the walls, a crypt, or sculpture, as it is not exposed to the elements. Marble comes in a wide range of colors, the most popular being white and gray.
Bronze is a metal commonly used for bronze doors and other mausoleum accessories and decorations. Bronze is composed primarily of copper but with the addition of other metals that give it superior strength, beauty, and resistance to weathering.
Consider your architectural options. There are plenty of things you can do to make your family's mausoleum unlike any other. A professional mausoleum company has the designers, facilities, and mausoleum artists that can create beautiful etchings and engravings exactly the way you want. Engraving is the process of cutting lettering, symbols, images, and artwork into the granite. Engraving is used for deeper cuts. Add a beautiful epitaph or saying that speaks to the love that your family shares. Or symbols and imagery that convey the specific nationality or religion of your family. Etching makes shallower cuts and can create more detailed designs. Hand etchers use diamond tipped engraving tools to create intricate detailed artwork and designs. Laser etching is used to recreate actual photographs and designs. 
A sculpture is any three-dimensional piece of art created by carving (removing material) or modeling (adding material). They can be custom sculptures, statues, or sculpted columns. Add a sculpture that symbolizes your religion like this cross. Popular statue styles include religious figures, angels, figures depicting family members or their careers or hobbies. Fluted columns can be carved in a number of classic styles. The wide supports at the top of the column can be sculpted with decorative ornate capitals or crowns. The entablature, or the granite moldings and bands that lie horizontally above the columns, are often decorated with egg and dart sculpture or dental. Bas relief sculptures, three-dimensional carvings with a shallow depth, can depict scenes with important meaning to your family. Friezes are sculpted panels that occupy the central sections of the entablature and often told pictorial stories in ancient times. The mausoleum pediment is above the entablature and is usually triangular. It can hold an inscription, bas relief, or decorative panel topped by a hood mold to redirect water and surrounded by ornamental moldings. 
Mausoleums come in every shape and size and it is up to each family to decide exactly what theirs will look like. Classical style mausoleums have perfect proportions. Neoclassical style mausoleums borrow elements from classical architecture. Semi-circular arches are features of Romanesque mausoleums. Gothic architecture is distinguished by soaring towers. Baroque architecture expresses itself as tall, grand, decorative mausoleums with dramatic domes. Asian style mausoleum architecture is similar to that found in pagodas. Egyptian style mausoleums borrow elements from ancient Egyptian architecture. Islamic style mausoleum architecture resembles that found in Islamic mosques and palaces. Of course, mausoleum designs can be based on modern architectural styles too. 
The Landscaping that surrounds your mausoleum can enhance the beauty of your family's plot and create a welcoming space for your family for generations to come. This bench is a place to relax and reflect on the life of loved ones. Add some plants and flowers that don't require a lot of attention. Outdoor lights bring out the mausoleums beauty at night. Or add a water feature such as a fountain, stream or pool. Gardens can be designed to include plants, flowers, sculptures, rocks, and other elements to give your mausoleum setting a Zen quality. A walking path can provide a beautiful entrance to the mausoleum and a patio can provide a lovely space for loved ones to gather. Statues can represent eternity, a religion, a person's hobby or career, or an animal that symbolizes protection or love. 
You've designed your dream mausoleum. Now it's time to decorate it with your choice of mausoleum accessories. Accessories are great touches for mausoleums. Like this vase. Portraits of family members. Stained glass windows. Flag holders and flags. Commemorative bronze plaques. Ceramic portraits. Lamps. Some flowers that don't require a lot of maintenance. Hang a wreath. Or add wind chimes to fill the air with music. An altar for your walk-in mausoleum meditation room or chapel. Prayer kneelers for meditating and praying.
When looking for a mausoleum company, you'll want one that stresses quality at every stage of mausoleum production. In addition to providing you with a design by professional mausoleum designers, architects, and electricians, a responsible mausoleum construction company will rigidly follow mausoleum construction standards as outlined by state and local laws and regulations. They'll use a reputable granite quarry in the U.S or Canada where you know what you are getting…and what you're getting is the highest quality granite, a solid well-laid foundation, a base course made with quality granite not concrete, granite sidewalls for unparalleled beauty and support, a roof that won't leak when it rains or snows. The slabs of granite on a mausoleum are separated by the joints. The joints of a quality mausoleum are small usually less than an eighth of an inch.
These are Ballpark figures for different types and styles of high quality mausoleums. Keep in mind the final cost is determined by factors such as type, size, style, shape, design, ornamentation, number of crypts, and materials used in the mausoleum. These prices are current as of 2023 and don't include Freight and installation costs.
Basic single crypt private mausoleums for just one individual start at seventeen thousand dollars.
Basic double crypt or companion private mausoleums start at twenty-five thousand dollars.
You can purchase a four crypt mausoleum starting from thirty-five thousand dollars. 
Five crypt mausoleums start at forty thousand dollars.
Six crypt mausoleums start at forty-five thousand dollars. 
Eight crypt mausoleums start at fifty-five thousand dollars.
Vestibule mausoleums start at eighty-seven thousand dollars.
Walk-in mausoleums with one to three crypts start at ninety thousand dollars.
Six to eight crypt walk-in mausoleums start at $145,000.
Estate walk-in mausoleums with 12 to 16 crypts start at three hundred fifty thousand dollars.
Purchase a quality chapel walk-in mausoleum from one hundred eighty thousand dollars.
Garden, outdoor, or Sepulcher mausoleums start from two hundred thousand dollars.
Westminster family crypts start from thirty-five thousand dollars.
I'm here at the Rome Monument headquarters just outside Pittsburgh, Pennsylvania. This is where the whole process gets started. Rome Monument is a family-owned company now in its fourth generation. When you call to inquire about a mausoleum, Rome takes the time to educate you on every aspect of the design. Rome's mausoleum artists come up with an initial CAD design which they go over with you and make any changes and adjustments you want. When the final design is approved they begin the process of building the mausoleum. 
The Rome Granite Monument and Quarried Rock Warehouse has hundreds of granite slabs to choose from for your headstone or mausoleum. It's one of the largest in America. Rome gets its beautiful, high quality granite from the most reputable quarries in the United States, Canada, and around the world. 
From here the granite goes next door to the Rome production facility. Right here hundreds of headstones and mausoleums are designed and constructed each year, each one of the highest quality using the highest quality materials and craftsmanship - where certified Master Carvers and craftspeople cut the granite to size, sculpt, hand etch, letter, polish, and sandblast to achieve a perfect mausoleum slab or accessory.
When it's complete they either store the mausoleum in the warehouse for future assembly at the cemetery or they deliver it to a cemetery anywhere in the continental United States. The foundation for the mausoleum is laid in advance of the setting. The base course is laid out, the side walls positioned, and the roof is placed on top. Any joint work is performed to seal the areas between the slabs to keep the mausoleum water-tight. Accessories and decorations are added and the landscaping completed. 
A custom mausoleum company will create a special and customized mausoleum for your family - one that can be appreciated now and by future generations. Your options for a mausoleum are virtually endless. Let us know when you're ready to begin. For more information on mausoleums and how to order a private family mausoleum just call Rome Monument and a mausoleum construction professional will be happy to help you out. Thank you for watching The Essential Buyer's Guide To Private Family Mausoleums. I hope these videos help you when making your decision about purchasing a mausoleum for your family. Go to the description to click on any chapter you'd like to see.