Rome is America's premier designer and manufacturer of high quality one-crypt and two-crypt black granite mausoleums. Prices start at $25,000 with delivery and installation throughout the continental USA. Every monument we make is 100% personalized to your tastes and your specifications. You help design it, choose the font, the artwork, inscriptions, the shape and size, and the color.
Private family mausoleums are above-ground structures used for the permanent interment of an individual, couple, or family. A beautiful free-standing black granite mausoleum by Rome Monument is the ultimate architectural statement to a family's legacy and heritage. If you are considering buying a unique custom private family black granite mausoleum, a personal one-crypt mausoleum (built for a single individual), a companion mausoleum (built for two people), or a customized private above ground burial vault, view our Design Gallery or contact Vince Dioguardi or Chris Morgan at Rome Monument to discuss your design ideas.
The Rome Monument Mausoleum Advantage
Rome Monument is a mausoleum construction company, mausoleum contractor and mausoleum builder with over 80 years of experience as a design/builder of private family mausoleums for cemeteries and memorial parks.  Our mausoleum construction standards are rigorous and meticulous.
Unlike most other black granite mausoleum manufacturers who source their black granite from overseas, our black granite is sourced exclusively from reputable quarries in the United States and Canada for mausoleums that will last far longer and are guaranteed not to fade over time.

While other companies have their black granite mausoleums built overseas, ours are built in the USA, ensuring quality and craftsmanship that is unmatched in the industry.

Other companies have their mausoleums assembled overseas as well. Rome has the expertise and experience to assemble our mausoleums at our own facility, at your cemetery, or on private property, and install them at your place of choice anywhere in the continental USA.

And unlike most other mausoleum manufacturers, we offer a warranty that comes with every building, extends to all the purchaser's heirs in perpetuity - the only warranty that can make that claim that because it is backed by an independent trust fund.
Prices for a high quality black granite mausoleum from Rome Monument start at $25,000. You can probably get a mausoleum for half that price when the company you buy from uses overseas resources to build their mausoleums. However, many consider black granite more beautiful than other types of granite and are willing to pay more for a black granite mausoleum that is built better, looks nicer, and won't fade or deteriorate over time. If you want to know how much a mausoleum costs or want to buy a private family mausoleum, call 724-770-0100 and ask for Vince Dioguardi. If you want to understand the difference between a crypt and a mausoleum, email info@romemonuments.com.
How to Get Started
If you are interested in buying a custom designed private mausoleum for yourself, you and your spouse, your parents, your children or other family members, please consider talking with Vince Dioguardi, the president of Rome Monument, at 724-770-0100. Vince loves to talk about mausoleums and is very friendly, knowledgable and professional. During your phone conversation, he will be happy to explain how the process of ordering works, review how prices are determined, present your design customization options, touch on our mausoleum construction standards and clarify mausoleum setting and installation details. If you prefer email to a phone conversation, please feel free to email Vince at info@romemonuments.com or contact him by using our Contact Form.
Custom Black Granite Mausoleum Design
Designed and built by the memorial architects at Rome Monuments, our private family mausoleums can be adorned with beautiful custom designs, such as; etchings, engravings, bas reliefs, statues, 3D carvings, and symbols and imagery that convey the specific nationality or religion of the deceased.  They can be for any number of graves and come in a variety of styles and shapes. You can select from a wide variety of black granite colors, including a variety of black granite colors, for both traditional and cremation mausoleums in different price ranges. 
Common Types of Black Granite
Following are some of the most common types of black granite.
Jet Black Granite: This black color granite is granular and phaneritic in texture. It is an exceptional stone for monuments. It also called Indian Dense Black Granite, Indian Jet Black, Absolute Black Granite, and Nero Assoluto Granite.
Black Galaxy Granite: This granite is primarily black with gold or white flecks. It also called Black Galaxi Granite, Black Star Granite, Galaxi Black Granite, Galaxy Black Granite, Galaxy Gold Granite, Galaxy Star Granite, Gold Star Galaxy Granite, Nero Galaxy Granite, Nero Star Galaxi Granite, Nero Star Galaxy Granite, Star Galaxi Granite, and India Black Gold Granite.
Absolute Black Granite: This pure black granite is preferred for monuments and fountains. It also called Absolute Black India Granite, India Black Granite, Absolut Black Granite, Black Absolute Granite, Nero Assoluto India Granite, Super Black Granite, and Premium Black Granite
American Black Granite: This black granite has brilliant white variegation veining – making it particularly unique. It is one of America's most popular monumental granites and is also called French Creek Black or Gem Mist. It is quarried in Pennsylvania, not far from the headquarters of Rome Monument.
Aqua Grantique Granite: Quarried in Wisconsin, this black granite may contain rust coloring, with white or green veining.
Watch Informative Videos to Learn About Custom Mausoleum Designs
Examples of One and Two-Crypt Black Granite Mausoleums by Rome Monument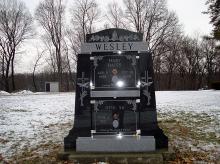 Two-Crypt Black Granite Mausoleum with Praying Hands, Roses & Crosses
This two-crypt mausoleum by Rome Monument was created using Sealmark Rock of Ages Gray granite and Midnight Black granite. It is installed at Highwood Cemetery in Pittsburgh, PA.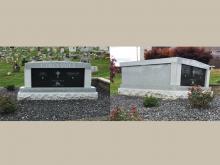 2 Crypt Mausoleum with Black Granite Front
This double-crypt private family estate mausoleum with a black granite crypt front was installed at the Union Cemetery in Arnold, PA by Rome Monument.  The 2-crypt granite mausoleum features an upgrade from bronze hardware to stainless steel. 
Two Crypt Family Private Mausoleum with Full Round Fluted Columns
This double-crypt mausoleum by Rome Monument is constructed in Tiffany Grey Granite and an upgraded black granite crypt front with diamond etching and black granite cap stone. The cross on top of cap stone is constructed out of Tiffany Grey Granite.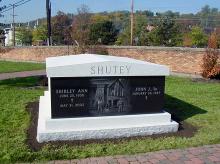 Companion Crypt Style Mausoleum with Black Granite Etching
This private two crypt mausoleum has a custom diamond etching of the couple in black granite. The mausoleum was designed and erected by Rome Monument.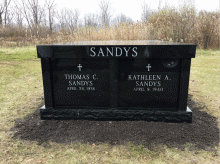 Jet Black Granite Mausoleum
This jet black granite two crypt family private mausoleum with a flat roof and a solid granite base course was installed at the Resurrection Cemetery in Toledo, OH by Rome Monument.
If you are interested in ordering a black granite mausoleum, please consider talking with Vince Dioguardi of Rome Monument at 724-770-0100. Vince will be happy to explain how the process of ordering works, how prices are determined, your design customization options, our mausoleum construction standards and the mausoleum setting and installation details. Please feel free to email Mr. Dioguardi at info@romemonuments.com. 
Design Your Own Black Granite Mausoleum
Rome Monument makes 100% personalized black granite mausoleums by collaborating with our customers on design ideas and design specifics. While we have expert designers on staff, we invite you to submit your mausoleum ideas to us with written instructions, initial sketches, technical drawings or computer aided renderings. "Design your own headstone" software and apps help you create your own mausoleum design with any unique shapes, artwork and inscriptions you desire. It's an ideal way to personalize the mausoleum just the way you want…just for you! If you want to see how other people had their mausoleums designed, to go to the Design Gallery, pick out a design you like, and send Rome Monument the link. Then a Rome designer will create a new custom monument design to your specifications based on the monument design you picked out.
Save and Share Artwork Designs You Make on Your Own
Rome would like to see your own drawing of the product you envision. When you complete a headstone design that you sketch, draw, or render on the computer, send us a computer scan, JPG,  PDF, CAD Pro file, or photo from your phone. You can download LEOPOLY CAD sculpting software or Monu-CAD which will let you design, visualize, and document your headstone design ideas.  You can rough out an initial headstone design concept, design your own headstone online, or create an accurate list of materials. On the other hand, you can simply draw the headstone using a pencil, ruler and graph paper, then scan your headstone design and email it to Rome. You can also take a picture of your headstone layout with your phone.
Browse pictures of 1 crypt mausoleums, 2 crypt mausoleums, private family mausoleums and stately walk-in mausoleums in this PDF guide. Learn how Rome Monument designs and builds elegant mausoleums using high quality granite, impeccable construction standards and old world craftsmanship. Get an understanding of the customization and ordering processes. Learn about high-grade granite, mausoleum foundations, base courses, architectural options and landscaping considerations. Rome Monument is one of the leaders in the cemetery monument and memorial industry.
Rome Monument Expands Installation Area Across U.S.
In January of 2019, Rome Monument purchased two new custom monument trucks. The private family mausoleum builder now has the manpower and equipment to deliver and install high quality single crypt, two crypt, walk-in family mausoleums and multi-crypt above ground burial vaults in all 48 states. Both of the new mausoleum installation trucks purchased by Rome Monument use truck-mounted articulating cranes to set and install granite mausoleum foundations, walls, roofs, doors, crypts and heavy stones. Rome Monument is currently very busy manufacturing and building mausoleums purchased by private customers in large cities and wealthy communities all across the continental United States.  Some of the new mausoleum installation areas in the United States are listed below.
Buying A High Grade Granite Mausoleum | Construction and Installation Information
The process of ordering a top-of-the-line private family black granite mausoleum starts with a call to 724-770-0100 or an email to Vince Dioguardi at  info@romemonuments.com.  After your initial conversations and/or email dialogue, if you decide to move forward, Vince will work hand-in-hand with you to customize and perfect the unique design of your mausoleum.  Once you approve the design plans and payment arrangements have been settled, construction begins in our manufacturing facility.  When the mausoleum has been completed in-house, it is delivered to your cemetery or memorial park.  The final setting and installation is then completed. The entire process, from contacting Mr. Dioguardi to installation, normally takes 3 to 12 months depending on the complexity of the mausoleum construction and seasonal installation factors.