Rome Monument ships, delivers, installs and sets custom designed cemetery monuments, granite headstones and high quality mausoleums throughout United States.
Rome Monument offers nationwide installation and setting services for the in-stock and custom designed granite mausoleums and high-end cemetery memorials the company manufactures at the Artisan Center in Monaca, Pennsylvania.
In this video, you'll learn about 100% personalized, custom cemetery monuments and the unlimited design possibilities for a family member's eternal resting place. You'll see examples of headstones by Rome Monument with unique sizes, shapes, granite colors and artwork.
In this video, Rome Monument shows you how to tell the difference between high quality mausoleum and low quality mausoleum design and construction.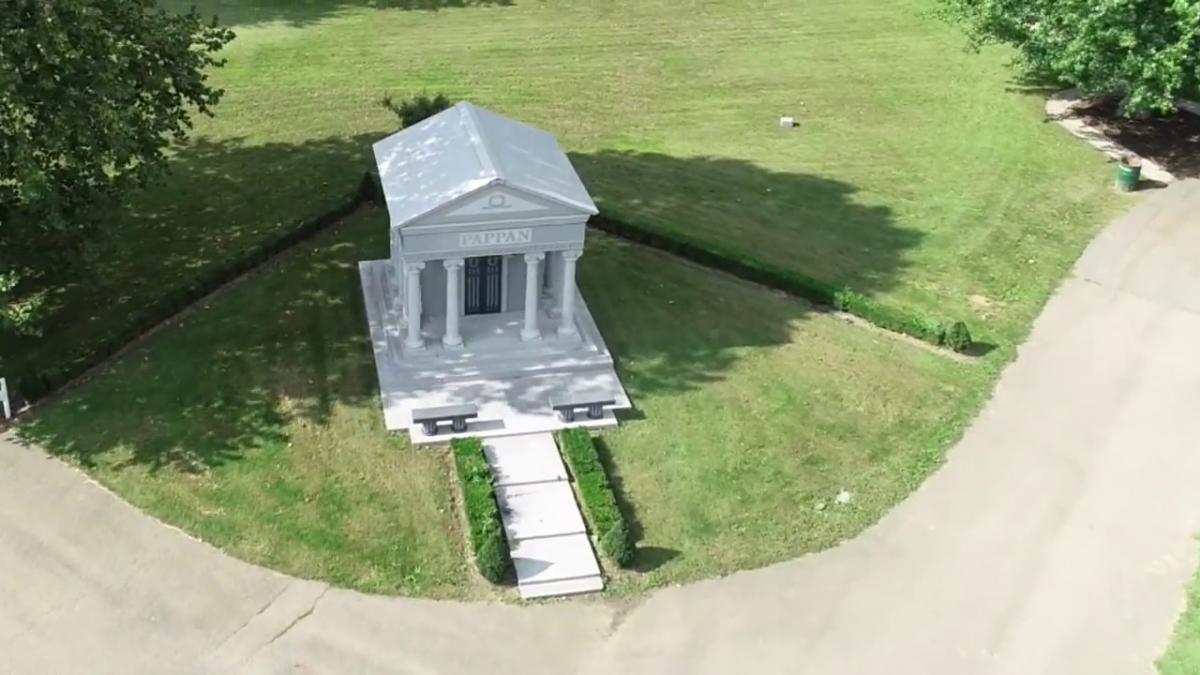 Rome Monument installs upright monuments, private family estate mausoleums and walk-in public mausoleums in cemeteries nationwide.
Rome Monument is a nationally recognized mausoleum construction company, mausoleum contractor, mausoleum builder and installer with over 89 years of experience as a design/builder of high quality private family mausoleums for cemeteries and memorial parks. 
Rome Monument sells, designs, builds, delivers and installs estate monuments, private mausoleums, high end headstones, granite statues, columbariums and cemetery memorials in cemeteries and memorial parks throughout the United States. Rome Monument also installs memorials and mausoleums on private property for individuals and civic organizations.
2023 US prices for custom 1 crypt mausoleums sold by Rome Monument start at $15K, 2 crypt mausoleums at $23K, 3 crypt mausoleums at $30K, 4 crypt mausoleums at $40K, 6 crypt family mausoleums at $45K, 8 crypt  private mausoleums at $55K, 9 crypt mausoleums at $60K and walk-in family mausoleums at $85K. 
Rome Monument also delivers high quality granite mausoleums to other businesses or freight company warehouse locations.
In the video titled "How a 2-Crypt Mausoleum Is Installed In a Cemetery [Rome Monument 2023]", you'll follow the installation of a two-crypt private family mausoleum from the time it is hoisted onto the flatbed at the Rome Monument Artisan Center in Monaca, Pennsylvania, to when it is lowered onto its foundation at the Mt. Olivet Catholic Cemetery in Aliquippa, Pennsylvania.
Rome Monument is monument dealer that sells high quality custom memorials families and cemeteries in cities, counties and states throughout the U.S. Buy a headstone, grave marker or mausoleum  from Rome Monument and then schedule installation in your local cemetery.  
---
In this video, you'll learn about 100% personalized, custom cemetery monuments and the unlimited design possibilities for a family member's eternal resting place. You'll see examples of headstones by Rome Monument with unique sizes, shapes, granite colors and artwork. And you'll follow the story of the "Elephant on the Tomb", an upright headstone that actually has a sculpted elephant sitting right on top of a granite slab!
---
In this video, Rome Monument takes you through the steps on how a mausoleum is designed and built. It follows the construction and installation of a Greek Neoclassical-style mausoleum for the Pappan family of Pennsylvania. The mausoleum was installed in Beaver Cemetery, Beaver Pennsylvania in 2015. 
---
In this video, Rome Monument shows you how to tell the difference between high quality mausoleum and low quality mausoleum design, construction and installation. In addition to a superior, professional design, the quality of a mausoleum depends on such factors as the reputation of the granite quarry, the experience of the mausoleum installation personnel, the quality of the granite, foundation, base course, side walls, roof and joints, among other construction elements.
---
Monument Delivery and Installation Services in the Pittsburgh, PA Area
Rome Monument sells, designs, builds, delivers and installs monuments and memorials in Pittsburgh, Allegheny County and Western Pennsylvania. In the case of individual and family cemetery monuments, we offer free local delivery and installation. In cases where we are delivering a monument outside of our local area, we may negotiate or quote an additional delivery fee.
If you are interested in having a headstone, gravestone, memorial bench or mausoleum designed, created, delivered and installed in a cemetery, private setting or public location, please call our main office at 724-770-0100 or click here to contact us.
Monument Installation Fees
Normally, Rome Monument employees will deliver and install the monuments that we design and build at no charge. In a small percentage of situations, the cemetery will perform the installation and setting process. Cemeteries normally charge an installation fee for this service.
Cemetery Monument and Memorial Rules, Regulations, Standards, Policies and Guidelines
Because we have been delivering and setting (installing) grave markers in cemeteries since 1934, Rome Monument has become extremely knowledgeable regarding the types of monuments and memorials that are permitted in Pittsburgh, Allegheny County and Western Pennsylvania. Most cemeteries in our delivery and installation area, (Pittsburgh Tri-State Area, Southwestern Pennsylvania, Eastern Ohio and Northern West Virginia) regulate the types of headstones placed on gravesites within their property. These standards, policies and guidelines designate the types of materials that can be used for the construction of a monument. The two most common materials permitted are bronze and granite.  Rome Monuments is reknowned for the quality of the bronze and granite gravestones we design and make.
Additionally certain size restrictions may apply such as the length, width and height of the monument. Rome Monument will be absolutely sure of a customer's cemetery regulations before the monument production process begins.  We are dilegent about acquiring this vital information before we finalize a purchase agreement with a client for a monument order. Monument types are also regulated by many cemeteries with whom we work. Some cemeteries only permit flat bronze markers. Others permit both flat grave markers and upright monuments. In some cases, graveyards, memorial parks and burial parks permit flat memorials, raised and upright memorials, slant memorials and bevel memorials. Some cemeteries also allow mausoleum type memorials.
To See Pictures of Different Types and Sizes of Monuments Browse our Design Gallery >
If you or your family have already purchased cemetery space, gravesites (s) or burial plots, you will certainly be limited to a degree in what type of memorial or monument will be allowed. However, this is nothing to worry about. The experienced memorialists at all Rome Monument showrooms can be very creative in designing a monument to fit the alloted space. If you don't know what rules and regulations apply, we probably already know, and if not, will contact the cemetery to clarify and confirm.
An Overview of Cemetery Documentation Required Before Monument Delivery and Installation Can Commence
Rome Monuments works with hundreds of cemeteries in the Pittsburgh area. Before a monument or memorial is delivered and installed, we take care of the cemetery paperwork.  We routinely work with, and on behalf of, our customers to make sure that all of documents required by a cemetery have been completed and submitted to the cemetery management office befoe a gravestone is placed in the cemetery.  We are very experienced in the process of submitting headstone specifications, and when required, submitting drawings (often CAD drawings) to our customer's cemetery administration office. When applicable we will contact the cemetery in advance to let them know that we will be delivering and installing a monument for someone who purchased a burial plot or grave space in their cemtery.  Cemeteries generally require the burial plot owner or lot owner to sign some type of documentation authorizing the delivery and installation of a monument at the gravesites they purchased.
View Pictures of Monuments We Have Delivered To, and Installed in Specific Pittsburgh Cemeteries >
Consumer Rights Regarding Cemetery Monument Purchases, Delivery and Installation
It is important for consumers, and in particular our potentional customers and current customers, to know their rights regarding cemetery monument purchases and delivery and installation. It is not an uncommon practice for cemetery representatives to discourage their burial plot and grave space customers from working with Rome Monument for a number of reasons. These discouragement practices are summarized below.
"You Can Only By Monuments From the Cemetery" Discouragement Practice:
Don't be put off if the cemetery representatives that you are engaged with now, or may be in the future, discourage you from purchasing a monument from Rome Monument. In almost all cases, you should be permitted to order a monument or memorial from a company other than the cemetery.  If you do find yourself in this situation, please call 724-770-0100 to let us know your concerns and the details of your specific situation. We are here to help. We will make sure that the monument we build conforms to their requirements before we deliver and install it at your family's gravesite.
 
Additional Fee Discouragement Practice:
Cemetery representatives may state to plot owners that additional fees will be incurred if you purchase a memorial from Rome Monument. Don't worry about this fee, just call us at 724-770-0100 to let us know what happened and what was said. We will help you work out this process in an agreeable manner to all parties involved.
 
Responsibility for Damage Discouragement Practice:
Cemetery representatives may discourage plot owners from purchasing a monument or memorial from Rome Monument by worrying them about the "responsibility for damage" to the headstone or gravestone. If the cemetery manager or salesman explains that the cemetery is not responsible for any damages that occur during delivery or assembly if another company is providing this service, well of course.  If Rome Monument is delivering and installing the monument, as we do in almost all cases, then we are resonsible and we assume this responsibility gladly.
 
Monument Quality Discouragement Practice:
If a cemetery representative tries to discourage you from commissioning a monument or memorial from Rome Monument because of the quality of our work just call us at 724-770-0100 or click here to contact us. We can set your concerns aside very quickly over the phone or invite you to one of our showrooms to talk with us and see for yourself the quality of our work by viewing actual headstones and gravemarkers that we have designed and built.  The quality of our work is unsurpassed in the Pittsburgh Tri-State area. In many cases, cemeteries who sells headstones actually contract with Rome Monument to build these monuments.
View Pictures Showing The Quality of Our Monument Design Work  In Our Design Gallery >
Monument and Headstone Re-Setting
If your monument ever needs re-set or needs moved by the cemetery and then put back, Rome Monument will provide this service for free if we had the privilege to create the monument originally. Call us at 724-770-0100 if you want to talk to us about re-setting your family's monument or memorial.
Monument and Gravestone Maintenance, Cleaning and Restoration
Rome Monument offers monument and gravestone maintenance, cleaning and restoration services to families and cemeteries alike. Call us at 724-770-0100 for more information.
How to Purchase a Cemetery Burial Plot
When planning to arrange a burial or buy a monument knowing how to purchase a cemetery burial plot is likely to save you time and ease the process. Thousands of cemeteries serve millions of families every year, helping them plan for and acquire burial plots. Families planning for future burials are often doing it for the first time, so understanding basic burial-plot issues is important to ensuring satisfactory arrangements are in place when the time comes. We have answers and are happy to guide you on how to purchase cemetery burial plots in your area. Just give us a call anytime at 724-770-0100. Click here for more information on how to purchase a burial plot in Pittsburgh.
Burial Plot or Lot, Gravesite, Cemetery Space and Grave Prices in Pittsburgh
For information on ground burial prices and ground burial space for cremation in Pittsburgh, call (724) 770-0100. Prices usually start at $500.00 - $1,000.00 for each grave or space and go up from there depending on the cemetery you choose and the section in the cemetery you pick. Some cemeteries that have architecturally appealing buildings, exqusite statues, stained glass chapels, beautiful and open pastoral landscapes, quite and peaceful environs, tree-lined drive, stands of mature trees, sweeping vistas, tranquil fountains, ponds and lakes, parklike atmospheres, great historic value, top-notch security and well maintained grounds often charge a premium for their burial plots and gravesites. Click here for more information on burial plot prices in Pittsburgh.
Artisan Center Where Monuments Are Custom Made
All carving and lettering is done in-house by Rome Monument's certified master carvers in the company's 30,000-square-foot manufacturing space in Monaca, PA at the Rome Monument Works Artisan Center. Most all monument and memorial deliveries originate from this location. Upon request, we are always pleased to invite our customers to this location to take a look at the monument we built for their family before it is delivered and installed at the cemetery, private address or public space.
Monument Delivery and Installation Services For Third Parties
In certain situations, Rome Monument will perform monument delivery, installation and assembly services for individuals, other monument dealers and other businesses and organizations even though the monument was not purchased from Rome Monument. Please call 724-770-0100 for more information if you are need a monument or memorial delivered and installed.
Monument and Headstone Removal and Replacment Services
Upon request, Rome Monument can remove monuments, statues and headstones from cemeteries and memorial parks in the Pittsburgh area. In situations where the monument needs to be replaced, we can also design and build a new memorial to replace the one that was removed. When we remove a monument from a cemetery, we hoist and remove it with our monument setting crain truck. Obviously we receive permission from the cemetery and the plot owner before removing a monument from a cemetery. This service is usually performed when a gravestone or cemetery structure can not be repaired on site or needs to be replaced.
---
Some of the communities served by Rome Monument are listed below.
Florida
Georgia
Indiana
Kentucky
Pennsylvania
Ohio
New York
North Carolina
West Virginia
New Jersey
Connecticut 
Maryland
Tennessee
Deleware
Wisconsin
Virginia