Rome Monument Can Help You Find, Choose and Buy a Cemetery Site or Plot/Lot in Pittsburgh
Call Us at 724-770-0100 To Learn How to Buy a Grave or Burial Plot in a Pittsburgh Cemetery - Ask for Vince or Chris
A cemetery is a location where embalmed or cremated remains are buried or interred in a grave, mausoleum, columbarium, tomb or above ground vault. When planning a burial or interment and before your choose a cemetery in Pittsburgh, Allegheny County, or Western Pennsylvania, it is important to understand and learn all your options well in advance of the actual passing of a loved one. The best way to do that is to speak with one of our Cemetery Planning Advisors here at Rome Monuments. We have an intimate knowledge of these cemeteries and their rules, regulations and restrictions due to the fact that we have seven locations throughout the region. In addition, following a death, families who come to Rome Monuments for a memorial often share their cemetery experiences with us—good or bad.  
To talk with a Rome Monument Cemetery Planning Advisor or to schedule a free consultation, call 724-770-0100 and ask to speak with Vince Dioguardi or Cris Morgan. Let one of these gentleman know your wants and needs and they can help match you with the right cemetery. We know the best cemeteries in Pittsburgh - it is our business.  Rome Monument is one of the leaders in the cemetery monument and memorial industry.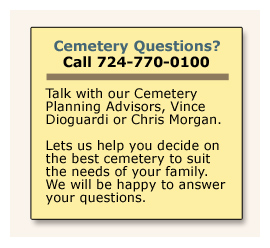 Understanding Burial Planning Arrangements:
Families and individuals understand the importance of planning for cemetery space when a relative or they themselves are nearing the end of their life. Please feel free to call 724-770-0100 to talk with a Rome Monument Burial Planning Advisor. When you call please ask to speak with Vince Dioguardi or Cris Morgan. Both of these gentleman will be happy to answer any burial planning questions or concerns you have regarding the choice of the right cemetery or cremation space and the related financial considerations. Both Vince and Chris can help with cremation planning, setting up a funeral and pre-burial plans. They can guide you through the process of burial planning in a friendly and compassionate fashion.
We recommend that individuals, if at all possible, become involved in the process of planning their own burial because this helps to ensure their burial preferences. Not everybody thinks of planning for their own burial ahead of time. However, for the people that do, having somebody to talk to that understands all the cemetery and burial options available in Pittsburgh is a great relief. The piece of mind gained from making these arrangements in advance is a great relief, for individuals and families alike. In addition to the peace of mind obtained by purchasing a cemetery plot or mausoleum space in advance, it is usually much less stressful and normally cheaper to purchase a burial plot or crypt beforre a death has occured.
Some people who are starting to make arrangements for their own burial often get advice from Vince Dioguardi or Cris Morgan regarding their choice of cremation or a traditional ground burial. If you have questions about pre-paid burial options, casket prices, burial plot prices, the costs to open and close a grave in a Pittsburgh area cemetery, burial vault prices, hearse and utility vehicle costs, headstone or memorial options, the cost for graveside services, please call 724-770-0100. 
The Dioguardi family of Pittsburgh has been helping families make burial planning arrangements since 1934 when Michael, a stone craftsman who migrated from Italy, opened his own monument firm in Rochester, Pennsylvania. The experts at Rome Monument understand the variety of cremation and traditional burial options offered by the cemeteries in Pittsburgh. Don't hesitate to call us if you are contemplating the purchase of one or more cemetery plot sites. Our staff can help you buy a burial plot that is within your budget or determine how much a burial plot is worth if it has already been purchased by somebody in your family. We can also help you find and buy a burial plot for the final disposition of the ashes from a cremation. Vince or Chris will be happy to answer any questions you have about the "right of interment" or "interment rights." Before purchasing a monument or memorial from Rome Monument, it is important that your family owns the interment rights to a burial plot or mausoleum space. It is key that your family has the legal right to arrange a burial.
Recommendations for Burial Planning:
When planning for your own final resting place or to bury your family members, please consider the following recommendations.
Drive around Pittsburgh or your neighborhood to find a cemetery that suits your desires and requirements.
 
Determine which cemeteries in Pittsburgh are associated with your religious affiliation.
 
If you want to plan a burial in a Catholic cemetery in Pittsburgh, visit the Catholic Cemeteries Association of the Diocese of Pittsburgh web site for a list of cemeteries. The The Catholic Cemeteries Association of the Diocese of Pittsburgh offer families who elect to pre-plan for their burial plots and cemetery needs numerous financing and payment choices. They have plans that have an interest-free feature and some which have no interest at all. The Catholic Cemeteries Association offers a free planning guide that contains helpful information about Catholic burial and funeral traditions, social security benefits, veterans' benefits, living wills, powers of attorney, wills and other issues that can cause complications at the time of death. This booklet with information about Catholic burial and funeral options, is available free of charge. Click here to request this burial planning guide.
 
If you would like to plan a burial in a cemetery with excellent aesthetics, consider purchasing a burial plot or cremation space at one of the largest and oldest burial grounds in Pittsburgh, Allegheny Cemetery. The Calvary Catholic Cemetery, a 20 acre cemetery in the Hazelwood area of Pittsburgh is also a good choice.  It includes two beautiful chapel mausoleums. The historic and extremely scenic Monongahela Cemetery, established in 1863 in Monongahela City, Pennsylvania occupies 160 acres. Families who choose this cemetery for a burial drive on tree-lined paved roads which trace green rolling hills up to a hilltop chapel designed by architect F. P. Keller in 1894 and built in 1895. Many families who decide to purchase a plot in the Monongahela Cemetery consider it a peaceful resting place with a tranquil serenity. Because of cemetery's beautiful landscape design and pristine grounds, the cemetery was named to the National Register of Historic Places in June of 2002. The Monongahela Cemetery marked it's 150th anniversary in 2013.
 
Get a good understandng of rules and regulations governing cemeteries in Pittsburgh by calling 724-770-0100.
 
Call 724-770-0100 to ask for a list of all the cemeteries in your area. We can even provide you with the names of someone to speak with at each cemetery.
 
Try to decide if you want to purchase a single, double, quadruple or family plot.
 
Contact cemeteries that you are interested in and ask for maps of their grounds.
 
Ask that the cemetery provide you with a list of all costs associated with purchasing a burial plot in writing.
 
Before purchasing the plot or plots, call 724-770-0100 to get our advice on the purchase.
 
View Monuments and Headstones In Pittsburgh Cemeteries Designed, Built and Installed by Rome Monument in the Photo Gallery >
 
Why People Need to Choose a Cemetery in Pittsburgh:
Starting in the 1700s, the same Pittsburgh families and lineage returned to their local cemetery for burials from one generation to the next. Now, in contemporary times, in part, because of the ubiquitousness of the automobile, the modifications of religious strictures and changes in personal attitiudes and beliefs, Pittsburgh familes often choose a cemetery different than the one where their parental graves and grandparents graves are located for their own interment or that of their spouse or children. 
Some scholars have proposed that it may be true, in some cases, that frontier families selected sites for permanent dwellings and towns based on the location of their ancestor's graves. Times have changed since these pioneering days. In the 21st century, reasons for choosing a new cemetery for family graves include monument, headstone and grave marker restrictions, cemetery locations, cost, the availability of cemetery space, the quality of the grounds management, changes to neighborhoods surrounding the cemetery and because the extended family has dispersed to live in different locations in Pittsburgh's environs. Generations ago, Pittsburgh residents had fewer transportation options and often walked or road horses. The cemeteries they choose for their burials were usally close to home.  Now, in 2015, better forms of transportation make it easier for families to choose cemteries that are further away from their dwellings. The Cemetery Planning Advisor at Rome Monument help families choose a new and different cemetery, one which best suits their needs.
Types of Cemeteries in Pittsburgh:
In Pittsburgh there are five basic types of cemeteries; veterans' cemeteries, public cemeteries, green cemeteries (green or natural burial parks), religious cemeteries and municipal or district cemeteries. A sixth type of cemetery in Pittsburgh is called a historic cemetery. However, many of these historic cemeteries do not sell burial plots or gravesites.
The National Cemetery of the Alleghenies in Washington County, Pennsylvania located about 20 miles southwest of Pittsburgh is an example of a veterans' cemetery (national cemetery) which is managed by the government, in this case, the United States Department of Veterans Affairs' National Cemetery Administration. It is one of the newest cemeteries in the National Cemetery system.
An example of a municipal cemetery is the Beaver Cemetery in Beaver, Pennsylvania which is located about 30 miles north of Pittsburgh. It is managed by a nonprofit organization governed by a voluntary board of trustees.
Green cemeteries, also know as greeen or natural burial parks are places for eco-friendly burials. These types of burials are a technique for caring for the deceased with minimal environmental impact. Penn Forest Natural Burial Park is situated about 13 miles northeast of Pittsburgh is Pennsylvania's first exclusively green burial ground.  Penn Forest offers full body lots, cremated remains burial lots and sites for scattering cremated remains. Click here for information about prices for burial lots at this cemetery.
The Catholic Cemeteries Association of the Diocese of Pittsburgh is an example of a religious organization that owns and operates religious cemeteries in Pittsburgh. Pittsburgh residents most often choose public cemeteries for burials. Public cemeteries are owned by corporations or individuals. 
An example of a public cemetery owned by a corporation is the Homewood Cemetery located in Pittsburgh. It was created in in 1878 to provide a cemetery for the wealthy and influential residents of Pittsburgh's East End. In 2013, David Michener, president and CEO of the Allegheny Cemetery noted that cremated remains account for 21 percent of the burials at Homewood Cemetery. Henry Clay Frick, a famous American industrialist from Pittsburgh was interred in the cemetery in Section 14, Lot 66, Grave 3.
Many historic cemeteries in Pittsburgh have been overgrown, neglected, abandoned and are no longer maintained or managed. Historic cemeteries, such as the Voegtly Church Cemetery, are often forgotten and of little interest to anyone except history buffs, historical preservation organizations, historical societies and archaeologists. Historic cemeteries such as the Turner Cemetery in Squirrel Hill, a residential neighborhood in Pittsburgh, can be important historic resources for Pittsburgh preservation organizations and are often the focus of preservation and protection efforts. These historic cemeteries provide many clues to determining burial rituals, population settlement demographics and social influences in Western Pennsylvania. Unfortunately, efforts to preserve the historic cemeteries don't always work out, as in the case of a cemetery on Duncan Avenue in McCandless, Pennsylvania which is a suburb located a few miles north of Pittsburgh. This cemetery houses the graves of United States veterans from the Civil War, the Spanish American War, World War I and World War II. Some ancient burial grounds and cemeteries in Pittsburgh, such as the Trinity Burial Ground located next to the Trinity Cathedral in downtown Pittsburgh, are considered historical sites. The Trinity Burial Ground dates back to prehistoric Indian burials. Luckily, some historic cemeteries in Pittsburgh are being restored, such as the historic Minersville Cemetery, founded in 1862, in the Hill District of Pittsburgh. Volunteers often restore neglected historic cemeteries in and around Pittsburgh. In 2013, volunteers helped to clean up the Paris Cemetery in the Washington County, located south of Pittsburgh in Hanover Township. Also, in 2013, plans to restore the Ritter Cemetery, an abandoned graveyard  in Donegal Township, located southeast of Pittsburgh were undertaken.
If you are interested in learning how to pick out a good gravesite in a Pittsburgh cemetery, call us at 724-770-0100 and ask for Vince or Chris.
Cemetery Burial Options:
Years ago, many families purchased plots in one cemetery, burial ground, memorial park or graveyard. Today, families are choosing other options. After all, people move and convenience is important. Cemetery rules, regulations and restrictions may exclude certain memorialization or burial preferences. For instance, the bevel or slant marker, statue or upright monument, or bench memorial or bronze marker you planned on having may not be allowed in certain sections of a cemetery—or in the cemetery at all. What is a cemetery's policy on the disposition of cremated remains? Church affiliations, even religious affiliations may have changed. Affordability is often an important factor. So is the way in which the cemetery grounds are managed and cared for. The best thing you can do is to understand all your options prior to going to the cemetery or choosing a cemetery.
Talk to a Pittsburgh Cemetery Expert
As memorial builders, Rome makes it our priority to be fully informed and up-to-date on everything you need to know leading up to and following the passing of a loved one. We have Certified Cremation Counselors and active members of The International Cemetery, Cremation and Funeral Association (ICCFA) on staff ready to help you through the cemetery selection process.
If you are considering purchasing a grave, gravesite or burial plot in a Pittsburgh area cemetery, you can talk to a Cemetery Planning Advisor or schedule a free consultation by calling 724-770-0100 and ask to speak with Vince Dioguardi or Cris Morgan. We will be happy to answer any questions you have about burial plot sizes, costs, monuments, markers and cemetery rules and regulations. We know just about everyting there is to know about buying a cemetery site in Pittsburgh because we work with almost all of the cemeteries on a regular basis. We completely understand the restrictions that cemeteries in Pittsburgh have on burial vaults, monuments, grave markers and memorials. You can even ask us about their policies for floral remembrances that are placed on graves.
Prices for Burial Plots in Pittsburgh
For information on ground burial prices and ground burial space for cremation in Pittsburgh, call (724) 770-0100. Prices usually start at $500.00 - $1,000.00 for each grave or space and go up from there depending on the cemetery you choose and the section in the cemetery you pick. Some cemeteries that have architecturally appealing buildings, exqusite statues, stained glass chapels, beautiful and open pastoral landscapes, quite and peaceful environs, tree-lined drive, stands of mature trees, sweeping vistas, tranquil fountains, ponds and lakes, parklike atmospheres, great historic value, top-notch security and well maintained grounds often charge a premium for their burial plots and gravesites.
Plots in Pittsburgh cemeteries with a lake view or a private garden cost more than plots that have less than optimal vistas. "Just like real-estate, it's location, location, location," said David Michener, president of Allegheny and Homewood cemeteries in Pittsburgh.
The price for a burial plot in Pittsburgh cemeteries is based on the type of plot, which section of the cemetery the plot is located and the number of plots purchased. For example certain sections in the Round Hill Cemetery in Elizabeth, Pa, located about 19 miles south of Pittsburgh cost $500.00 for a grave, while burial plots in other sections cost $950.00. They charge about $2,700.00 for double depth lawn crypts.
For information about the costs of cemetery lots, grave openings, crypts and niches at the Beaver Cemetery and Mausoleum in Beaver, Pennsylvania, click here. Prices for cemetery lots, as of October, 2015 range from $490.00 to $2,250.00. Prices for crypts range from $7,040.00 to $22,000.00.
Types of Burial Plots in Pittsburgh
In Pittsburgh the four most common types of burial plots are single plots, double or companion plots, family or estate plots and plots for cremated remains. Individual or single plots are the most common type of plot purchased by families who live in Pittsburgh. The remains of one person are buried in these plots in a casket of vault. Double plots are sold to together and are usually purchased for or by a married couple or "life partners". Cemeteries also get requests for companion plots for same sex couples and while most deny these requests, attitidues are changing. Family or estate plots are areas in a cemetry sold to a family. Rome Monuments designs and manufactures estate memorials which often take the form of a large headstone engraved with the family name which marks the area of the graves or burial plots. In some cases individual monuments are used to mark the specific graves and in other cases, as each family member is buried, the name and dates are engraved on the large estate memorial.  
Some cemeteries such as the Saint John Vianney Parish Cemetery in Pittsburgh require that people who purchase a grave are Catholic, although Non-Catholics are allowed to be interred in their cemetery if the grave owner is a Catholic. The New Light Congregation in Pittsburgh operates the New Light Cemetery in Shaler Township. Their congregants receive a 20% discount on grave sites after a two year membership.
Mausoleums
In Pittsburgh people often choose to have their deceased relatives or themselves entombed in a mausoleum crypt. The three most popular styles of masoleum crypts are outdoor/garden mausoleum crypts or private/family mausoleums which can be large walk in structures or outdoor crypts. Click here to see examples of mausoleums designed and built by Rome Monuments.
How to Purchase a Burial Plot for a Grave for a Pet in Pittsburgh:
While most families in Pittsburgh bury their companion animals such as dogs and cats on their own property, usually in their backyard, more and more cemeteries in Pittsburgh are offering burial options for both humans and pets. One example is the Jefferson Memorial Cemetery which offers pet owners the opportunity to purchase a single burial plot for their pet or they can purchase property within the Garden of Faithful Friends so that they can be buried near their pet. Prices for burying a pet in its own plot start at $350 and go up to over $1,000.00 depending on the animal's size. Both pets and humans must be buried in caskets or alternative containers. Hillcrest Memorial Park in Hermitage, Pa., which is about 70 miles north of Pittsburgh has a section in the cemetery that permits the burial of pets and humans together. Peaceful Pastures Pet Cemetery, which is owned and operated by Beinhauer Family Funeral Homes, is located next to the Beinhauer's human cemetery, Woodruff Memorial Park which is located about 12 miles southwest of Pittsburgh. Rome Monument sells pet memorials which are appropriate for pet cemeteries in Pittsburgh.
Cemetery Grounds and Monument Maintenance:
When people are trying to decide on where to purchase a grave or burial plot, it is important that they get information about how the cemetery grounds and monuments are maintained. The Cemetery Planning Advisors at Rome Monument know which cemetery's management staffs place a priority on lawn and grave marker maintenance and care. If cemetery work crews are not vigilent about preventing water problems, standing water, water runoff and mud can obscure the names, dates and epitaphs on gravestones and headstones.  Excess water in a cemetery can create a mess around gravesites which is an ordeal for family members who are visiting the cemetery to pay their respects to their deceased love one (s). Call 724-770-0100 and ask to speak with Vince Dioguardi or Cris Morgan. Either gentleman can provide good advice and insight regarding the maintenance standards and practices of cemeteries in Pittsburgh.
Our staff knows the cemeteries in Pittsburgh that pay close attention to seeding, fertilizing, landscaping, watering, pruning, refuse removal, mowing, eradicating gophers and moles, inspecting, mulching, raking, planting and other services associated with cemetery maintenance. The best cemeteries in Pittsburgh properly maintain their cemetery drives, paths and sidewalks, trees, curbs, watering and irrigation systems, buildings, mausoleums, chapels, fences and gates. It is extremely important for cemeteries to continously raise, repair, clean, set and realign the monuments and headstones marking the gravesites because injury, or even death can occur if a monument or headstone starts to lean causing it to fall or tip over on to somebody decorating or visiting the gravestone. Call 724-770-0100 and ask to speak with Vince Dioguardi or Cris Morgan to find out which cemeteries in Pittsburgh take the best care of their burial grounds and grave markers. Both men are very experienced in helping families make the best choice when deciding where to buy graves, cemetery spaces and cemetery lots in Pittsburgh.
Scheduling A Burial at the National Cemetery of the Alleghenies:
To schedule a burial at the National Cemetery of the Alleghenies, located southwest of Pittsburgh in Bridgeville, PA , please contact the National Cemetery Scheduling Office by following the instructions listed here http://www.cem.va.gov/cem/burial_benefits/need.asp or fax all discharge documentation to the National Cemetery Scheduling Office at 1-866-900-6417 and follow-up with a phone call to 1-800-535-1117. 
The 292 acre National Cemetery of the Alleghenies situated approximately 20 miles southwest of Pittsburgh, was dedicated in 2005 by the United States Department of Veterans Affairs' National Cemetery Administration. This cemetery has space available to accommodate casketed and cremated remains. It is one of the newest cemeteries in the National Cemetery system.
Burials at Allegheny Cemetery:
The Allegheny Cemetery located in the Lawrenceville neighborhood of Pittsburgh, offers the people of western Pittsburgh a wide choice of burial and memorialization options. For assistance with a burial call 412-682-1624.
Burials at The Homewood Cemetery:
At the 204 acre non-denominational, non-sectarian Homewood Cemetery, located near the center of Allegheny County, accomodates every form of legal burial including: traditional burial in a single in-ground lot or a double depth lawn crypt. Inurnment, with placement of cremated remains in an urn garden or family lot is also accommodated. For assistance with a burial at the Homewood Cemetery, please call 412-421-1822. Their staff will help you choose from the wide range of burial options, and price ranges offered.
Cemetery Arrangements and Purchasing Burial Space at Jefferson Memorial Cemetery:
To make cemetery arrangements and to purchase burial space at the Jefferson Memorial Cemetery and Funeral Home in Pittsburgh, visit http://www.jeffersonmemorial.biz/burial.php or call 412-655-4500. Incorporated in 1929, the Jefferson Memorial Cemetery and Funeral Home is still owned and operated as a family enterprise.
How To Choose a Burial Plan at Plum Creek Cemetery:
Plum Creek Cemetery provides many customized burial options including graveside and chapel services, and various plot and foundation sizes. Visit http://www.plumcreekcemetery.com/burial.htm for  burial interment prices, cremation interment prices and lot/plot burial site prices. To make burial arrangements call 412-793-7666. At the Plum Creek Cemetery, as of October, 2015, the price for a plot was $1,000 each, depending upon the number of plots, and in all sections within the cemetery. For rules and regulations at the cemetery, click here.
Cemetery Arrangements at Union Dale Cemetery:
The Union Dale Cemetery in Pittsburgh is a 96 acre hilltop family cemetery incorporated in 1846. The nonprofit cemetery offers attractive lots for traditional burial as well as cremated remains. This charming burial ground consistently ranks among the best cemeteries in terms of maintenance and appearance in the Pittsburgh area. To start the process of making cemetery arrangements at Union Dale visit http://www.uniondalecemetery.org/services.php. To get specific information about cemetery arrangements call (412) 321-0774.
How to Arrange a Burial at Penn Forest Natural Burial Park:
The 32 acre Penn Forest Natural Burial Park, which opened in 2011, is located 13 miles northeast of downtown Pittsburgh in Penn Hills. It was Pennsylvania's first "green burial only" cemetery. Penn Forest offers plots for full body and cremated remains burial along with cremated remains scattering sites. 
To make burial arrangements at the Penn Forest Natural Burial Park, visit http://www.pennforestcemetery.com/arrange-an-immediate-green-burial/ or call 412-977-2207 and ask to speak to Pete McQuillin. Pete can schedule a time for your family can visit the cemetery to select a plot/lot and make arrangements for a burial and graveside service. Green burials are becoming increasingly popular with Pittsburghers. This type of burial is a process that involves burial without formaldehyde-based embalming, metal caskets, or concrete burial vaults. Click here to watch a YouTube video overview of the Penn Forest Natural Burial Park and learn more about green burial.
For information on burial lot (Interment Rights) pricing, body burial fees, cremated remains burial fees and cremated remains scattering fees, visit http://www.pennforestcemetery.com/pricing.
Cemetery Grave or Burial Plot Sizes in Pittsburgh:
A standard grave is about 8 feet long and 2 1/2 feet wide. This sizes provides room for an upright monument or flat grave marker. Some burial plots may be up to 9 feet long or 4 feet wide to accommodate a person of larger size. Most cemeteries use standard sizes for single and double plots.
Cemetery Arrangements and Burial Plots at The McKeesport and Versailles Cemetery:
The McKeesport and Versailles Cemetery in McKeesport, Pennsylvania is a non-profit perpetual care cemetery owned by the lot owners. Burial plots, mausoleum crypts and niches are available for sale. For prices and more information visit www.mckeesportcemetery.com or call 412-672-1176.
How Cemeteries in Pittsburgh Make Money:
Cemeteries in Pittsburgh produce revenue from selling in-ground human and pet burial plots, lawn crypts, burial containers and vaults, ground burial space for cremation placements, floral rememberances, mausoleum and community columbarium space and niches, memorial benches, monuments and grave markers. They also generate income from monument foundation fees, membership fees and maintenance funds, interment fees, disinterment fees, grave opening and closing fees or inurnment fees, community contributions or donations and endowment and perpetual care funds. Some cemeteries in Pittsburgh offer financing. For more information about cemetery costs related to cremation, click here.
Cemetery Options for the Final Disposition of Cremated Remains:
In 2013, Allegheny Cemetery opened a hillside trail with beautiful views to provide Pittsburgh families with another option for cremated burials. Many families in Allegheny County, PA choose cremation because of the flexibility this option offers. People from Western Pennsylvania often decide to have an urn buried at a cemetery that has facilities for cremated remains months or even years after the memorial service for the deceased was conducted. These facilities may be burial spaces alongside trails, special gardens or indoor or outdoor columbariums.
In Squirrel Hill, the Homewood Cemetery maintains a beautiful lawn garden cremation garden, an indoor mausoleum and garden mausoleums for the final disposition of cremated remains. The Union Dale Cemetery in Pittsburgh offers a Memorial Walk, private columbarium grave space, an above-ground columbarium for cremated remains, standard grave spaces that may hold up to two cremations and cemetery sites designated for cremation burials. Jefferson Memorial Cemetery in Pittsburgh offers indoor and outdoor columbarium niches for cremated human remains which are often referred to as cremains. For more information about cemeteries that provide options for the final disposition of cremated remains, call 724-770-0100 and ask to speak with Vince Dioguardi or Cris Morgan.
Pittsburgh Obituaries and Death Notices
Pittsburgh Cemetery Jobs
Additional Information to Help You Choose a Cemetery for a Burial in Pittsburgh: