View 2023 Mausoleum Buyers Guide Video:
2023 Granite Mausoleum Architectural Design Style Guide
[Modern, Classical And Custom With Bronze]
Chapter 12
---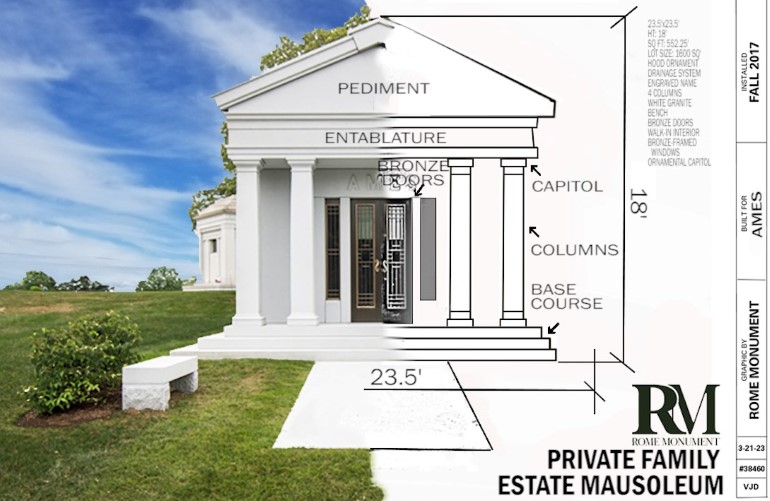 ---
TRANSCRIPT OF THE VIDEO NARRATION:
---
Since ancient times, mausoleums styles have reflected a region's culture and the influences of the times they were built in. 
This Chapter of The Essential Buyers Guide to Private Family Mausoleums is a 2023 granite mausoleum architectural design style guide, we'll take a look at some of the architectural styles found in today's mausoleums including modern, classical and custom with bronze.  
Based on Greek and Roman architecture, Classical style mausoleums have perfect proportions, harmony, symmetry, and feature triangular pediments and tall columns supporting horizontal beams. 
Like the White House and other government building in our nation's capital, Neoclassical style mausoleums borrow elements from Classical architecture, including the grand scale, simple forms, and dramatic columns.
From the 6th to the 10th century, churches and abbeys in Europe were built using Romanesque architecture. Semicircular arches, symmetrical design, and thick walls are features of Romanesque mausoleums, which can also include rusticated stone and medieval columns. 
Gothic architecture, originally used in cathedrals built in Europe from the 12th to the 16th centuries, is distinguished by soaring towers, decorative spires and stonework, pointed arches, and, in some cases, protective sculptures.
Baroque architecture, seen in European palaces and churches of the 16 to the 18 hundreds, expresses itself as tall, grand, decorative mausoleums with dramatic domes.    
Asian style mausoleum architecture is similar to that found in pagodas – with tiered towers, multiple eaves and a sloping roof.
Egyptian Style Mausoleums borrow elements from Ancient Egyptian architecture, with its extensive funerary art, grand scale, and use of pyramids, obelisks, Egyptian symbology, and frescoes and friezes.
Islamic style mausoleum architecture resembles that found in Islamic mosques and palaces. The basic form is a cube topped by a dome, with minarets, elaborate decorations, patterns and ornamentation, and exquisite calligraphy. 
Of course, mausoleum designs can be based on modern architectural styles, too. New mausoleum manufacturing technologies have opened the door to designs based on current trends in architecture. 
Any mausoleum style can incorporate bronze into its design, including the entrance doors, crypt shutters, niche doors, and mausoleum accessories.  
A quality mausoleum company can build your dream mausoleum in any architectural style you desire. 
If you want to talk to a mausoleum professional about different styles of mausoleums, just call Rome Monument. They'll be happy to answer any questions you have.
Next in The Definitive Buyers' Guide to Private Family Mausoleums, we'll look at the different options for the designing interior of a walk-in mausoleum.