How People Commission the Design and Construction of a Mausoleum
Published November 1, 2017, Updated November 8, 2017
Copyright 2017 Rome Monument
Founded in 1934, Rome Monument is a mausoleum construction company that custom designs and builds the highest quality
private family mausoleums
in the United States. With manufacturing facilities in Pittsburgh, Pennsylvania, we transport and install mausoleums primarily throughout an 8-state region that includes Pennsylvania, Ohio, West Virginia, Maryland, Virginia, New York, Delaware, and New Jersey.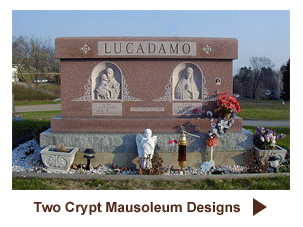 When people want to buy a high quality mausoleum, they call Rome Monument at 724-770-0100 to speak with Vince Dioguardi about the purchase, design and installation process. One way to determine the best mausoleum provider is to review their work. Click here to view
examples of mausoleums we have built
over the years. Listed below in this tutorial are typical cemetery mausoleum prices. More so than standard cemetery monuments, mausoleums are more frequently designed and purchased in advance of the passing of the people who will be memorialized by the structure. Learn about our
Pre-Arranged Cemetery Monument Plan
or
request a brochure
.
Mausoleums are above ground structures that contain the crypt or crypts of the deceased. They can be as simple as a granite "butter dish"-style mausoleum that is just large enough to cover a coffin or casket. Or they can be as elaborate as a
walk-in chapel-style mausoleum
such as the Taj Mahal which is over 20 stories high and covers 42 acres of land in Agra, India. A mausoleum can hold
one crypt
or dozens of crypts for multiple generations of the same family. The
Mausoleum of Augustus
was built by Rome's greatest emperor in 28 BC on the Campus Martius in Rome, Italy. Augustus certainly planned ahead by starting on the mausoleum about 5 years before he passed away.  View pictures of the new
renovations of the Mausoleum of Augustus Caesar
. It is scheduled to be opened to the public in 2019.  In its day the mausoleum was the
second largest funerary monument
aside from the pyramids.
From concept to completion, Rome handles all your private mausoleum design and construction needs. We contract with the area's finest, most reliable companies and use only the highest grade materials, the most advanced construction processes and state-of-the art equipment in the construction of our one-of-a-kind custom mausoleums. 
Since building a mausoleum is similar to building a house, consideration needs to be given to the type of building materials used, the color of the granite, electricity, plumbing, additional rooms, spaces for artifacts,
funerary art
, frescoes, statues, number of crypts, and so much more. Our private family mausoleums are commissioned by individual families and usually constructed on a cemetery plot (s) or on one's private property. 
The design and construction of a custom mausoleum from Rome Monument starts with a personal consultation at your home, office, or our showroom.  To get started on your private family mausoleum:
 
Rome Monument owner and president Vince Dioguardi has designed and constructed a
9-crypt walk-in mausoleum
– for his own family! He has gone through the entire mausoleum-building process, understands it intimately, and will help you through the process as well. 
Why People Commission the Design and Construction of Mausoleums 
Mausoleums are not built only for the wealthy, prestigious, and self-important people of the world. They are built for every class, race, religion, social status, and job description. They are the interment option of choice for many, many reasons - practical, pompous and caring.
Mausoleums Are Drier
Mausoleums are the interment choice of necessity in areas with high rainfall, swamps, and high water tables – places like New Orleans, which is built on a swamp below sea level. Marie Laveau, the voodoo queen of New Orleans, is buried there.
New Orleans cemeteries
are filled with hundreds of mausoleums adorned with elaborate sculptures and other artwork, giving the city's cemeteries the nickname "Cities of the Dead." 
Mausoleums Convey Significance
Mausoleums Are Cleaner 
Ed had another reason for being interred above ground. "It began to occur to me that I did not want to be in the ground covered with weeds and whatnot and totally forgotten," he said. "I don't like the idea of dirt being dumped on me." Ed isn't the only person who gets creeped out by the thought of being underground for an eternity. It's for that reason that the squeamish commission mausoleums for themselves.
Mausoleums Are Eco-Friendly
Mausoleums Are Visitor-Friendly Year-Round
Chapel or walk-in mausoleums are buildings that allow people to be more comfortable and be protected from the rain and snow and cold weather while visiting a loved one. Families can visit any time of year, in any weather, even on a rainy Labor Day weekend or a snowy Christmas day.
Mausoleums Provide A Peaceful Retreat Space
Play soothing music while you relax in a chair or on a bench and reflect on the life of a family member who passed. You don't have to worry about other people, about insects or wind. Just relax and remember.
Mausoleums Mean Togetherness – In Life And In Death 
Mausoleums are built to hold the remains of many individuals in one place. Past, current and future family members have a place to be interred along with other generations of their family. Rome Monument designed and constructed an eight crypt mausoleum for the
Troiani family mausoleum
which resides in the
Beaver Cemetery and Mausoleum
in Beaver, Pennsylvania.
Mausoleums Are Cost-Effective
While mausoleums can be expensive, when the cost is split among all the family members who will be
interred
there, the cost becomes a mere fraction of the total cost of the mausoleum. Two crypt mausoleums are frequently purchased by a husband and wife who want to be interred together. Rome Monument designed a
double crypt mausoleum
for Otis Wesley and
Daisy Wesley
of Homewood, PA.
Mausoleums Allow For Interments In Winter
Burials are often a problem during the winter months, especially in the northern states. When the ground freezes, burials usually are put off till spring. That can be quite a long delay.
Above ground mausoleums
allow for burials even during the coldest Polar Vortexes – no delays!
Mausoleums Are An Expression Of Majestic Love
In the 1400's Emperor Shah Jahan built a mausoleum for his wife, Mumtaz Mahal, to show his great and everlasting love for her. You can do the same for the love of your life. The mausoleum built for Mumtaz is the
Taj Mahal
. Yours can be a bit more modest if you prefer.  To see an example of a private two crypt mausoleum, view the design we created for
Anthony Lucadamo and his wife Florence
.   
Mausoleums Are "My Museum"
Inside your mausoleum, you can display photographs, murals, and personal artifacts that tell the story of your life. You can't take it with you, but you can certainly leave it for your heirs to enjoy. What could be more meaningful? And what a great incentive for your family to come visit you at your
final resting place
. To see an example of a mausoleum that was designed and constructed for a married couple, while they were both still alive,
click here
.
An Above Ground Option
Cemeteries such as
Cleveland's Lakeview Cemetery
, founded in 1869, offer numerous above ground options for mausoleums. One of the most famous above-ground structures located in "Cleveland's Outdoor Museum" is the
James A. Garfield Memorial
.  Mausoleum entombment provides a very dry and clean type of burial and minimizes the problems caused by ground burials.  Side-by-side two crypt  mausoleums are often purchased by married couples in advance of their eventual interment. Rome Monument designed and constructed one of these types of mausoleums for 
Walter R. Kasper and Margaret Kasper of Ambridge, PA
. It is a fitting memorial for a fantastic couple.  
Need a reason to have your own custom-made mausoleum designed and constructed by Rome Monument? Here's what to do:
 
Choosing The Type Of Mausoleum You Want
The first step in designing and constructing a mausoleum is deciding what type of mausoleum you want and how many family members it will hold. It is best to preplan for a mausoleum in advance of one's passing so that decisions on the numbers of crypts and the style of architecture can be discussed among family members in an unhurried, thoughtful manner.  A mausoleum can cost hundreds of thousands to millions of dollars, and can take months or years to design and construct, and therefore should be planned thoughtfully and with the whole family.
Mausoleums come in all shapes and sizes, and can hold anywhere from one individual to entire families - even whole communities, as in public and church mausoleums. Mausoleums that are
commissioned
by families or individuals are called "private mausoleums", and those that are created for churches, cemeteries, and placement on public grounds are called "public mausoleums". In an above ground interment, anywhere from one to dozens of crypts (a stone chambered burial vault) (1) are used to store the caskets, coffins, or remains of the deceased in a mausoleum. 
While we most often think of mausoleums as elaborate buildings erected for rich or prestigious people, they are, in fact, often simple stone encasements that surround the coffin and that are not much bigger than the coffin. Think of a butter dish that covers a stick of butter. The simplest mausoleums are single crypt mausoleums that hold just one casket. The crypt is approximately 2½-feet square and 8-feet long.  The opening into which the casket is placed is covered with a "shutter", a marble, granite or bronze front that can be highly decorative. A single crypt can be a mausoleum in and of itself, called a lawn crypt, or be placed in a larger mausoleum building.
A double crypt mausoleum contains two crypts to store two caskets. These crypts can be placed back to back, side by side, or one on top of the other. Crypts that contain a combination of single and double (approximately 16-foot) crypts, are known as True Companion crypts.  George and Donna Suznevich of Midland, PA purchased a 
side-by-side double-front covered crypt style mausoleum
from Rome Monument for their eventual interment.
Private mausoleum buildings can hold one, two, or multiple crypts to accommodate many members of the same family. There are two types of mausoleum buildings: garden mausoleums and chapel mausoleums.
In a garden mausoleum, crypt openings are on the outside of the building, In general, there is no entrance or indoor space in these structures. Chapel mausoleums have some or all the crypts inside the building, with an entrance and space for visitors indoors. The building might consist of two garden-type mausoleums with a roof connecting the two. The crypt openings of the buildings that are facing each other and under the roof would be considered interior crypts, whether or not the building is enclosed. In addition to the crypts, chapel mausoleums can incorporate niches in the walls to hold cremated remains. If the building is not enclosed, the project is called an 'Open Chapel' mausoleum. Buildings can include many hallways and might also contain work rooms, offices, bathrooms and actual chapels. The protected interior allows for art and artifacts to be displayed, as well as electricity and plumbing to be installed.
There are many variations to these types of mausoleums, which can be explored when you meet with designers at Rome Monument.    
Architectural Styles of Mausoleums
Mausoleums are above ground structures that surround and protect tombs or burial chambers. While some are just large enough to encase a coffin containing the remains of the deceased, mausoleums are most often associated with buildings that have entrances to an interior room where family members can view the tomb(s) or burial chamber(s) of one or more persons. As buildings, mausoleums are designed and constructed in the architectural style of the day or of a certain historical period.
Rome Monument uses mausoleum design and construction experts to help you manifest your dream mausoleum in any architectural style you desire. To find out more about mausoleum architectural styles, and to get started on your family mausoleum:
Following are some of the more common historical architectural styles found in the design and construction of modern day mausoleums.  
Mausoleums with Classical Style Architectural Designs 
Classical style mausoleums are based on
Greek and Roman architecture
that was prominent from about 900 BC until the 1st century AD. The Parthenon in Athens is a classic example of Classical Architecture. Tall columns supporting horizontal beams created a majestic look that was used in temples, open-air theater, public monuments, and mausoleums.
Mausoleums with Neoclassical Style Architectural Design
Greek and Roman Classical architecture made a comeback in the 18th and 19th centuries with a style of architecture called
Neoclassical
.  The White House and many of the original government buildings in Washington, D.C. are Neoclassical. This popular style borrows many elements from Classical architecture, including the grand scale, simple forms, and dramatic columns. Many mausoleums are built in the Neoclassical style. 
Mausoleums with Baroque Style Architectural Design
The towering, highly ornamented cathedrals built in Europe from the 12th to the 16th century are examples of
Baroque architecture
.  This style is distinguished by soaring towers, decorative spires and stonework, pointed arches, and, of course, spooky gargoyles. 
Notre-Dame de Paris
, one of the largest and most-recognized churches in the world, is an example of
Gothic architecture
. Baroque style mausoleums today are designed with a simplified style of Gothic often referred to as
Neogothic
. 
Mausoleums with Romanesque Style Architectural Design
Romanesque architecture originated in Medieval Europe. It is distinguished by its semi-circular arches, massive quality, thick walls, sturdy piers, groin vaults, decorative arcading, large towers, and almost perfectly regular and symmetrical plans. From the 6th to the 10th century, most churches and abbeys in Europe were built using
Romanesque architecture
, and many still remain across Europe.  The semicircular arches, symmetrical design and thick walls remain the defining features of
Romanesque mausoleums
. They can also incorporate rusticated stone, medieval columns, and the divided arch in the bronze doors.  A good example of a
Romanesque mausoleum
is the massive
Walden-Myer mausoleum
in the
Forest Lawn Cemetery
in Buffalo, NY.  The
Walden-Myer Mausoleum
supports a giant stone globe on its roof. A beautiful Romanesque mausoleum designed by Rome Monument is the
Pappan Family Mausoleum
constructed in the
Beaver Cemetery and Mausoleum
in Beaver, PA.
Mausoleums with Asian Style Architectural Design
Asian architecture in the United States is most often associated with the style found in pagodas. A
pagoda
is a tiered tower with multiple eaves and sloping roof, similar to a stupa design originating in South Asia.  Stupas are a tomb-like structures where sacred relics are kept safe and venerated. The
Ho Chi Minh Mausoleum
in Vietnam is one of the world's most visited Asian-style mausoleums. 
Mausoleums with Egyptian Style Architectural Design
Ancient Egyptian architecture
, with its extensive funerary art and its grand scale, is understandably used as the style of choice for many modern-day mausoleums. Pyramids, obelisks, sphinxes, Egyptian symbology, and frescoes and friezes are indicative of
Egyptian mausoleum architecture
.  The
F.W. Woolworth Mausoleum in New York City
contains all the elements of a classic Egyptian style mausoleum. A good example of a mausoleum designed and built using an Egyptian Revival architecture style is the
Kilmorey Mausoleum
, in London.  The mausoleum was constructed in the style of an ancient Egyptian monument and is considered a great example of an
Egyptian-style mausoleum
.  In the late 19th century and early part of the 20th century, Pyramid mausoleums were part of the Egyptian revival architecture movement in the United States. Actor Nicolas Cage had a
9ft pyramid shaped mausoleum
designed and constructed in the
historic St. Louis No. 1 cemetery
in New Orleans.  The
Martin Ryerson Tomb
, designed by Lous Sullivan is an Egyptian Revival that blends two different types of Egyptian-style buildings, the pyramid and the mastaba. The Ryerson Mausoleum is one of three tombs that
Louis Sullivan
designed during his career. It is located in the historic Graceland Cemetery in Chicago, Illinois.
Mausoleums with Islamic Style Architectural Design
Islamic style architecture is found in the mosques, tombs, palaces and forts of countries where Islam is worshipped, and is most prevalent in the Near East, North Africa and East Asia. The basic form of an Islamic Mausoleum is a cube topped by a dome, with an open space near the center of the dome below which is an underground chamber that functions as the tomb. Minarets often flank the structure. The surface is covered with elaborate decorations and ornamentation. calligraphy, abstract geometric elements, and floral patterns. The
Taj Mahal has all the characteristics that are common in an Islamic Mausoleum
.
How Rome Designs Mausoleums
You have a reason to build your mausoleum. You are familiar with the different architectural styles of mausoleums. You know the different types of mausoleums and the number of crypts they can hold. If you need help with any of these, Rome Monument can provide you with all the information you need to understand everything that is involved in the design and construction of your private family mausoleum.
Prior to building the mausoleum, it usually takes months of discussions and drawings before coming up with a finalized architectural blueprint that is used to create your mausoleum. For that reason, we highly recommend starting the mausoleum design process well in advance of a family member's passing. This is called preneed planning. Many, many decisions need to be made and they are best discussed in a family setting where thoughtful and thorough discussions can take place.
A Rome Monument mausoleum design not only includes plans for the exterior and interior walls and roof of the structure, it includes lettering styles (any language), portraits, pictures, bas relief, statues, engravings and etchings that personalize each mausoleum for your family and often include symbols and imagery that convey the specific nationality or religion of the deceased. You can select from a wide variety of granite colors in different price ranges, including: red granite mausoleums, black granite mausoleums, gray granite mausoleums, and any other color granite mausoleum you desire. For Chapel Mausoleums, we can add even more, including sentimental artifacts and memorial accessories such as statuary, murals, vases, stained glass windows and more. The possibilities are limitless, the effect eternal.     
Mausoleum design starts with a personal consultation with you and your family at your home, office, or our showroom.  To get started on designing your family mausoleum: 
 
During our initial consultation, we will discuss your wants and needs, discuss mausoleum design options, discuss your cemetery preference and its rules and regulations concerning mausoleums, show you the costs of various mausoleum designs, find out the number of family members that will be entombed in the mausoleum now and in the future, and work out some initial designs with you. Decisions need to be made regarding the style of the monument. Some of the more popular mausoleum architectural style include: 
Mausoleums with Classical Style Architectural Design 
Mausoleums with Neoclassical Style Architectural Design 
Mausoleums with Baroque Style Architectural Design 
Mausoleums with Romanesque Style Architectural Design 
Mausoleums with Asian Style Architectural Design 
Mausoleums with Egyptian Style Architectural Design 
Mausoleums with Islamic Style Architectural Design 
Mausoleums with Contemporary or Modern Architectural Design
Mausoleums with Islamic Architecture Design
When planning a mausoleum, you need to take into account the items you wish to go in or around the structure. Rome can explain the many options available to you, including:
Statues
Sculptures
Bas Reliefs
Friezes
Murals
Photographs
Vases
Lamps
Furniture
Stained Glass Windows
Chapel Items 
Cross
Personal Artifacts
Books
Funerary Art and more
Once you have chosen the architectural style and the items you want included in the mausoleum, our team will refine the design based on further discussions with you, our architects and trades people (plumbers, electricians, etc. if necessary), and deliver a fully realized CAD drawing for your approval. We will continue to make refinements and adjustments in the design until you are completely satisfied. 
How Rome Builds Mausoleums
Once the mausoleum design and cost are approved, we assemble the team that will make your mausoleum design a reality, including trusted architectural design and construction professionals. Then the mausoleum is delivered to the cemetery and assembled at the site. However, the construction process is still not completed. If the design calls for it, plumbing and electricity needs to be set up. 
We use only the most advanced techniques and state-of-the-art equipment to ensure that your mausoleum is of the highest possible quality and efficiency to decrease costs. Our impeccable processes are the result of our expertise gained from over 80 years of experience building the highest quality mausoleums! 
Once again, mausoleum design and construction is a costly and time-consuming process (of course, well worth for families desiring an exceptional resting place). For that reason, we recommend starting the design process right away, instead of waiting till it's too late for all family members to be involved in the process.
Once a design is approved, some mausoleums take months to build. Others take years to complete. The construction of
Grant's Tomb
took six years from groundbreaking to dedication.  Of course,
Grant's Tomb
is the second largest mausoleum in the Western hemisphere.  Landscape plans may also be included at the instruction of the family. 
1) Construction starts with quarrying the granite that will comprise the structure of the mausoleum. Granite is the ideal material use for mausoleums because its beauty, strength, and long-long lasting durability (centuries with essentially no deterioration). We use only the highest quality granite from the most respected quarries in the United States and around the world, including Rock of Ages in Vermont.
2) In Rome Monument's mausoleum production facility, our team of expert architects, highly skilled stone cutters, electricians and other tradesmen faithfully follow construction drawings that include detailed architectural, structural, mechanical and electrical plans for the structure. The granite is cut to the blueprint's exact specifications by Rome's expert craftsmen. The crypts, statues, and other funerary art is carved and finished. Crypts and walls are enhanced and embellished with artwork, lettering, etchings and engravings that personalize the mausoleum and often include religious symbols and imagery that reflect the religion of the deceased. carvings, engravings, and etchings. Stained glass windows, frescoes, murals, bas reliefs and other embellishments are designed and created at Rome Monument. This process can take months or even years to complete. Each custom designed and custom mausoleum is built with granite modules (walls, roof, and other features) produced at our mausoleum construction facility in Pittsburgh and then transported to the cemetery and assembled on site. Rome Monument also works with
mausoleum design and construction contractors
to build mausoleums.  Rome Monument collaborates with the
best quarriers, fabricators
and
finishers of granite
along with other
cemetery businesses
to build
community mausoleums
, private family mausoleums,
above ground mausoleums
and
private estate mausoleums
.
3) A concrete or granite foundation is built on the site where the mausoleum will be assembled. 
4) The completed mausoleum modules are transported to the cemetery.
5) The mausoleum is assembled on the foundation to exacting specifications. Walls, roof, columns, posts, ballisters, polished granite, wood or tile floor, crypts, glass or stained glass windows, stairs, nameplate, and bronze doors are added one by one, with the highest quality craftsmanship and care, until the mausoleum becomes the beautiful work of art you envisioned.  
6) After assembly of the main structure, all art, artifacts, funerary art, windows and doors and other accessories will be placed in and around the mausoleum. Statues are placed on the grounds or in the building, bas reliefs, lettering and artwork are etched and engraved on the polished granite. 
7) Landscaping, if called for, will be performed.
How Mausoleum Prices are Determined
The
cost
of a private family mausoleum is based on the type, size, style, shape, design, ornamentation, number of crypts, and materials used. You can select from a wide variety of granite colors in different price ranges.
Rome Monument can provide you with a ballpark price quote based on the specific type and style of mausoleum you want. To get started:
Basic private small single-crypt or double-crypt private mausoleums: start around $25,000
Factors that determine price include:
Style 
Details of crypt – art, etchings, engravings, photographs, etc.  
Quality of the granite
Detail and materials, usually bronze or granite, of shutter (door on the opening of the crypt)
Simple two-crypt Mausoleums: start around $37,000  
Factors that determine price include: 
Style 
Details of crypts – art, etchings, engravings, photographs, etc.  
Quality of the granite
Detail and materials, usually bronze or granite, of shutter
Walk-in Mausoleum (2-4 crypts): from $200,000 to $1,000,000+
Some factors that determine price:
Number of Crypts
Architectural Style
Size
Details of crypts and mausloseum– art, etchings, engravings, photographs, etc.  
Quality of the granite
Accessories
Funerary Art
Number and Types of Rooms
Electricity and Plumbing
Estate Walk-In Mausoleum (12-16 crypts): from $2.5 million
Some factors that determine price:
Number of Crypts
Architectural Style
Size
Details of crypts and mausoleum– art, etchings, engravings, photographs, etc.  
Quality of the granite
Accessories
Funerary Art
Number and Types of Rooms
Electricity and Plumbing
Additional products and services associated with all the above options:
Casket – $1,095 to $8,995
Crypt Liner – $675
Opening and closing – $1,245 to $2,745
Engraving on crypt front – $455 to $575
By purchasing a family configuration, you can split the costs among family members, which will considerably lower the overall cost of entombment in a mausoleum.
Famous Mausoleums 
Throughout history, mausoleums have served an important role in cultures throughout the world. Following are some of the more prominent mausoleums.  
Mausoleum at Halicarnassus
The term mausoleum itself comes from the name of the 4th century Persian Governor, Mausolus, who was buried in a magnificent above ground structure originally called the Tomb of Mausolus. Now known as the
Mausoleum at Halicarnassus
in Halicarnassus, Turkey, it was planned by Mausolus himself and designed by Greek architects Satyros and Pythius. It is one of the Seven Wonders of the Ancient World. The Mausoleum was approximately 150 in height, and the four sides were adorned with sculptural reliefs. The tomb sat on an enclosed platform in the center of the courtyard. Ornamentation included stone lions, statues of gods and goddesses, stone warriors mounted on horseback that guarded the tomb, bas-reliefs showing action scenes, statues of four massive horses pulling a chariot in which rode images of Mausolus and his wife Artemisia. Completed in 350 BC, the mausoleum was eventually destroyed by a series of strong earthquakes. 
Mausoleum of the First Qin Emperor
The
Mausoleum of the First Qin Emperor
, Qin Shi Huang, is home to the now world-famous terracotta army, 6,000 incredibly detailed and life-size Terracotta Warriors whose purpose was to protect the Emperor in the afterlife from evil spirits. There is also an army of chariots and 40,000 real bronze weapons. The mausoleum was started in 246 BC upon the orders of the young king himself. It took 700,000 men to construct the mausoleum which was finally completed in 208 BC, 39 years after it was started. The tomb includes replicas of palaces and scenic towers, rare utensils and wonderful objects, 100 rivers made with mercury, representations of "the heavenly bodies", and crossbows rigged to shoot anyone who tried to break in.
Mausoleum of Genghis Khan 
The
Mausoleum of Genghis Khan
, built between 1954 and 1956 in Inner Mongolia in China, is a temple devoted to the worship of Genghis Khan, who died in 1227.  Ghengis Khan was a famous Mongol military leader, founder of the Mongol Empire, and considered the unifier of modern China. The
mausoleum
is a cenotaph (the coffin contains no body but only headdresses and accessories) because the actual Tomb of Genghis Khan has never been discovered. Outwardly, the
mausoleum
has the appearance of three Mongolian yurts. Inside, there is a statue of Genghis Khan, a map of the vast territory of the Yuan Dynasty, and frescos depicting the life of Genghis Khan and the great deeds of his grandson-Kubla Khan, who was as great a leader as his grandfather.
Guri Amir
The 
Guri Amir
is a mausoleum of the 14th century Asian conqueror Timur (Tamerlane). Located in Uzbekistan, it is important because its Persian-Mongolian architecture was a model for later Mughal architecture tombs, including  the Taj Mahal. The eight-sided building is crowned by a dome which contains the tombs of Tamerlane, his sons, grandsons, and Timur's teacher. The entrance portal is richly decorated with carved bricks and various mosaics. The inside the mausoleum is a large, high chamber with deep niches, paintings, and high-relief papier-mache cartouches. Much of the structure has been destroyed and what remains has been heavily restored.
The Taj Mahal
While many mausoleums are commissioned and planned by important leaders who will be enshrined in them, the
Taj Mahal
was built by Mughal Emperor Shah Jahan not for himself, but for his favorite wife, Mumtaz Mahal. The mausoleum is constructed of white marble with a large central dome surrounded by four smaller domes. On the massive grounds are long pools of water and a red sandstone mosque. Inside the mausoleum, there is marble chamber that houses the cenotaph, or false tomb, of Mumtaz Mahal. Shah Jahan intended to build a mausoleum across the river for his own remains. Unfortunately, when his third son with Mumtaz Mahal deposed his father and took power himself, Shah Jahan lived out under house arrest. No mausoleum was ever built for him.
The Pantheon 
Many important French citizens, including writer Victor Hugo and scientist Madame Curie, are entombed in the
Pantheon
, a building located in Paris. Originally built in the mid-1700's as a church, it was turned into a mausoleum in 1791. It is built in the Neoclassical style, with a façade modelled on the Pantheon in Rome, on top of which sits a dome. Designer Jacques-Germain Soufflot intended the structure to resemble a Gothic cathedral with classical principles, but when it became a mausoleum, the great Gothic windows had to be blocked.
Dôme des Invalides
Napoleon Bonaparte, Corsican soldier and French emperor who died in 1821, is entombed in a massive sarcophagus under the
dome of Les Invalides in Paris, France
.  The mausoleum was not completed until 1861, forty years after his death. Members of Napoleon's family, several of his military officers, and other French military heroes are also buried at Les Invalides. 
Lincoln's Tomb
On April 15, 1865, the day President Lincoln died, a group of Springfield citizens started a successful drive to collect funds to construct a memorial or
tomb for "Honest Abe
". Its main feature is an obelisk which rises over one hundred feet. [
http://www.lincolntomb.org/tomb.htm]
. Inside, a rotunda and corridors contain versions of important Lincoln statues, as well as plaques with excerpts from Lincoln's famous speeches. There are four bronze sculpture groups, each representing one of the four Civil War military services. The bodies of Lincoln, his wife and three youngest of his sons are placed in
crypts in the mausoleum
.
Grant's Tomb
Grant's Tomb
honors the life of Civil War General and 18th President of the United States Ulysses S. Grant.  It was commissioned in 1885 by the Mayor of New York following Grant's death in 1877.  An open competition was held for the mausoleum's design, which was won by John Hemenway Duncan. Duncan's objective was "to produce a monumental structure that should be unmistakably a tomb of military character…and the epitome of reverence and respect". Needless to say, he succeeded in his vision. The tomb's granite exterior is modeled after the Mausoleum of Halicarnassus with Persian elements. The twin sarcophagi of Grant and his wife Julia are similar to the sarcophagus of Napoleon Bonaparte at Les Invalides.  Mosaics with scenes of Grant's famous Civil War victories are found within the tomb. Located in Upper Manhattan, New York City,
Grant's Tomb
is the second largest mausoleum in North America. 
The Royal Mausoleum
Queen Victoria, long-reigning Queen of the United Kingdom who died in 1901, is entombed in the
Royal Mausoleum
on the grounds of Windsor Castle in Berkshire, England. The exterior of the mausoleum is inspired by Italian Romanesque buildings and is shaped like a Greek cross. The monumental tomb features recumbent marble effigies of the Queen and her husband, Prince Albert. The building was finished 1862.
Mausoleums and Tombs
All mausoleums are tombs. However, not all tombs are mausoleums. A tomb is an enclosed interment space or burial chamber for the remains of the dead. They are generally found in or under religious buildings, in cemeteries or churchyards, in catacombs, on private land or, in the case of early or pre-historic tombs, in open landscape. A mausoleum is a type of tomb that takes the form of an above ground, free-standing structure that acts as both monument and place of interment for individuals or families. Tombs date back to prehistoric times, are found on every continent, and take on many forms.
Tumulus
A tumulus is a mound of earth and stones raised over a grave or graves. In the Americas, Indian burial mounds are type of tumuli. Indian burial mounds date back to at least 3400 BC. The largest mound site in the United States is Cahokia Mounds located near St. Louis, Missouri. Tumuli are common throughout the world and are also known as barrows, burial mounds, Hügelgräber or kurgans'.
Sepulchre
A sepulchre is a cavernous rock-cut space for interment, generally associated with the Jewish or Christian faiths. Well-known sepulchers in the Holy Land include the Tomb of Jesus in the Church of the Holy Sepulchre.
Megalithic Tomb
Megalithic tombs are above ground prehistoric burial chambers, built of large stone slabs laid on edge and covered with earth or other smaller stones. They are a type of chamber tomb, and were built across Europe, the Mediterranean, and neighboring regions mostly during the Neolithic period.
Hypogeum Tomb
Hypogeum tombs are stone-built underground structures for interment, such as the tombs of ancient Egypt, and date back to 3600 BC. Christians built similar structures which they called catacombs. Hypogea often have niches for cremated human remains or loculi for buried remains. The Northern and Southern Mazghuna pyramids, and the Southern South Saqqara pyramid are examples of Egyptian hypogea.
Kokh Tomb
A kokh tomb complex is a series of long narrow shafts, in which the deceased were placed for burial, radiating from a central chamber. These tomb complexes were generally carved into a rock face, and were usually closed with a stone slab. A kokh tomb complexes can be found at the far west end of the Church of the Holy Sepulchre in Jerusalem and throughout the Judean foothills.
Pillar Tomb
A pillar tomb is a monumental grave with a single, prominent stone pillar or column as its central feature. Many world cultures incorporated pillars into their tomb designs. Examples of pillar tombs are the Harpy Tomb of Xanthos in the ancient Greek colony of Lycia in Anatolia, and the tombs at Malindi and Mnarani, built by the medieval Muslim Swahili culture of the Swahili Coast.   
Rock-Cut Tomb
A rock-cut tomb is a burial chamber that is cut into an existing, naturally occurring rock formation, usually along the side of a hill. It was a common form of burial for the wealthy in ancient times in several parts of the world. Important examples are found in Egypt between the Valley of the Kings and the Valley of the Queens, and in southern Jordan, most significantly the city of
Petra
. Its towering, intricate rock-cut architecture has earned the designation of one of the "New Seven Wonders of the World".
Cist Tomb
Cist tombs
are small stone coffin-like boxes or ossuaries used to hold the bodies of the dead. This type of tomb was used from Prehistoric times to the Middle Ages in Europe and Asia. The grave can be lined with stones and covered with stone slabs, or enclosed on all four sides by stone slabs and covered with a lid.
Sarcophagus
A
sarcophagus
is a stone-carved box-like container for a body or coffin, often decorated with art, inscriptions and carvings, sometimes part of a monument, and most often displayed above ground. It can stand within a religious building or greater tomb or mausoleum, though it can also be buried. First used in Ancient Egypt and Ancient Greece, its popularity spread throughout the ancient world. These cultures revered their dead, preserving the mummified body in the sarcophagus and including items of value for them in the afterlife. It was often used in later years of European society by high status members of the clergy, government, or aristocracy. An example of an ancient sarcophagus is ancient Egypt's pharaoh Tutankhamun. The sarcophagus was used primarily to protect the wood coffins that were placed inside it as well to protect the mummified body from the elements.
Catacombs
Catacombs are ancient, human-made subterranean cemeteries that contain individual tombs (usually sarcophagi). Any chamber used as a burial place is a catacomb, although the word is most commonly associated with the Roman Empire. Their catacombs date back to the 2nd century AD, and a well-known example is the Catacombs of Rome.
Burial Crypts
Burial
crypts
are stone or brick-lined underground spaces for interment, usually vaulted and beneath a religious building such as a church, usually for groups of people, either general public or private families. They may contain church monuments, sarcophagi or coffins. More recently, the term crypt has come to mean a stone chambered burial vault used to store the deceased. Crypts are usually found in cemeteries and under public religious buildings, such as churches or cathedrals, and beneath mausolea or chapels on personal estates. Wealthy or prestigious families will often have a 'family crypt' or 'vault' in which all members of the family are interred. In some regions, an above ground crypt is commonly called a mausoleum, which also refers to any elaborate building intended as a burial place, for one or any number of people.
How to Get Started on Designing Your Mausoleum
The design and construction of a custom mausoleum from Rome Monument starts with a personal consultation at your home, office, or our showroom.  To get started on your private family mausoleum: