Grave Marker, Monument and Mausoleum Cleaning, Maintenance, Repair and Restoration for Pittsburgh Families and Cemetery Management Groups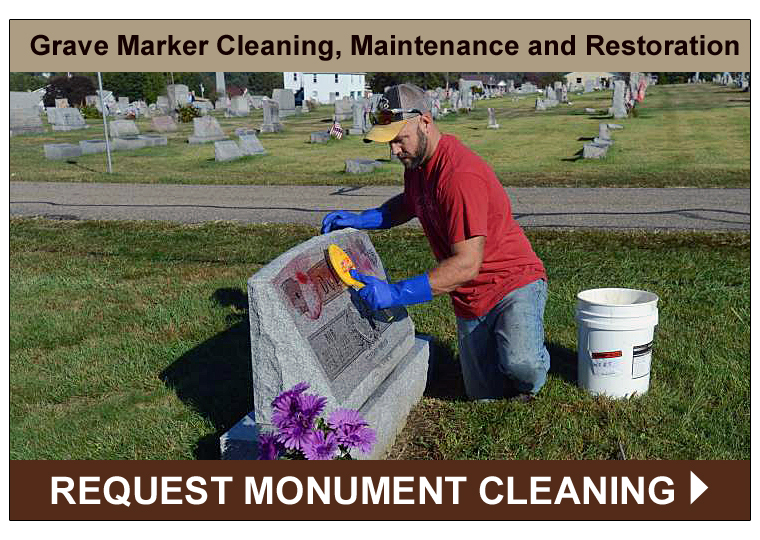 Monument, Gravestone and Mausoleum Maintenance, Cleaning, Repair and Restoration Services in Pittsburgh, PA
Rome Monument offers monument, gravestone and mausoleum maintenance, cleaning and restoration services to families and cemeteries alike. Call us at 724-770-0100 for more information or to request our headstone cleaning services. Click here to request more information or to schedule gravestone cleaning services if you would like to talk with Rome Monument about our restoring a monument (s) to it's original appearance. Families, from time to time will clean the memorials if and when they have time and the ability. Rome Monument is always happy to clean and maintain gravestones on behalf of families, cemetery managers and individuals in Pittsburgh. We have the experience, tools, equipment, acids, bristle brushes, pressure washers and manpower required to clean family memorials in a professional manner. 
Families in Western PA that are interested in cleaning their family's cemetery memorials can click here for more information on the proper way to clean a headstone. Rome Monument is one of only a handful of monument firms in the Pittsburgh area that provides after sales service to it's memorial and headstone customers. Some of our customers contract with us to visit their family's memorial periodically to clean, maintain and brighten the stone and bronze surfaces so that they look as good as new. In most cases, headstones and gravestones are not required to be removed from their base or foundation to be cleaned, polished and maintained. In rare cases, we hoist and remove the memorial or monument with our monument setting crain truck and then take it to our Artisan Center in Monaca, PA to be repaired or restored. Obviously we receive permission from the cemetery before removing a monument from the grounds. The Rome Monument cleaning crew polishes and cleans both granite and flat bronze grave markers and monuments.
Rome Monument understands how to maintain headstones and monuments so that the place that marks the final resting place of Pittsburgh's residents is clean and beautiful.  Monuments, memorials and headstones gradually become dusty, worn, discolored and dirty over times because of weather conditions such as rain, snow and wind. Grass and dirt eventually find their way onto the base, foundation and tablet of the monument. Invasive mold, lichens, algae, mildew, weeds and other plant organisms, in time start to creep up from the ground or are deposited by wind on monuments and memorials. In some cases, we work in collaboration with perpetual care cemeteries in Allegheny County to maintain and clean gravestones, mausoleums, columbariums and tombstones.
Monument and Headstone Re-Setting
If your monument ever needs re-set or needs moved by the cemetery and then put back, Rome Monument will provide this service for free if we had the privilege to create the monument originally. Call us at 724-770-0100 if you want to talk to us about re-setting your family's monument or memorial.
Rome Monument Helps To Restore, Preserve and Protect Historic Cemeteries in Pittsburgh
Rome Monument is always willing to do it's part to preserve the past and the historic records contained in the inscriptions on pioneer tombstones located in old cemeteries in Pennsylvania and Pitttsburgh.
Click here to for more information about Rome Monument's cemetery rreservation and restoration services.
If you or your organization would like to talk to Rome Monument about a project to preserve, protect and fix up gravesites, cemeteries, human burial sites monuments and memorials from the damage caused by mankind and the environment call 724-770-0100.

Rome Monument Volunteered to Restore Monuments Damaged by Vandals for Riverview Cemetery
Rome Monument tries extremely hard to give back to the local communities in Western PA.  In 2015, Rome Monument volunteered its services to help clean the 200 headstones defaced with red paint in Riverview Cemetery in Kiski Township. A local newspaper published a story titled 'Miracle' product undoes grave marker damage in Riverview Cemetery explained the project. "Before we came in, we weren't sure it was going to work," said John Dioguardi, retired owner of Rome Monuments. "Everything we have ever used never worked this well." He said one benefit is that the product is not affecting the darkening agent used on the lettering. It's not leaving a ghost mark where the red paint was. "So what's happening is it's returning to what it looked like before," Dioguardi said. "It's a miracle."
Local Business Replaces Veteran's Headstone For Free After Damage From Vandals
News Report Aired by WPXI on September 11, 2015, Amy Marcinkiewicz of WPXI Did the Story
John Dioguardi and Rome Monument Help Restore Historic Cemeteries
Published in Allegheny West Magainze in December 2011
Nearly 200 Tagged Headstones in Apollo Cemetery Being Restored
Riverview Cemetery Association says Rome Monument Voluntarily Came Forward to Help
September 24, 2015