---

---
Types of American mausoleum architectural styles include classical, walk-in, personalized family estate, private, public, community, garden, columbariums, Art Deco, Gothic, Romanesque and Egyptian.
American mausoleum design styles include traditional stained glass, modern bronze doors, classical architecture, small private walk-in styles and large family estate interiors. 
In New York City, iconic mausoleums in the Woodlawn Cemetery, like the Gates Mausoleum, are a design lover's dream.
---
---
Inspiring Private Mausoleum Design Styles From America's Past To The Present.
---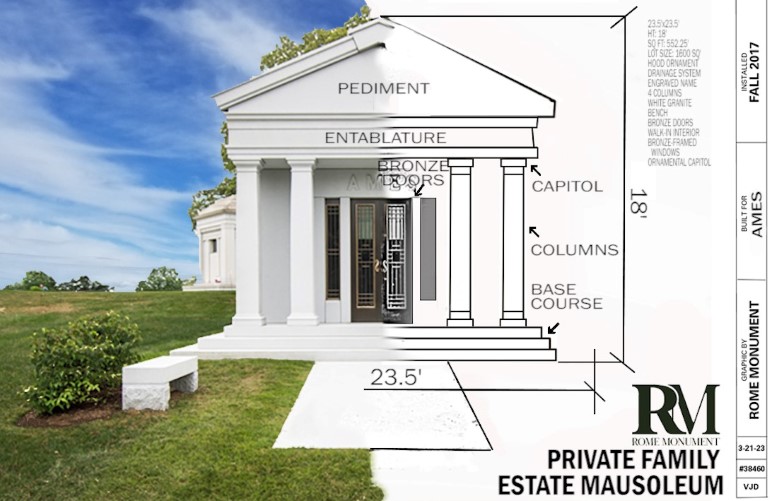 ---
2023 Iconic American Mausoleums, Videos, Designs & Pics.
---
---
American Private And Family Cemetery Mausoleum Design Styles
---

---
95 Custom Mausoleum Designs Ideas In 2023 - Pinterest
---
2023 - Explore Rome Monuments's Board "Custom Mausoleum Designs", Followed By 1,000+ People On Pinterest. See More Ideas About Mausoleums, Crypts And Monuments.
---
Gravesite Visitation Ideas And How To Enjoy The Visit
---

---
Have a picnic.
Consider leaving flowers and praying at the gravesite. 
Smiling and remembering the good times shared is emotionally rewarding. 
---
---
Guide To Selecting Your Mausoleum Designer And Builder [How To Hire A Mausoleum Construction Firm]
---
---
In Chapter 25 of The Essential Buyers' Guide to Private Family Mausoleums, we'll give you some tips on how to find the right company to buy your mausoleum from.
Since there aren't many companies that make mausoleums in the US., it's likely work with an out-of-town company, but a good company is used to working remotely with clients and is willing to install a mausoleum anywhere in the U.S.
Here's what you should look for when you're looking for a company that makes high quality mausoleums:
Doesn't value engineer their products by going the cheapest route
Uses only the highest quality materials
Has its own design team to ensure you get a mausoleum with impeccable design and that is exactly what you're looking for 
Lets you analyze the blueprints for important details
Follows mausoleum construction standards as outlined by state and local regulations and best practices.
Has experience working with families and installing mausoleums in your community
Knows the rules and regulations of the cemeteries in your area 
Every piece of the mausoleum meets certain standards for integrity. From the foundation to the roof. 
May charge you a little more for quality materials and quality at every stage of the construction…but your grandchildren and their grandchildren will appreciate your foresight.
 When selecting your mausoleum designer and builder, choose a company that uses only the highest quality materials for the mausoleum - that includes the granite for the structure and the concrete for the foundation.
Personalized inscriptions on a private mausoleum express what is truly meaningful to the deceased and to the family. 
It should say how much one loved in life and how much one was, and still is, loved by family.
It can convey one's accomplishments, how inspirational love can be, the hobbies and pastimes they participated in, the sacrifices they made for their country, the faith they shared, and so much more.
A mausoleum inscription should say whatever you want it to say, and the memorial also speaks through its personalized design elements.
---
How To Plan, Design And Build Your Private Family Mausoleum From Design Concept To Cemetery Installation
---

---
In Chapter 27 of the 2023 Essential Buyers Guide to Private Family Mausoleums, we're going to visit an actual mausoleum construction company -  Rome Monument in Pittsburgh, Pennsylvania - to see how a mausoleum is planned, designed and built from concept to cemetery installation.
---
---
Private Mausoleum Design Ideas And Construction Guides
---
Rome Monument sells, designs, builds and constructs private, family and estate mausoleums for cemeteries located throughout the United States.
In Chapter 1 of The Essential Buyers Guide to Private Family Mausoleums, you'll learn about design options for private family mausoleums.
---
---
---
High Quality Granite Is Used By Vince Dioguardi Of Rome Monument To Design And Construct Beautiful Private Mausoleums
---
---
Vince Dioguardi of the Rome Monument company, personally custom designs beautiful private mausoleums.
He also manages the construction, delivery and installation of some of the most stately private mausoleums made in America.
Vince Dioguardi selects the highest grades of granite because it is ideal for use in the construction of private mausoleums.
High quality granite is available in beautiful colors and it has a high quartz content which makes it hard, strong and durable.
---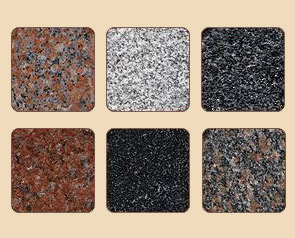 ---
Private cemetery mausoleum granite colors in-stock include black colored granite, blue pearl colored granite, grey colored granite, mahogany colored granite, red colored granite, rose colored granite and white colored granite.
---
Explore Traditional American Mausoleum Architectural Design And Funerary Art Styles Available From Rome Monument In Pictures And Videos
---
---
General Mausoleum Prices In the United States
---
---
Small Private Family Walk-In Cemetery Mausoleum Design Ideas
---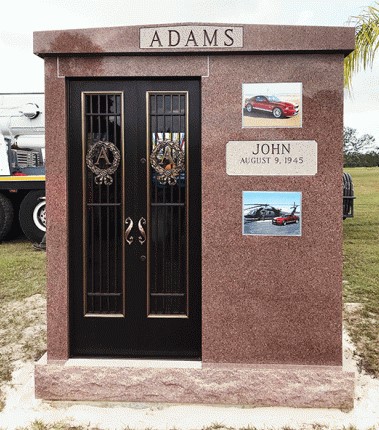 ---
---
US Mausoleum Design And Construction Idea Guidelines
---
Private Mausoleum Design Options, Builders And Prices
---
Watch the 2023 "Essential Buyers Guide to Private Family Mausoleums" video series by chapters (27) on types, design styles, planning, prices and builders.
In the video at the top of the page, Chapter 1 of The Essential Buyers Guide to Private Family Mausoleums, you'll learn about design options for private family mausoleums.
Mausoleums are above ground structures that contain the crypt or crypts of the deceased. 
Private and public (community) cemetery mausoleums are secure above ground structures where deceased family members are peacefully laid to rest.
Private and family mausoleums contain burial crypt spaces for caskets (coffins) for bodies, or niches for cremation funeral urns for the ashes of the deceased, or both. 
Private family mausoleums refer to any style of mausoleum that hold the bodies and remains of the family that personally commissioned the design and building of the mausoleum, not just walk-in mausoleums.
A single crypt granite mausoleum, which is always built above ground, holds the remains of the deceased in a casket or cremation urn or niche.
A 1 crypt mausoleum is also considered to be a private mausoleum because nobody else is buried in the mausoleum.
---
3 Crypt Private Mausoleum Design Ideas
---
Pictured above is an example of a 3 crypt granite mausoleum that Rome Monument built to hold the remains of 3 family members.
---
Private Estate Mausoleum Design Ideas
---
View pictures of private estate mausoleums, get private family mausoleum prices, learn about mausoleum crypts for sale by owner and see family mausoleum designs.
---
Family-Owned And Cemetery-Owned Private Mausoleum Design Ideas
---
Rome Monuments designs and builds family-owned mausoleums as well as cemetery-owned mausoleums.
---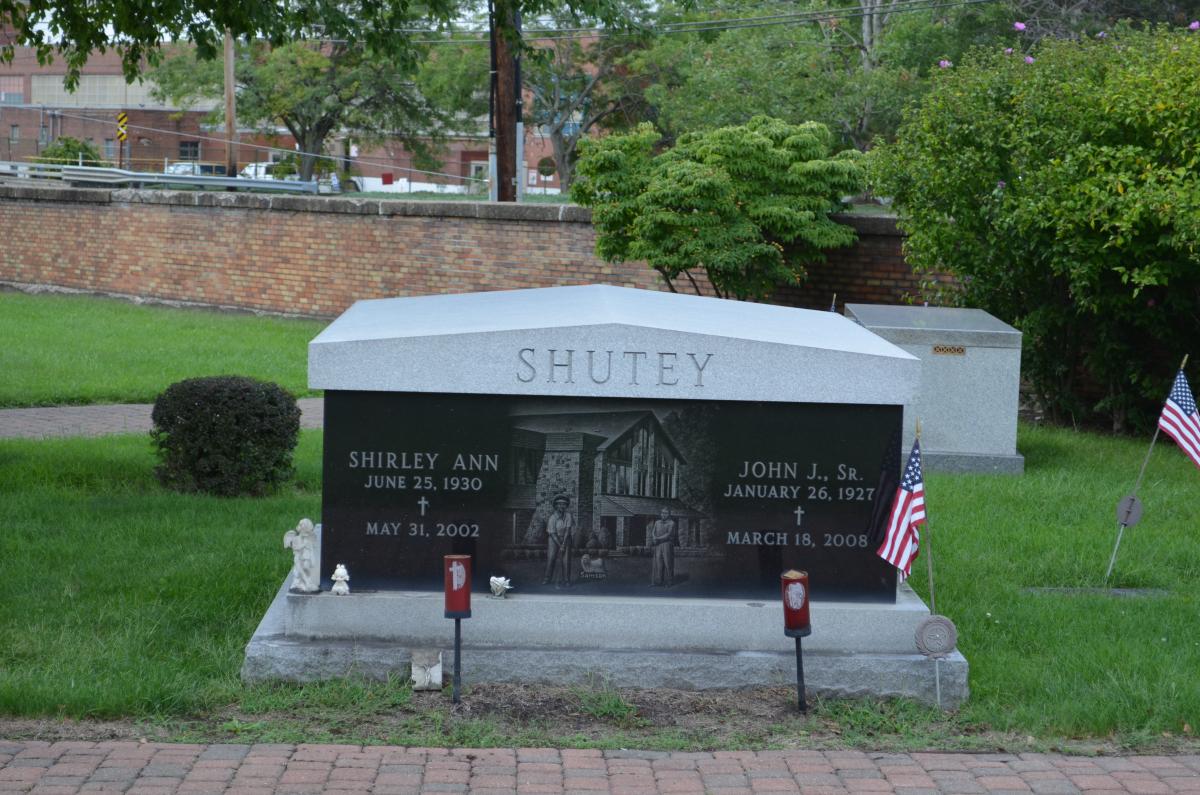 ---