REQUEST ESTIMATE
HOW TO ORDER FROM HOME
EMAIL US A DESIGN PICTURE
Rome Monument designs and builds private family estate and open outdoor garden mausoleums throughout the US.
Call Vince Dioguardi at 724-770-0100 for an installation price. 
Family Estate And Outdoor Garden Mausoleum Design And Construction Services
Pictured here is an elegant outdor garden mausoleum that is an open air structure without a defined walk-in interior.
It is a Greek-pillared Neoclassical style structure built with white granite. 
These types of family estate mausoleums house outdoor crypts.
Rome Monument designs, constructs and installs 2 crypt outdoor garden mausoleums and multi-crypt outdoor garden mausoleums in memorial gardens, private cemeteries, public cemeteries and on private land throughout the United States. 
These types of outside garden mausoleums are typically referred to as garden mausoleums or sepulcher mausoleums.
A sepulcher or sepulchre (British spelling) is a tiny space where a dead body is laid to rest.
The word sepulcher comes from the Latin word sepulcrum which means the location where someone is buried.
A mausoleum is an above-ground tomb or structure normally built with granite and/or marble.
Walk-in mausoleums normally have a doors and a foyer or vestibule. Prices for walk-in mausoleums start at $85K. Outdoor garden mausoleums, like the one pictured here, do not have doors.
Mausoleums typically contain more than one set of remains although 1 crypt or single crypt mausoleums only contain one set of remains.
The word mausoleum was derieved from the Greek name Mausoleion which refers to a tomb built for Mausolos who was a king Caria around 350 BC.
Mausoleum styles differ. A growing number of Americans are ordering private family mausoleums. 
Mausoleums can hold caskets, coffins and cremation urns. Costs to design and construct garden, outdoor or sepulcher mausoleums normally start at $200K.
Rome Monument built the outdoor mausoleum pictured here using Rock of Ages granite. 
Rome Monument builds garden mausoleums for families and individuals but also erects garden crypt complexes and community mausoleums for cemeteries and memorial parks.
Typical materials we use to construct garden mausoleums, community mausoleums or sepulcher mausoleums include granite, bronze, precast products and marble. 
Click here for information on Rome Monument's mausoleum design and construction services.  
Get information on mausoleum design plans, view mausoleum design pictures and learn how to commission the building of a family mausoleum.
Find out how much it costs to build a modern mausoleum and get information on Rome Monument's standards for construction. 
Rome Monument is a mausoleum construction company, mausoleum contractor and mausoleum builder with over 89 years of experience as a design/builder of private family mausoleums for cemeteries and memorial parks. 
Our mausoleum construction standards are rigorous and meticulous. 
Watch a video to learn how to purchase a private family mausoleum. 
Watch a video to see how Rome Monument designed and erected a free-standing granite mausoleum that houses multiple crypts for the remains of family members of the Pappan family of Pennsylvania. 
Watch a video produced by Rome Monument titled "See Inside Large Mausoleums Built for Famous Americans". This video showcases large fancy mausoleums designed and built as monuments for the entombment of famous Americans. 
The video features the Lincoln Tomb, Grant's Tomb, William McKinley Tomb, the Royal Mausoleum of Hawaii, Will Rogers Shrine of the Sun and the Lillian Russell Moore Mausoleum.  
Find out how these famous tombs and interment spaces were designed and constructed, how much it cost to build these historic mausoleums, and what it costs to build a beautiful private family mausoleum in 2018.
If you want to know how Rome Monument designs, builds and constructs high quality family mausoleums, watch the video titled "High Quality Mausoleum Design and Construction Overview".
In this video, Rome Monument shows you how to tell the difference between high quality mausoleum and low quality mausoleum design and construction.
In addition to a superior, professional design, the quality of a mausoleum depends on such factors as the reputation of the granite quarry, the quality of the granite, foundation, base course, side walls, roof and joints, among other construction elements.  
Rome Monument also sells community mausoleums, private columbariums, church and community columbariums, crypts, urns, niche nameplates and plaques.
---

Browse pictures of 1 crypt mausoleums, 2 crypt mausoleums, private family mausoleums and stately walk-in mausoleums in this PDF guide. Learn how Rome Monument designs and builds elegant mausoleums using high quality granite, impeccable construction standards and old world craftsmanship. Get an understanding of the customization and ordering processes. Learn about high-grade granite, mausoleum foundations, base courses, architectural options and landscaping considerations. 
---
How To Request Mausoleum Design and Construction Services 
If you are interested in requesting mausoleum design and construction services, please consider talking with Vince Dioguardi of Rome Monument at 724-770-0100. Vince will be happy to explain how the process of ordering works, how prices are determined, your design customization options, our mausoleum construction standards and the mausoleum setting and installation details. Please feel free to email Mr. Dioguardi at info@romemonuments.com. 
---
High Quality Granite Mausoleum Design and Construction Overview 
 
---
More Information About The Garden Mausoleum And Outdoor Crypts Pictured Above
Sewickley, Sewickley, PA
Available from Rome
(Info)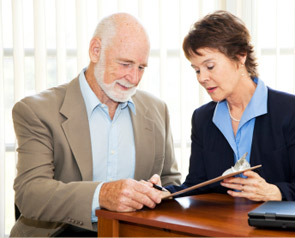 HOW TO ORDER A MEMORIAL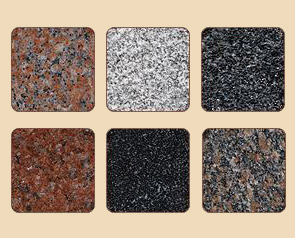 PICK YOUR FAVORITE GRANITE
DESIGN & ORDERING INFORMATION
Call 724-770-0100
To Talk With Us About This Design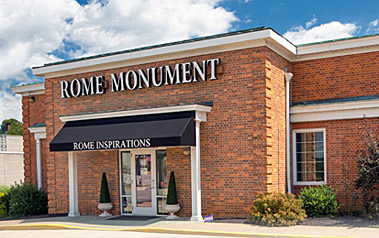 DISCUSS A DESIGN AT A LOCAL SHOWROOM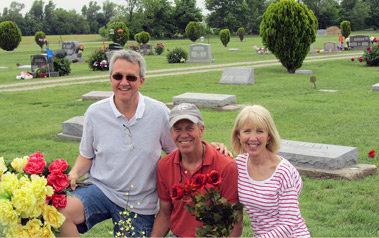 TESTIMONIALS FROM FAMILIES WE SERVED