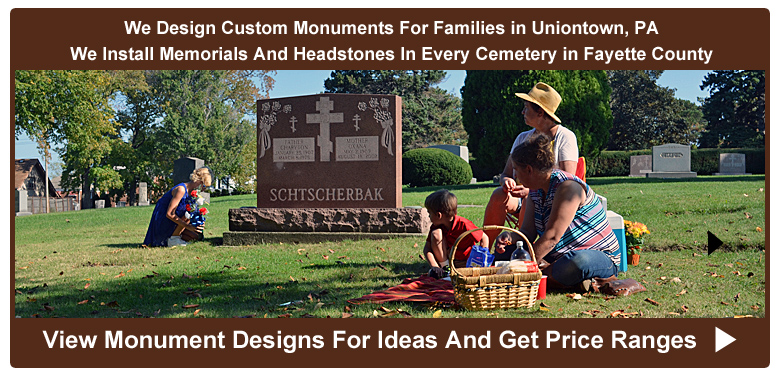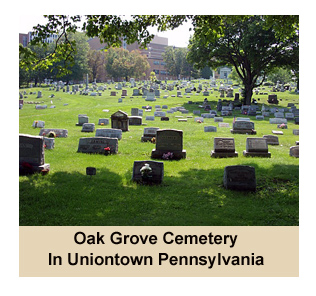 Memorial Design and Installation For Families in Uniontown, Fayette County and Southwestern, PA 
Rome Monument designs custom monuments and headstones for families that live in the city of Uniontown and other towns in Southwestern Pennsylvania. Since 1934, our family owned and operated monument company has been memorializing tight-knit families that call Southwestern Pennsylvania their home. We honor the heritage and legacy of Pennsylvanians by creating heartfelt designs, unique artwork and just the right inscriptions. Our monument company, based in Western PA, prides itself on compassionate and professional service along with expert stone cutting, carving and etching craftsmanship.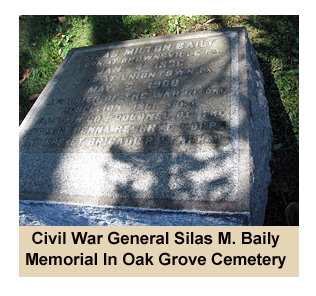 Uniontown's Historic Memorials and Cemeteries
In the early 1800's,
Uniontown
became an important stop along the National Road, and some of the oldest graveyards west of the Alleghenies are found here. The Old Methodist cemetery, located off Peter Street in Uniontown, was established in 1790 and is one of Uniontown's earliest cemeteries. Surprisingly, most of the headstones are still standing and in very good shape. The Historic Public Cemetery, also known as Presbyterian graveyard and Oakhill Cemetery, is near the corner of Bailey and Pennsylvania Avenues and dates back to 1797. Oak Grove Cemetery in Uniontown, established in 1867, contains the graves of many prominent figures in government, business and education as well asveterans of every war from the Revolutionary to Vietnam.
One of Uniontown's most important monuments is not in a cemetery at all, but at the corner of East Main Street and
Baker Alley
. A granite memorial commemorates Uniontown's role in the Underground Railway during the Civil War. In part it reads, "The path to freedom led this way for slaves fleeing the South in the years before the Civil War.  Here, they were given haven and helped along their journey by local people…"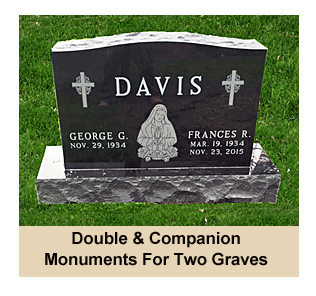 View Pictures Of Monuments And Get Headstone Prices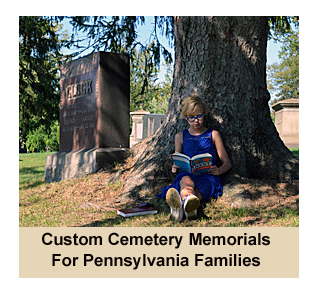 Our Approach and Process to Customizing Monuments
When a customer orders a monument or headstone, our monument designers start by creating a CAD drawing of the monument. One of designers then presents this to our customer for approval. Once the memorial design is approved, our craftsman take their time, sometimes a month or two, to perfectly manufacture the lasting tribute. Before the monument has even been completed, we are already taking care of the cemetery paperwork and installation details. When the work of crafting the monument has been completed, we drive our installation truck to the cemetery and then install the memorial above the appropriate grave site.
We have taken pictures of thousands of the monuments we have designed and installed in Western, PA. Many of the photos of 
these unique headstones and cemetery memorials are showcased in easy-to-understand categories in our online Design Gallery.
To watch a video to quickly learn how to use the Design Gallery to get ideas, click here. Featured in the gallery are bronze memorials, flat granite grave markers, upright headstones, memorial benches, mausoleums, bevel and slant style gravestones.
How To Talk With Rome Monument About Your Design Ideas
If you or your family are considering a memorial for a loved one (s), we invite you to view pictures of monument designs in our Memorial Design Gallery for ideas. If you find a design you like and would like to request a brochure, get an estimate or place an order, let us know by calling 724-770-0100, emailing us at info@romemonuments.com or completing a Contact Form.
Monument Installation Services for Uniontown and Southwestern PA Families
We install cemetery memorials in every cemetery in Southwestern Pennsylvania including the following memorial parks in and around the city of Uniontown.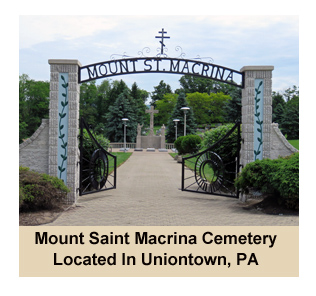 Getting Started
Call Rome Monument At 724-770-0100 To Discuss A Monument Design
Email Us For Information at info@romemonuments.com

Additional Information About Cemeteries in Uniontown, Southwestern PA, West Virginia and Maryland