Pictured Above Is The Current U.S. Headquarters Of The Rome Monument Company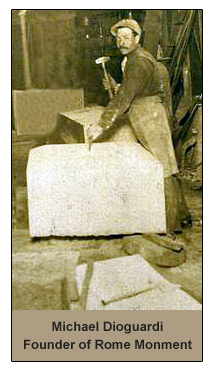 Rome Monument is now a fifth-generation company creating personalized memorials for families in western Pennsylvania, eastern Ohio and northern West Virginia.
The company was founded by Michael Dioguardi, a stone craftsman from Italy who immigrated to Rochester in 1930 and started his own monument firm four years later.
Michael Dioguardi grew up in Ariano Irpino in Campania, Italy.  The little town is about 50 miles south east of Naples. 
His older brother would take him as a teenager to Rome to work on the Victor Emanuel monument, the last major monument built in Rome after the Bernini era. 
Michael immigrated to America in 1930.  He was employed by the well respected Pittsburgh monument company, Campbell-Horigan as a memorial carver.
After his stay with Campbell-Horigan, Michael was employed by Marshall's Monument Company located in Rochester, Pennsylvania.
In 1934, Michael decided to venture out on his own and open his own monument firm in Rochester two blocks down from Marshall's Monument Company, which had been servicing Beaver County since 1858.
He named his new business Rome Monument Works, as he always said "Nobody knows the name Dioguardi, but everyone knows Rome." 
Michael involved four of his sons in the business as soon as they were old enough to contribute. The current Rome Monument headquarters and main showroom are still located in Rochester, PA.
Rome Monument Works is now in its fifth generation of creating personalized cemetery memorials and gravestones for families in Western Pennsylvania, Eastern Ohio, and Northern West Virginia. 
The current owners are Vince and Christy Dioguardi and Diane and William Hapach Jr., all of whom work at one of the facilities.  Rome Monument is one of the leaders in the cemetery monument and memorial industry.
Vince Dioguardi, is currently the lead Rome Monument mausoleum designer and lead mausoleum architect.
The monument maker specializes in cemetery, civic and cremation memorials. The monument dealer has been locally and family owned since 1934 and employs no commissioned salespeople.
All carving and lettering is done in-house by Rome Monument's certified master carvers in the company's 30,000-square-foot manufacturing space in Monaca, PA at the Rome Monument Works Artisan Center. 
Rome's reputation for providing families with the best foundations has resulted in seven Western Pennsylvania cemeteries to subcontract to Rome all their foundations regardless of where the cemetery memorial is purchased.
In 2013, Rome Monument was proud to coordinate the design, placement and engraving of the Tuskegee Airmen Monument located in the Sewickley Cemetery.
Dedicated in September, the Tuskeegee Airmen Memorial, it is the largest outdoor memorial in the country honoring the first African-American military pilots and support staff who were members of the 332nd Fighter Group, nicknamed the "Red Tails."
Almost 100 members of the World War II unit were from western Pennsylvania and their names are carved on two of the four granite monuments that make up the memorial. The other two monuments contain the history of the elite military group and one, a 10-foot-high piece, features an airplane tail sculpted from red granite, representing the origin of the unit's nickname.
Rome Monument tries extremely hard to give back to the local communities in Western PA.  In 2015, Rome Monument volunteered its services to help clean the 200 headstones defaced with red paint in Riverview Cemetery in Kiski Township.
A local newspaper published a story titled 'Miracle' product undoes grave marker damage in Riverview Cemetery explained the project. "Before we came in, we weren't sure it was going to work," said John Dioguardi, retired owner of Rome Monuments. "Everything we have ever used never worked this well." He said one benefit is that the product is not affecting the darkening agent used on the lettering. It's not leaving a ghost mark where the red paint was. "So what's happening is it's returning to what it looked like before," Dioguardi said. "It's a miracle."
As of 2023, Rome Monument continues to expand it's operations and open new showrooms.
Generations of families return time and again to commission the company to design monuments, memorials, gravestones and grave markers to commemorate their relatives and loved ones. The sincere compassion of the Rome Monument staff has been carried over from one generation to the next.
Rome Monument is a mausoleum construction company, mausoleum contractor and mausoleum builder with over 80 years of experience as a design/builder of private family mausoleums for cemeteries and memorial parks.  Our mausoleum construction standards are rigorous and meticulous.