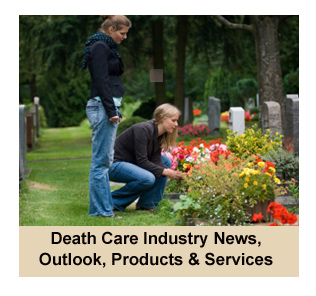 Death Care Industry Overview
Listed below is an overview of the death care industry in the United States along with news, companies, trends, statistics, industry forecasts, research, memorial products and funeral services.
Description of the Death Industry
The death industry, also called the death care industry, generates $20 billion dollars a year in revenues in the United States. The terms death industry or death care industry describes companies such as Rome Monument based in Pittsburgh, Pennsylvania. Rome Monument is just one of thousands of companies in the United States that manufacture products and provide services related to dying, burial and the end of life for humans- and pets too.
This industry includes monument manufacturers and dealers such as Rome Monument. Other types of businesses in this industry include funeral homes such as Dignity Memorial, which is the consumer-facing brand name for SCI which is the largest funeral company in the United States. Service Corporation International (SCI) is a major supplier of deathcare products and services including funeral, cremation, and cemetery services. There are over 22,000 funeral homes in business in the United States.
Crematoriums and crematories are categorized as death industry businesses as are coffing manufacturers, cemeteries and memorial parks. Even pet cemeteries are included in this industry.
Recent News
Video: How To Purchase a Private Family Mausoleum with Design Pictures, Plans and Costs
06/15/18
Mausoleum Construction Company
06/06/18
Rome Monument is a mausoleum construction company, mausoleum contractor and mausoleum builder with over 80 years of experience as a design/builder of private family mausoleums for cemeteries and memorial parks.  Our mausoleum construction standards are rigorous and meticulous.
Monument Company Offers Free Repair To Beaver Co. Cemetery In Need
February 26, 2018
When a large headstone got knocked over, Grove Cemetery in New Brighton, PA didn't have the people, equipment or money to fix it and needed some help.  The memorial for a man named Yee — a highly regarded doctor buried in Beaver County's Grove Cemetery in 1979 — was found knocked over.  Rome Monument fixed Dr. Yee's monument in Grove Cemetery for free.
Matthews International Announces Acquisition of Star Granite & Bronze
02/13/18
Matthews International Corporation announced that the Company has acquired Star Granite & Bronze, based in Elberton, Georgia, for $41.2 million, subject to a working capital adjustment and potential contingent consideration adjustment based on future performance. Star, a family-owned business, is a well-respected manufacturer and distributor of granite and other memorialization products to cemeteries and other customers across the United States. In the year ended December 31, 2017, Star's revenues were approximately $31.3 million and the company has approximately 200 employees.
02/13/19
Stanford's AI Predicts Death for Better End-of-Life Care
02/13/18
Deep learning AI is helping screen for ill patients who could benefit from having end-of-life conversations earlier. Using artificial intelligence to predict when patients may die sounds like an episode from the dystopian science fiction TV series "Black Mirror." But Stanford University researchers see this use of AI as a benign opportunity to help prompt physicians and patients to have necessary end-of-life conversations earlier.  For more information, read "Improving Palliative Care with Deep Learning".
02/13/18
Taking The Silver Cloud Granite Operation To A New Level
02/12/18
Since 2003, Italian stone producer Nikolaus Bagnara S.p.A. has owned the Silver Cloud granite quarry in Lithonia, GA. The site sits approximately 20 miles outside of Atlanta, and is operated by Nikolaus Bagnara's U.S. subsidiary, Broad River Quarries, LLC.  Silver Cloud granite has been around for years.  It is a staple in the monument industry and the local markets around the Atlanta metro area.  Since purchasing the quarry in 2003, Broad River Quarries has taken Silver Cloud to the world.  Eagle Granite Company, established in 1961 uses Silver Cloud (Grey Cloud) granite to manufacture monuments. Eagle Granite Company is located in Elberton, GA.
02/12/18
02/12/18
MBNews: The Official Monthly Publication of the Monument Builders of North America
02/04/18
The MBNews' mail-out circulation is about 1,000 copies. Companies that subscribe the the publication are MBNA members. Members are primarily owners of monument retailing companies such as Rome Monument.  Readers of the publication get information about memorial art, innovations and trends in the monument industry, cemetery memorial designs, monument financing programs, stone cutting and carving tools and machines and ways to improve their day-to-day business operations.
02/04/18
02/04/18
Customer Service In Deathcare: How The Funeral Home Industry Cares For The Living
May 26th, 2017
There are more than 20,000 funeral homes and more than 100,00 cemeteries in the U.S. alone, and the annual economic activity in this sector has been estimated to be north of $20 billion.