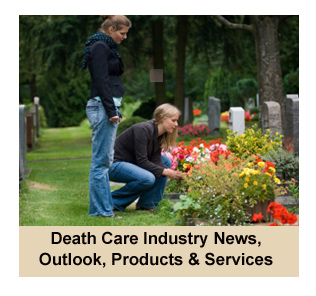 Death Care Services Industry Overview
Listed below is an overview of the death care services industry in the United States along with news, companies, trends, statistics, jobs, industry forecasts, research, memorial products and funeral services.
---
Description of the Death Care Services Industry
The death industry, also called the death care industry, generates $20 billion dollars a year in revenues in the United States. The terms death industry or death care industry describes companies such as Rome Monument based in Pittsburgh, Pennsylvania. Rome Monument is just one of thousands of companies in the United States that manufacture products and provide services related to dying, burial and the end oflife for humans- and pets too.
This industry includes monument manufacturers and dealers such as Rome Monument. Other types of businesses in this industry include funeral homes such as Dignity Memorial, which is the consumer-facing brand name for SCI which is the largest funeral company in the United States. Service Corporation International (SCI) is a major supplier of deathcare products and services including funeral, cremation, and cemetery services. There are over 22,000 funeral homes in business in the United States.
Crematoriums and crematories are categorized as death industry businesses as are coffing manufacturers, cemeteries and memorial parks. Even pet cemeteries are included in this industry.
---
Recent News In The Death Care Services Industry
---
Written by Anna Iovine, on December 3, 2019
Posted on December 31, 2019 
The fact remains that we are all going to die someday, and we should be able to talk about it with our loved ones. Karansky said "Why can't we open up the conversation and make it a bit more palatable and easier when the time comes?" Their mission is to talk to people and hear what they want out of their end-of-life planning and make it a comfortable conversation. 
---
The curious history of community mausoleums in Detroit and the Midwest
Written by Aaron Mondry on October 24, 2019
Posted on December 2, 2019
Woodlawn Cemetery in Detroit is home to a lavish private mausoleum. It can be compared to mausoleums like the Dodge brothers and its twin sphinxes that sit on the other side of the cemetery. But the mausoleum we are talking about resembles a church building. But it is not a church, it is a community mausoleum. Inconspicuous tombs can be found of Aretha Franklin and members of the Kresge family among many other lesser-known individuals. 
Above ground burial facilities can accommodate thousands of tombs. They can be found in cemeteries throughout the county, but they became popular originally in the Midwest. Ever since the time of the Pharaohs, mausoleums have been the 
burial method of choice
 for those who preferred something other than earth burial. The name mausoleum comes from a grand tomb built for King Mausolus by his wife, around 353 B.C. The first patent for a community mausoleum was issued in 1907 in the small town of Ganges, Ohio. Buyers were attracted to the idea because of the sanitary design and connection to ancient Egyptian tradition. It also gave average people the opportunity to be buried like a rich person. It expands people's options who don't have fortunes to build family tombs. 
Soon the concept spread across the Midwest and some of the era's greatest architects were commissioned to design them. In 1914 the Neoclassical marble mausoleum opened at 1,200 crypts and it was the largest in the country. By the middle of the century Alvin Harley who was based out of Detroit became the foremost architect of community mausoleums. It appears that the large community mausoleum fad is on the decline. But private mausoleums are still popular. In fact, one was recently built for 
Mike Ilitch
. It is a neo-classical mausoleum that is located at Holy Sepulchre Cemetery in Southfield. It is carved out of white granite and features bronze doors and twin angles. It is a throwback to a gilded age when many people built cavernous crypts in historic Detroit cemeteries. Rome Monument designs and builds upscale and elegant 
family mausoleums
. They use high quality granite, and impeccable construction standards. Take advantage of their old-world craftsmanship today!
---
Written by Amanda M. usher on November 12, 2019
Posted on November 26, 2019
This Veterans Day Freedom Park completed its monument to honor all military. This completes their
phase four
plan in their project for the park. The monument sits on property once owned by David Guest's great uncle. It sits off a road named after his family. David Guest served in the Air Force for 20 years and the monument has a photo of Guest during his time serving. He says, "for one, it represents all of the veterans and everybody who served, and then to be here on property that was at one time my family's property, it brings it around and means an awful lot" (David Guest). The monument features war depictions and images of people who have served in the military throughout the years. Some of the images commemorate the War of 1812, the Mexican American War, the Civil War, and both World Wars. On each side of the monument are core military values like service, loyalty, and selflessness. On the top of the monument is an eagle that is grasping a fish. The monument now resides in Freedom Park near the Miracle Leagues Field. Monuments are a great way to remember and honor loved ones. If you are interested in honoring or remembering a loved one. Rome Monument will come along side you and offer their excellent service in crafting
unique custom monuments
.
Written by Zoe Donovan on October 30, 2019
Posted October 31, 2019
Death is a part of life, but it is a part that no one likes to accept or talk about. When we are young, we don't typically think about death. We are not writing wills, choosing caskets, or thinking about what we want to wear when we are deceased. Recently the death-positivity movement is encouraging people to embrace death. Many "death cafe's" have been opened around the country. Talking about death is a healthy part of life. The idea of a death café is to have group led conversations about dying and death. The discussions are practical and topics range from "how to write a will" to "
why bodies don't smell during home funerals?
". One way to help be more positive about death is to be prepared. Rome Monument is a great place to start. They offer
high quality custom personalized monuments
. Rome Monument can help you choose and design the perfect monument for your grave. It can also take one thing off the family's plate when the time comes. 
Design Your Own Headstone, Submit Your Idea And Get A Price
Posted October 28, 2019
Rome Monument released a video detailing how their customers can get completely custom high-quality monuments or mausoleums from Rome's state-of-the-art manufacturing facility, all from the comfort of home. Customers can submit their idea, ideated in a range from a CAD drawing to a simple hand-drawn sketch, from anywhere in the United States. Rome Monument is one of the only completely custom headstone and monument companies that services nationwide, including metro areas like Los Angeles, Pittsburgh, Richmond, Orlando, Boston, Atlanta, St. Louis, New York City, and many more. It's all made possible with their unique in-house fabrication facility, skilled craftsmen, and a family history in the business that goes back generations.
Written by Wynne Yelland, Published by Southwest Journal on July 13th, 2019
Posted October 1, 2019
Lakewood Park Cemetery was 
founded in 1912
, they maintain 55 acres of land and have some spectacular family monuments, markers and mausoleums on the grounds. One modern monument based on the twin cities has two gleaming shapes that bend to a point 15 feet above the lawn. It is crafted out of a stainless material. There are many attractively designed mausoleums for families of all backgrounds on the grounds. In the late 19th century, the public was heavily interested in Egyptian tomb archaeology. There are 
hundreds of Egyptian obelisks
 in the Lakewood Cemetery. Many of the obelisks follow the proportions of the Washington monument in D.C., but some are leading the way for a new design and construction. If you are interested in getting more information and ideas for family mausoleums, you can go to Rome Monument they have a wide range of 
private family mausoleums
 you can personalize for your loved one. 
---
How You Design A High Quality Family Monument For A Fairfax County Or Northern Virginia Cemetery
Posted On September 6, 2019
Order A 100% Custom Made Memorial Or Cemetery Headstone From Rome Monument
Complete The Design Process From Home Through Phone Calls And Email
Rome Monument Builds High Quality Granite Monuments For Families In Fairfax County, Fairfax Station And Northern Virginia
Rome Monument Installs Upscale Personalized Granite Monuments In Cemeteries In The Commonwealth of Virginia
Rome Monument Builds Prestigious 2 Crypt Mausoleums To Honor The Lives Of A Husband And Wive
You Can Start By Viewing Monument Pictures In The Gallery To Get Design Ideas
Rates To Design And Install A High Quality Custom Monument Start At $3,500
You Can Submit Your Monument Or Memorial Design Idea To Rome Monument To Receive A Cost And Time Frame For Installation
Rome Monument Provides All Customers With A 100% Custom Designed CAD Rendering For Approval Before Work Starts
Delivery And Installation Services Are Provided To Families In Northern Virginia
---
Buy Angel Headstones For Sale Online In The USA
Posted On August 6, 2019
Prices From $300+
Weeping Angel Headstones
Double Angel Headstones
Angel Wing Headstones
Angel Etchings For Gravestones
Angels Engraved On Headstones
Free Shipping And Delivery In USA Of Bronze Headstones Ordered On Etsy
---
Experts restore headstones at 150-year-old Missouri cemetery
Trademark and copyright by The Associated Press, Published by wordpress.com on July 29, 2019
Posted on July 31, 2019
Written by Samantha McDaniel-Ogletree, Published by Journal Courier on July 30, 2019
Posted on July 30, 2019
---
Boca Raton Cemetery & Mausoleum to Expand This Spring
Written by Christiana Lilly, Published by Boca Magazine on January 11, 2019
Posted on July 16, 2019
---
Rome Monument Builds A Completely Custom "Victorian Lady" Bench Monument For Lakeland, Florida Customer
Rome Monument stays true to its "completely custom monument" promise with a gorgeous gray granite monument headstone with a victorian woman seated with a bowl of fruit behind her and running shoes on her lap. This monument was sketched from three angles (the front, side and back), and was then scanned for examination by Rome's expert granite designers. After some collaboration and converasation about the details of the piece, a CAD drawing was sent back to the customer for approval. A short time later, this granite headstone, measuring 60" x 12" x 48" on a base that measures 84" x 14" x 10" was delivered to Lakeland, Florida and installed in the cemetery of the family's choice.
---
New York's Tribute To The 'Tombs Angel': Lost, Found, Now Restored
Written By By Peter Libbey, Published In The New York Times On June 16, 2019
A long-forgotten monument to a woman who helped inmates in New York's infamous 19th-century jail is to be installed in a courthouse lobby.
---
High Quality Angel Headstones For Sale | Prices From $300+ | Delivery And Installation In Cemeteries In The U.S.
Posted on June 24, 2019
Angel Headstones And Gravestones For Sale | Prices From $300+ | For USA Families And Cemeteries | Pictures And Videos | Order From Home | Schedule Delivery And Installation In Your Local Cemetery | Buy A Beautiful Weeping Angel Headstone For A Grave | Angel Themed Cemetery Monuments | Order An Angel Statue Cemetery Monument | See Angel Wing Headstone Designs | Engraved Angels On Flat Grave Markers | Personalized Angel Etchings For Granite Gravestones | Angels On Headstone Monuments And What They Mean | Artwork For Headstones | Monument Designs | Granite Monuments | Grace Markers Prices | Flat Bronze Angel Headstones
---
Posted on June 18, 2019
Posted on June 18, 2019
Posted on May 24, 2019
If you are considering a home burial for a loved one, it is good to know that most states make it perfectly legal to take a body home from the hospital, nursing home, or other institution and bury it on your private property. Only Indiana, California and Washington State outlaw the practice totally. This means most families in America have an option other than burying a loved one in a cemetery where they will rarely see the grave and be required to obey restrictions as to the type of burial and memorial they can have.
In every state, next of kin has custody and control of the body after death. You are allowed to carry out post-death functions such as bathing and dressing the body and holding any type of ceremony you wish. According to the Home Funeral Alliance, "Religious observations, family gatherings, memorials, and private events are not under the jurisdiction of the State or professionals in the funeral industry, who have no medico-legal authority unless it is transferred to them when they are paid for service".
Home burial is a wonderful way to have a very intimate ceremony around the creation of the grave and to remain close to the deceased for as long as you own the property. It also costs significantly less than buying and maintaining a cemetery gravesite. In most states, the only restrictions to home burial are found in local zoning laws that tell you how and where you can bury the body. For instance, they may outline how far from your neighbor's property you can place a gravesite, how deep the grave must be, how close to a water source such as a stream or a lake you can bury the body, and various other restrictions. However, none of these laws should prevent you from carrying out your home burial plans in some form or another.
Be aware that a handful of states do require that you hire a funeral director to handle portions of the post-death process. These are Connecticut, Indiana, Louisiana, Michigan, Nebraska, and New York. Funeral Directors are knowledgeable of the laws of the state or community and can help you through the sometimes overwhelming legal processes you need to be aware of. Most states let you do it all on your own, but you still have to abide by the statutes, rules and regulations concerning your state and locality.
Posted on March 29, 2019
Finding the perfect epitaph or saying to personalize a headstone is a difficult task that leads thousands of people every year struggling to find the perfect words to sum up the magic and wonder of a life well-lived. Most people searching the internet to find suggestions get lost in lists of specific examples that do not relate to their loved one rather than powerful sources of inspiration. Rome Monument's latest video, "How To Choose The Perfect Headstone Saying or Epitaph", features numerous sources of inspiration, such as the Bible, poems and prayers, favorite/meaningful songs, or other categories, such as beautiful thoughts, popular sayings, worthy attributes, or endearing nicknames. These ideas are perfect for any beloved family member.
If you're having trouble deciding what epitaph inscription to write on the headstone of your loved one, call Rome Monument at 724-770-0100, and one of their headstone designers or showroom managers will be happy to inspire you or point you in the right direction. Inscriptions are added to headstones at Rome Monument free of charge.
Rome Monument Builds And Installs Private Family Mausoleums For San Francisco Bay Area Families, Churches, Monument Retailers and Cemeteries
Posted on March 14, 2019
Rome Monument sells private mausoleums to families, churches and cemeteries in the city of San Francisco, California and San Francisco County. View design pictures or watch videos. Prices start at $15K. We install private mausoleums in cemeteries and memorial parks throughout the San Francisco Bay area. We design private family mausoleums for families that live in the following Northern California counties: Alameda, Napa, Santa Clara, Contra Costa, San Francisco, Solano, Marin, San Mateo and Sonoma.
We install single crypt, companion crypt and walk-in mausoleums in cemeteries located in the North Bay, Peninsula, South Bay and East Bay. We sell individual mausoleums and private estate mausoleums to cemeteries, funeral homes and monument dealers in cities such as San Francisco, Fremont, San Jose, Santa Clara, Concord, Oakland, Hayward and Sunnyvale. Our construction crews build private and community mausoleums in cemeteries such as the Cypress Lawn Memorial Park, the Olivet Memorial Park, the Italian Cemetery, the Eternal Home Cemetery and the Woodlawn Memorial Park in Colma, California. 
Our team installs above ground burial vaults in Jewish cemeteries in the San Jose–San Francisco–Oakland Area. and the San Francisco–Oakland–Hayward Area. Sinai Memorial Chapel, which is the only Jewish funeral home in Northern California, provides a price list for funeral, burial and cemetery products and services. The Mountain View Cemetery, a 226-acre cemetery in Oakland, also provides a price list for their products and services.  Rome Monument manufactures mausoleums that are delivered to cemeteries in the Bay Area that are managed by the Holy Cross Catholic Cemeteries such as Holy Cross Menlo Park, St. Mary Magdalene Cemetery, Mt. Olivet San Rafael, Tomales Catholic Cemetery, Holy Cross Colma, Our Lady of the Pillar and St. Anthony Cemetery.
---
Death-Positive Movement Fueling Hospice Growth
Written By Bailey Bryant
Published by Home Health Care New on January 7, 2019
Posted on March 3, 2019
"At times, you were fighting against what the body wanted to do," Lindsey Pelletier, a hospice nurse who formerly worked in intensive-care units, told the Pioneer Press. "At times, you were doing something unnatural."  But now, hospitals have entire teams focused on palliative care, and doctors respect that high-quality end-of-life care is sometimes best for terminal patients.  In addition to making patients' final days more comfortable, hospice care has also been shown to save money by curbing overall health care spending. With health care costs rising at an unsustainable rate, hospice costs only a fraction compared to many alternatives. For example, intensive care bills from hospitals can cost thousands of dollars per day, while daily Medicare reimbursement for hospice is $180. 
Besides death cafes, the international rise of "death doulas" is also emblematic of the death-positive cultural shift. A type of end-of-life care expert, a death doula carries out a dying person's plan for how and where he or she wants to die, while also providing spiritual guidance and holistic support. Some hospice companies have even begun to work with professionally licensed doulas as a way to separate themselves from competitors. On a high level, baby boomers are partially to thank to the the shifting perception of death, experts say.  "My particular demographic is a take-charge-of-my-own-life kind of demographic," Synthia Cathcart, Compassus' vice president of clinical development and education, previously told Home Health Care News. "We see more and more openness about, when there isn't another option given, really embracing that stay-at-home, quality-of-life conversation." 
---
3D Mapping of Cemeteries and Mausoleums:  Behar Mapping Announces Revolutionary Technology
Written by Brad Bennett
Published by the Daily Telescope on March 2, 2019
Posted on March 3, 2019
Behar Mapping, the leading provider of GIS (Geographic Information System) mapping services in the death care industry, announced today the launch of their 3D GIS mapping solution for cemeteries and mausoleums. 
Behar Mapping is revolutionizing the cemetery mapping sector by applying Esri's cutting edge technology that will allow for web-based visual 3D representation of all graves, plots, niches, crypts and mausoleums in real world location and connected to a GIS database. The technology re-creates a visual representation of the property and allows for details such as location and depth of graves. The functionality and the data that can be featured on the 3D renderings are completely customizable based on the needs of the cemetery, ensuring that each cemetery is given a bespoke product.
Behar Mapping has developed its 3D mapping solution based on Esri's technology. Mr. Ronen Rybowski, the Founder and owner of Behar Mapping and a GIS Professional (GISP), stresses that "we [Behar Mapping] are providing the industry with the right tools to better serve the public. We also want to provide innovative resources that allow our customers to effectively manage their cemeteries while maintaining complete control over their data". 
A project was recently completed at the Gethsemani Catholic Cemetery in Portland, Oregon. Mr. Tim Corbett, the Director of Cemeteries at Archdiocese of Portland, exclaimed, "to my knowledge, we are the first cemetery in the US to ever be mapped in 3D GIS technology. Behar has provided us with 3D maps, representing all plots with their accurate location and depth, as well as the mausoleums crypts, niches, and cremation garden. This new visualization has made managing these assets so much easier!".
---
Cemetery Lots, Burial Plots, Mausoleums, and Niches: Investing in Your Future, Part 2
Written by Jill Sauber
Published by Epilawg on October 4, 2017
Posted on Marc 3, 2019
With the advent of cremation, green burials, and alkaline hydrolysis (oddly referred to as "wet cremation"), funerals can be as unique as an individual. When a person pre-plans their funeral, they can plan as much or as little as they would like, but, at minimum, they choose a type of service (traditional or direct) and final disposition (alkaline hydrolysis, burial, or cremation).
Pre-planning may include: a written obituary, flowers, sundries (printed folders for the service), clergy honoraria, limo service, escorts, headstones/cemetery markers, burial space, etc. Whether any of these items will later be scrutinized by a County for any Medical Assistance benefits received during the decedent's life, is a blog for another day. See the Minnesota Department of Human Services MA Estate Recovery Manual for information about how Funeral Expenses are scrutinized regarding MA Claims.
Direct burial and direct cremation bypass any visitation or services, and final disposition occurs within 72 hours of the death (usually within 24 hours).
The term "traditional burial" refers to a funeral service with visitation held before the full service. The body is present in a traditional funeral, and burial in a cemetery takes place following the service. Burial (interment) takes place at a private or public cemetery in either a burial plot (outdoors in the ground) or in a mausoleum (indoors in a vault/crypt). An outer burial container, or burial vault, may be required for burial of remains to surround the casket and prevent the earth from caving in. Each cemetery has its own rules and requirements.
Even if cremation is desired, a person may be embalmed, have a full funeral service with visitation, and opt to be cremated after the services, rather than have a "traditional burial". Final disposition takes place once the cremation occurs. Cremation does not require a casket, but does require a cremation container, and most funeral providers allow "rental caskets" to be used for presentation at a visitation or during services, then a simple cardboard liner (that slides out of the rental casket) is used as the container to cremate the remains. Once cremated, the cremated remains (often called "cremains") are placed (inurned) in a simple cardboard box, or a purchased urn, and may be kept, scattered, or buried. Cremains are typically buried in an existing burial plot (depending on cemetery rules), and some cemeteries allow cremains to be scattered atop an existing plot. Cremains may also be placed in a niche in a columbarium.
For the more adventurous, cremains may be shot into space, scattered at sea, made into diamonds or glass sculptures, and buried in a pod to help fertilize a tree.
A memorial service is an option for those who choose cremation. The memorial service follows cremation, no body is present for the service but sometimes the cremains are displayed in an urn, and the services can take place at any time after the death occurs.
For any contested matters where possession of cremains is at issue, you can literally "split the baby": divide the cremains among next of kin or interested persons. One family member may wish to keep the cremains in an urn in their home, and another may wish to bury their portion. I draw up a basic agreement for all interested persons, as well as the funeral provider/mortician (who may still have possession of the cremains), to sign. Obtain all signatures before any cremains are distributed. I have avoided long, drawn-out litigation by dividing the cremains with consent from all parties!
Most cemeteries have options for both traditional burial and cremation.  Cemetery options include:
A traditional, in-ground lot
Mausoleum crypt (indoor)
Lawn crypt (outdoor)
Cremation burial – sometimes called cremation gardens
Cremation niche (in a columbarium, indoor or outdoor)
Ossuary for cremated remains
Cremation "scattering" options, in a pond or lake within the cemetery, may include a plaque with name and dates
Cenotaph (an engraved name on a plaque or monument for remains not located at the cemetery)
---
5 News Investigates: The Rising Cost of Death
Written By Josh Croup
Published by WDTV on February 26, 2019
---
Jury Awards $7,500 for Each Body in Tennessee Cemetery Class Action Suit
Published by Insurance Journal on Septemeber 28, 2018
Posted on March 3, 2019
A Tennessee jury has awarded $7,500 for each body at issue in a class-action lawsuit against several funeral homes and a now-closed cemetery where hundreds of bodies were mishandled.
---
Burial Plots In Cemeteries In Houston Texas Can Be Very Expensive
Posted on March 2, 2019
Click here for information about burial plot prices in the "Bayou City". Prices for burial plots at Glenwood Cemetery are some of the highest in the United States.  Rome Monument sells private family mausoleums to Houston Texas families, churches and cemeteries.
---
Walk-In Mausoleums For Sale In The United States Start At $85K
Posted on March 1, 2019
---
Above Ground Burial Vaults For Sale In The U.S.
Posted on March 1, 2019
Above Ground Burial Vaults For Sale In The United States To Families, Churches and Cemeteries
Rome Monument sells private mausoleums and above ground burial vaults to families, churches and cemeteries in the continental United States. View design pictures or watch videos. Prices start at $15K. The most popular type of above ground burial vault sold by Rome Monument is the two crypt mausoleum.  
Ordering An Above Ground Burial Vault In Advance Of Interment
Some people, who pre-plan their burial and cemetery memorial arrangements, choose to have their bodies, or their deceased relatives, stored in a clean and dry above ground crypt or mausoleum for personal reasons. Some of our above ground burial vault customers order in advance of their passing so that they don't burden their family with the process of purchasing the cemetery memorial. Rome Monument offers our exclusive "Pre-Arranged Cemetery Monument Plan" for families who want to take the responsibility and cost for the design, creation, and installation of a above ground burial vault off grieving members of your family. This ensures that our customers get an above ground burial vault built exactly the way they want - from the shape of the crypt, to the size, to the cost of the mausoleum, to the artwork and wording on the front facing.
High Quality Above Ground Burial Vaults Are Manufactured by Rome Monument
Rome Monument has been manufacturing above ground burial vaults since 1934. We deliver to, and install granite burial vaults in cemeteries and memorial parks/gardens throughout the continental United States. Rome Monument manufactures both private above ground burial vaults and community mausoleums. Some people refer to above ground burial vaults as "above ground lawn crypts". If you would like to know how above ground burial vaults actually work, call 724-770-0100 or watch this video titled "High Quality Mausoleum Design and Construction Overview".  Click here for a brief history of above ground burial vaults, mausoleums crypts and tombs. The information is very interesting.
Appropriate Use of Above Ground Burial Vaults
Surface level vaults are only appropriate in cemeteries that have no substantial risk of flooding. If you or your family are interested in above ground burial in a private mausoleum, browse pictures in this design gallery to get ideas for a completely 100% personalized mausoleum. Both caskets and cremation urns can be place in above ground tombs and crypts.  
---
Mausoleum Designer Expands Installation Area Across U.S.
Posted on February 26, 2019
In January of 2019, Rome Monument, a mausoleum design and construction company based in Pittsburgh, purchased two new custom monument trucks. The private family mausoleum builder now has the manpower and equipment to deliver and install high quality single crypt, two crypt, walk-in family mausoleums and multi-crypt above ground burial vaults in all 48 states. Both of the new mausoleum installation trucks purchased by Rome Monument use truck-mounted articulating cranes to set and install granite mausoleum foundations, walls, roofs, doors, crypts and heavy stones. Rome Monument is currently very busy manufacturing and building mausoleums purchased by private customers in large cities and wealthy communities all across the continental United States. Private family mausoleum prices start at $15K. Some of the new mausoleum installation areas in the United States are listed below.
---
New Head For Old Monument In White Plains
Written by Richard Liebson
Published by lohud on April 15, 2016
Posted on February 24, 2019
---
Death Wishes: How Can We Deal With Death Better?
Written by Denise Ryan
Published by the Vancouver Sun on February 23, 2019
Posted on February 23, 2019
---
StoneMor Partners L.P. Secures Bank Waiver and $35 Million Financing Facility
Written by StoneMor Partners L.P.
Published by GlobeNewswire on February 4, 2019
Posted on February 23, 2019
---
Written by Liz Hull
Published by Daily Mail on February 22, 2019
Posted on February 23, 2019
---
New York City Catholic Church Selling Crypt for $7 Million
Written by Hannah Shaffer
Published by Business Insider on March 16, 2018
Posted on February 22, 2019
---
Cremation And Funeral Service Jobs
Information Provided by the Cremation Association of North America
Posted on February 22, 2019
People that want to work in the death care industry can browse available jobs posted by funeral homes, cemeteries, crematories, Service Corporation International and burial and cremation product companies. 
---
News From The National Funeral Directors Association
Posted on February 22, 2019
NFDA is the world's leading and largest funeral service association, serving more than 20,000 individual members who represent nearly 11,000 funeral homes in the United States and 49 countries around the world. NFDA is the trusted leader, beacon for ethics and the strongest advocate for the profession. 
---
Fort McHenry Holds Burial at Sea, Honors 36 Veterans
Published on February 19, 2019
Written By Seaman Christopher Roys
Published By Defense Visual Information Distribution Service
Posted on February 22, 2019
---
Rome Monument Building Two More Monuments For NYC Families
Posted February 20, 2019
In late 2018 Rome Monument received two signed purchase orders from families in New York City to design, build and install two granite upright family monuments. Rome Monument has already completed the memorial design phase of the two cemetery monument projects. In January of 2019, Rome Monument received the approval from both customers that the CAD designs were perfect.  Both tombstones are tentatively scheduled to be installed in New York City area cemeteries in April of 2019.  
Both headstone construction projects are now in the "Carving and Engraving Phase". Experienced sculptors are now chipping away at the granite slabs at the Artisan Center. Sandblasting, etching and polishing will follow in March.  In the spring, after the cemetery grounds in Rockland County and Westchester County have thawed, these two monuments will be delivered and installed in cemeteries near Nanuet and Hawthorne, New York.  Nanuet is a hamlet in the town of Clarkstown in Rockland County, New York. Hawthorne is a hamlet in the town of Mount Pleasant in Westchester County, New York. After these two family grave markers have been set at the rural cemeteries, pictures of these personalized headstones will be featured online in the Design Gallery. 
Headstone and monument prices in New York City, Rockland County and Westchester County start at $300. The current price for upright monument double-depth grave spaces at Ascension Cemetery in Rockland County, NY is $2,885.  Costs for basic upright monuments built by Rome Monument start at $700.00.  Prices for a single grave (for up to three burials) at Green-Wood Cemetery in Brooklyn cost $19.000, not including foundation costs which range from $740 to $869.  Prices for popular upright granite monuments designed by Rome Monument start at $1,200.  Grave fees for an upright granite monument (including perpetual care) at Gate of Heaven Cemetery, in Westchester County are $4,400.  Prices for popular upright granite monuments constructed by Rome Monument start at $1,200.  Woodlawn Cemetery in the Bronx is developing 20 acres of additional space to create thousands of extra burial spots. In 2016, the price of single lots that provide space for individuals or multiple cremated remains stood at $17,000 and rising.  Prices for basic lawn level (flat) grave markers handcrafted by Rome Monument start at $300.  In 2019, single graves (3' x 10') at the White Plains Rural Cemetery cost $2,000.  White Plains Rural Cemetery recently received approval to build a crematory. Prices for premium upright granite family monuments start at $4,000.  At the Gate of Heaven Cemetery, about 25 miles north of New York City, family mausoleum site fees, per square foot, start at $240.  Sites (756 sq. ft.) for mausoleums at Green-Wood Cemetery cost around $440.000.  Starting prices for private single crypt family mausoleums built by Rome Monument range start at $15,000.  Click here to watch a video titled "Cemetery Monument and Headstone Photos and Prices".
---
Shark Tombstone of Allegheny Cemetery
Posted On February 18, 2019
Published by Atlas Obscura
---
Roth Cemetery Services
Posted On February 18, 2019
---
Death Care Market in US - Industry Outlook and Forecast Report 2018-2023
Posted On February 18, 2019
Published By Business Wire On November 27, 2018
---
10 Visionary Death Care Entrepreneurs Revolutionizing How We Die
Posted on February 18, 2019
Published by ConnectingDirectors.com
---
Headstone Prices In New York City
Posted February 18, 2019
---
Family Monuments For Sale In Westchester County NY
Posted On February 13, 2019
Monuments, Headstones, Mausoleums And Memorials For Sale To Westchester County Families And Cemeteries
Rome Monument serves families, Westchesterites, cemeteries, municipalities, churches, civic organizations, funeral homes and businesses in Westcheter County, New York. Rome Monument sells, designs, builds and installs family monuments, private mausoleums and community memorials in the Hudson Valley area north of New York City. Communities served include White Plains, Scarsdale, Bronxville, Greenville (Edgemont), Pelham, Rye, Larchmont, Irvington, Briarcliff Manor, Yonkers, New Rochelle, Yorktown Heights, Bedford Hills, Harrison, Mohegan Lake, Mt. Kisco, Tarrytown and Rye Brook. 
Cemeteries Served In Westchester County NY
Rome Monument installs monuments, headstones and mausoleums in cemeteries in Westchester County. Historic and popular cemeteries we serve include Kensico Cemetery, Gate Of Heaven Cemetery, Ferncliff Cemetery, Sleepy Hollow Cemetery, Dale Cemetery, Greenwood Union Cemetery, Beechwoods Cemetery, Westchester Hills Cemetery, Oakland Cemetery, Holy Sepulchre Cemetery, White Plains Rural Cemetery, Flandreau Cemetery, Mount Eden Cemetery, and Bronxville Cemetery among others.  Tombstones, gravestones, mausoleums and burial markers have been manufactured in Westchester County ever since Giovanni da Verrazzano and Henry Hudson visited in area in 1524 and 1609, respectively. There are a number of old and historical cemeteries, graves, and burial grounds in Westchester County. The White Plains Rural Cemetery, Elmsford Reformed Church and Cemetery in Elmsford NY, the Stony Hill Cemetery in Harrison NY, the Milton Cemetery in Rye NY and the African Cemetery (Rye African-American Cemetery) in Rye NY are listed on the National Register Of Historic Places. 
Browse Pictures And Watch Videos Of Family Monuments, Private Mausoleums And Civic Memorials For Sale
The "Family Monument Catalog and Personalization Guide (PDF)" is great reading. It explains how Rome Monument completely customizes and personalizes monuments and memorials for families, churches, civic groups and cemeteries. 
---
Working In The Death Care Industry At Service Corporation International
Posted On February 12, 2019
Posted On February 12, 2019
Families in the United States have the choice to purchase the rights to build their own free-standing private mausoleum in a cemetery for multiple urns and/or crypts. For many people in the United States, a cemetery plot or mausoleum crypt is the last piece of real estate they will need.  There is not a shortage of cemetery space for private family mausoleums in America, but coveted plots in exclusive or historic cemeteries or memorial parks are commanding high prices. Private granite mausoleums and family crypts are for sale by Rome Monument which is a nationally recognized mausoleum construction company based in Pittsburgh, PA. Rome Monument also sells community mausoleums, private columbariums, church and community columbariums, crypts, urns and niche nameplates and plaques.  Browse mausoleum pictures, watch informative mausoleum design and construction videos, download PDF catalogs, get mausoleum prices, learn how to order and schedule private family mausoleum construction and installation services. If your family is considering buying a mausoleum, click on the links below for more information.
---

Browse pictures of 1 crypt mausoleums, 2 crypt mausoleums, private family mausoleums and stately walk-in mausoleums in this PDF guide. Learn how Rome Monument designs and builds elegant mausoleums using high quality granite, impeccable construction standards and old world craftsmanship. Get an understanding of the customization and ordering processes. Learn about high-grade granite, mausoleum foundations, base courses, architectural options and landscaping considerations. 
---
Custom Personalized Headstone Designs On Pinterest
Posted On February 5, 2019
Rome Monument manufacturers custom designed and completely personalized headstones, bronze grave markers, tombstones, family mausoleums and flat buiral markers to mark a family member's grave site or burial plot.  Rome Monument specializes in custom made monument designs. The cemetery, private and public memorials we make fit the specific needs and requirements of a particular person or organization. The monument size, the memorial shape, the granite color and the personalized artwork are all tailor-made to comply with the exact requests of our customers. Every personalized monument manufactured by Rome Monument is made-to-order.  Rome Monument take great pride in their custom designed headstone and monument personalization capabilities and hope that you will take a few minutes to check out their work.
MBNA 2019 Monument Industry Show
Published by The Monument Builders of North America
Posted On February 5, 2019
The 2019 MBNA Monument Industry Show will be held on February 8-10, 2019 in St. Louis. The premier North American showcase of mausoleums, cemetery monuments and equipment. MBNA's 2019 Monument Industry Show offers retailers and memorialists the opportunity to view exhibits featuring new products and services, as well as network with key manufacturers, wholesalers, distributors and suppliers in the industry.
Grave Matters: Digging Into Bath's Ancient Cemeteries
Written by Alex Lear
Published By The Time Record On February 4, 2019
How Rome Monument Crafts Personalized Custom Headstones
Published On February 4, 2019
Typical headstones, tombstones, gravestones, monuments and memorials are carved granite slabs or molded bronze markers placed at the head of a grave with an individual's, or several related individuals' names, birth and death dates, and an engraved message. Headstone designs are usually chosen from a third party catalog at a monument company, cemetery, or funeral home and include limited options for shape, size, color, and artwork. Popular symbols include religious images representing the Catholic, Christian, Jewish, Muslim, Protestant, Orthodox and other religions, traditions, and faiths.  
Rome customers, fortunately, don't choose cookie cutter, template monuments from competitors' catalogs. Our personalized memorials are built according to your individual requirements, desires and specifications. This means the shape, size, granite color, etchings, engravings and funerary artwork are one-of-a-kind and totally unique to your family. No-one will ever have the same monument. In addition, each personalized headstone design is individualized with exclusive adornments and special touches to meet the needs and situation of each family. 
Rome Monument has designers and artisans on staff who will create a monument just for you…and just the way you want! For four generations, Rome Monument has been creating memorials and monuments using a variety of artistic styles for cemetery markers, headstones, monuments, statues, mausoleums, and other types of memorials for families in Pittsburgh, Allegheny County, and Western Pennsylvania.  We are frequently called on to design memorials that use symbols, designs and imagery as well as custom artwork created by the families themselves with the help of our monument designers. Along with your personal epitaphs and inscriptions, these designs are skillfully hand etched, laser etched, engraved, or carved into your monument. 
This video also shows you how to order or purchase the highest quality, completely personalized cemetery monument from a Rome Monument Showroom in Pittsburgh and Western Pennsylvania, or from your home anywhere in the United States. We start with a family consultation (pre-need is recommended) in which we discuss options for your personalized monument design. Through detailed CAD drawings, followed by architectural renderings, we fine-tune the monument design plans so that our skilled monument craftspeople can present you with a personalized monument your family will absolutely love! Once designed and constructed, the monument is delivered, assembled and installed in the cemetery of your choice. 
Flat Headstone Designs: from $300
Upright Headstone Designs: from $600
Single Crypt Private Family Mausoleum: from $15,000
Two Crypt Mausoleum: from $23,000
3 Crypt Mausoleum: from $28,000
4 Crypt Mausoleum: from $35,000
5 Crypt Mausoleum: from $40,000
6 Crypt Mausoleum: from $45,000
7 Crypt Mausoleum: from $50,000
8 Crypt Mausoleum: from $55,000
9 Crypt Mausoleum: from $60,000
Walk-In Mausoleum (2-4 Crypts): from $85,000
Walk-In Mausoleum (6-8 Crypts): from $145,000
Estate Walk-In Mausoleum (12-16 crypts): from $350,000
Chapel Walk-In Mausoleum: from $180,000
Garden/Outdoor or Sepulcher Mausoleums: from $200,000
Composting May Offer The Latest Option In Green Burials
Published by the Religion News Service On February 4, 2019
If every Washington state resident chose recomposition, it would save more than .5 million metric tons of CO2 within 10 years — enough to let 13 million seedlings grow into trees for 10 years.
Number Of Black Funeral Homes Dwindles Across US Since 1950s
Written By Ieana Najarro
Published On February 3, 2019 By The Sun Herald
In 1953, Ebony magazine reported there were 3,000 black-owned funeral parlors across the country. Today, there are about 1,200.
Written By Anne Neville
Published by The Buffalo News on December 31, 2018
By Ken Picard
Published by Seven Days On October 24, 2018
High Quality Mausoleum Design and Construction Overview
Posted on November 29, 2018
In this video, Rome Monument shows you how to tell the difference between high quality mausoleum and low quality mausoleum design and construction. In addition to a superior, professional design, the quality of a mausoleum depends on such factors as the reputation of the granite quarry, the quality of the granite, foundation, base course, side walls, roof and joints, among other construction elements. Water is one of the most damaging influences for a mausoleum. Only a well-built mausoleum that is constructed with high grade granite from reputable quarries is likely to withstand the damaging effects of moisture and water. Of course, other environmental factors such as wind, temperature extremes, and high water tables can also play a role in the deterioration of a mausoleum. A quality built mausoleum can last for centuries – a poorly built mausoleum with inferior materials can start to deteriorate in just a few years. That's why it is important to hire a mausoleum construction company that designs and builds mausoleums in accordance with strict mausoleum construction standards as set by local, state and federal law. This video also shows you how to order or purchase the highest quality, completely personalized private family mausoleums from a Rome Monument Showroom in Pittsburgh and Western Pennsylvania, or from your home anywhere in the United States. We start with a family consultation (pre-need is recommended) in which we discuss your personalized family mausoleum design. Through detailed CAD drawings, followed by architectural renderings, we fine-tune the mausoleum design plans so that our skilled monument craftspeople can present you with a mausoleum your family will absolutely love! Once designed and constructed, the mausoleum is delivered, assembled and installed in the cemetery of your choice. You can order, buy, purchase and commission a Private Family Mausoleum with any number of crypts in different styles, shapes, sizes, and price ranges. The following will give you a general understanding of family mausoleum costs.
Single Crypt Mausoleum Prices Start at $12,000
Two Crypt Mausoleum Prices Start at $23,000
Private Family Walk-In Mausoleums Start at $85,000
Chapel Mausoleum Prices Start at $180,000
Garden Mausoleum Prices Start at $200,000
Rome Monument is a mausoleum and cemetery monument design and construction company with headquarters in Pittsburgh, Pennsylvania. Rome has been one of the country's premier mausoleum builders since 1934.
Rome Monument Designs and Builds Two Crypt Mausoleum for Sandys Family In Toledo Ohio
Posted on November 19, 2018
Rome Monument completed the design, construction and installation of a two crypt mausoleum for Thomas C. Sandys (Born April 28, 1936) and Kathleen A. Sandys (Born April 9, 1940) of Maumee, Ohio. The high quality family mausoleum was built at the Rome Monument Artisan Center in Pittsburgh, PA and then transported to Resurrection Cemetery in Toledo, Ohio where it was installed. The cemetery is one of Toledo's largest and newest Catholic cemeteries. It sits on over 235 acres of land that features a 2 acre lake. The cemetery located on Hill Avenue is just a few miles north of Maumee, Ohio. The side-by-side two crypt mausoleum was built with jet black granite and features a flat roof. The double mausoleum (for two people) was set on a solid granite base course to keep water from entering the crypts. Two crosses were etched into the front of the mausoleum, above the couple's names. The private family mausoleum was purchased by Mr. and Mrs. Sandys before their deaths. Their death dates have not been etched into the mausoleum. Rome Monument will provide on-site engraving after the death of each spouse. This type of 'pre-need' ordering and purchasing arrangement is becoming more popular with Rome Monument's mausoleum customers. Rome Monument offers a "Pre-Arranged Cemetery Monument Plan" allows individuals and families to plan and pay for their mausoleum prior to their passing.
Rome Monument Designed, Built and Installed Two Crypt Family Mausoleum For McKinney Family of Arkansas
Posted on 11/19/18
Rome Monument recently completed the design, construction and installation of a two crypt 'side-by-side' mahogany color granite mausoleum for the McKinney family of Arkansas. Rome Monument built the mausoleum in Pittsburgh, PA and then transported it to the New Cemetery in Mulberry, Arkansas where it was set on a solid granite base course. The mausoleum, which features a granite gable style roof, memorializes Janice Sue Meador (January 1, 1952 - June 1, 2018) and Jerry Raymond McKinney (Born February 15, 1950). Janice McKinney was a member of the First Baptist Church in Mulberry and the owner of the Blossom Shop in Mulberry for 25 years.The couple was married on October 27, 1972 and their wedding date was inscribed into the front of the mausoleum. Another inscription on the mausoleum reads "Parents of Erin, Grandparents's of Destin, Halyn and Ashtyn". An etched cross and flowers also adorn the front of the two crypt family mausoleum.
The Cremation Boom Is Disrupting Michigan's Funeral Business
Written by JC Reindl
Published by the Detroit Free Press on October 31, 2018
Posted Here on November 14, 2018
Excerpt:
Service Corporation International To Benefit From A 'Dying' Industry
Written by Gabriel Camacho
Published on Seeking Alpha on November 2, 2108
Posted on November 14, 2018
Aging US population will support Service Corporation International's pre-need sales in the future.
Death rate is expected to increase.
Service Corporation International is the leader in the death care industry and expected to grow as demand for its services increase.
I believe that US aging population and the increasing death rate are overlooked. In this market, everyone is heavily invested in the technology sector. The hottest technology stock now may not exist in five years. It's important for investors to invest in industries that will always be in demand. There is nothing certain in life except death and taxes. We can't invest in the IRS, but we can invest in death.
Service Corp. offers customers with funeral and cemetery services. As of 2017, the company operated 1,488 funeral service locations and 473 cemeteries across 45 states and 8 Canadian provinces. This large network allows the company to serve customers with different custom needs (religious, ethnic, and cultural traditions) during the time of service. The Funeral Services segment offers funeral home facilities, motor vehicles, arranging & directing services, memorialization, and catering. The Cemetery segment provides cemetery property, interment rights, and memorial merchandise. Customers have a choice of pre-need services or at-need services. For pre-need service, the company is contractually obligated to perform certain services and products in the future. This is considered pre-need sales. At-need services provide the funeral and cemetery services at the time of need.
13 Secrets of Tombstone Engravers
Written By Shaunacy Ferro, Published on Mental Floss on October 31, 2018
This article published by Mental Floss explores the cemetery memorial and monument design industry. The publication is a media company owned by Minute Media and based in New York City. The Mental Floss web site was voted one of the "100 Best Websites for Women" by Forbes in 2013. The article features quotes from Vince Dioguardi, the president of Pittsburgh, Pennsylvania-area Rome Monument, a company founded by his great-grandfather in 1932. Pictures of two private family mausoleums designed and built by Rome Monument are showcased in the article. The Dioguardi mausoleum located in Beaver Cemetery is pictured on a sunny day. A Greek neoclassical style family mausoleum constructed by Rome Monument for the Pappan family is also featured in the article. You can even watch Rome Monument building this private mausoleum for the Pappan family on YouTube. You can browse through more pictures of different styles of private family mausoleums built by Rome Monument on the their website. Also quoted in the article is Greg Lundgren of Seattle-based Lundgren Monuments, which focuses on cast-glass memorials.
Excerpts From The Article Are Listed Below
Listed below are the 13 secrets of memorial engravers discussed in the article. 
1. THERE IS NO "NORMAL."
2. THE PROCESS CAN TAKE YEARS ...
3. ... SO THEY OFTEN FEEL VERY CLOSE TO THEIR CLIENTS.
4. CLIENTS OFTEN TRY TO CRAM TOO MANY MOTIFS ON ONE GRAVESTONE.
5. FAMILY DISAGREEMENTS ARE A CHALLENGE.
6. A NUMBER OF THEIR CLIENTS ARE STILL LIVING.
7. THEY DON'T ONLY MEMORIALIZE HUMANS.
8. THEY'RE NOT ALWAYS CHISELING BY HAND.
9. YOU CAN BUY A MEMORIAL FROM WHOMEVER YOU WANT.
10. SOME DESIGNS CAN BE VERY ELABORATE ...
11. ... BUT THEY HAVE TO CONFORM TO A CEMETERY'S RULES.
12. CARS ARE A SURPRISINGLY POPULAR MOTIF.
13. WORKING WITH DEATH ISN'T ALWAYS SAD.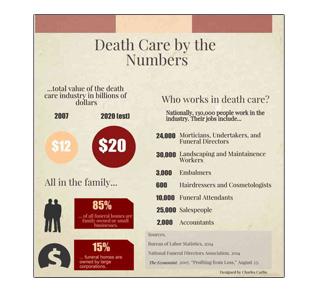 How To Start A Business In The Death Care Industry
Posted on 10/19/18
Learn how to open a business in the death care industry. These firms and organizations operate funeral homes, offer cremation services for humans and pets, provide burial services (including green burial services), manufacture memorials and cemetery monuments, sell final expense insurance, provide embalming services, manage cemeteries, mausoleums and memorial gardens, sell coffins and manage hospice facilities. Starting a company in the funeral industry or death industry is an ideal plan if you want to manage a small family owned business even though a few large publicly traded companies control the industry. Due to geographic limitations for large death care companies, small family owned businesses continue to thrive in the death and funeral industries. 
Obtain Your License
Secure Space
Offer Pre-Arranged Funerals
Hire Personnel
As the cremation rate continues to increase, many funeral home owners consider expanding their facilities and adding a crematory, rather than relying on a third-party cremation provider. However, the challenges presented by zoning boards, regulatory authorities, and the potential for community opposition can be daunting.
The death care industry is a bustling $17 billion per year industry in the United States. Due to many factors, cremation has grown in popularity by leaps and bounds. Opening a crematorium is a lucrative option if you research it carefully. Several cost factors must be considered and accounted for before opening.
Real Estate
Crematory Furnace
Furnace Fuel
Overhead
Marketing and Advertising
If you have previous experience as a stone cutter or working for a headstone company, you may consider starting your own custom grave marker company. A considered evaluation of the market, the prices and reputation of your competitors, and the cost of setting up fabrication facilities will help you determine if this is the best career path for you.
Determine the size and scope of your planned new business.
Select a name for your business. 
Seek advice from your attorney or tax adviser on how to construct the organizational structure of your new business.
Do market research. 
Prepare a business plan.
Contact the Internal Revenue Service to obtain an Employer Identification Number.
Contact your state department of licensing to obtain a business license.
Work with a cemetery monument wholesale company to purchase granite and bronze grave markers to sell to your customers. 
Follow your business plan in setting up your cutting operation, hiring employees and promoting your headstone company.
Could Cleaning Headstones Be Your New Side Business?
ICCFA Crematory Operator Certification Event On October 30, 2018
Posted on October 15, 2018
This operator course, being held at the Cincinnati College of Mortuary Science in Cincinnati, Ohio includes two hours of laws and rules relevant to Ohio and specific to crematory operation. Click here to register online.  In 1996, the AACS took a new name, the International Cemetery, Cremation and Funeral Association ICCFA. The Association of American Cemetery Superintendents or AACS was an American organization formed in 1887 to share interests and to improve the fields of cemetery design, groundskeeping, and horticulture.  One of the three oldest societies devoted to conserving landscape and cemetery gardening, and rural art in the United States, the Association of American Cemetery Superintendents still exists today as the ICCFA.  In 2018, the ICCFA is made up of more than 9,100 funeral homes, crematories, cemeteries, cemetery monument and memorial designers and related companies worldwide.
New Products and Tools For Final Expense Planning
Posted on October 15, 2018 
Financial expense insurance, also know as burial insurance, covers medical bills, funeral costs, cremation expenses, cemetery fees, cemetery monument invoices and other fees that arise at the time an individual passes away. This financial product provides money for surviving family members to cover the bills associated with a death in the family. Both funerals and cemetery monuments can cost in thousands of dollars. The State Farm Life Insurance Company sells final expense insurance. The Nationwide Life Insurance Company sells funeral insurance for burial and final expenses. Companies such as State Farm and Nationwide offer these types of financial products to provide paid benefits randing from ranging from $400 to $50,000.  In some situations, the estate of the deceased may need settling, which results in additional fees that need to be paid to a probate lawyer. Unforeseen costs make a funeral insurance policy a valued final gift from the departed. Funeralwise.com, a Chicago-based funeral information service, offers a professional funeral planning tool to members of the Final Expense Planning Specialist Association (FEPSA).  A feature of the web app is an interactive planning tool used by financial advisors that calculates estimated costs based on industry cost benchmarking data. The FEPSA is a non-profit organization that grants a final expense planning professional designation – FEPS®.  By using a secure portal, FEPSA members walk their their customers through all facets of final expense and funeral planning. The Funeralwise web site provides information on funeral planning, funeral customs, funeral etiquette and grieving. The site even helps people cope with the death of a pet.
New Standalone Mausoleums Barred Statewide
Written by Andrea VanValkenburg for the Press-Republican, Published on October 3, 2018
PLATTSBURGH — In response to what lawmakers called "appalling" conditions at abandoned local mausoleums, a new law now bans construction of such standalone facilities across the state.  Sen. Betty Little (R-Queensbury) and Assemblyman Billy Jones (D-Chateaugay) pushed for the legislation after witnessing the emotional and financial toll that resulted when the Whispering Maples Memorial Gardens mausoleums were allowed to deteriorate and go bust in the towns of Plattsburgh and Ellenburg.  "The condition of these mausoleums was appalling," Little said in a press release. She took an active role in touring the neglected facilities, seeking funding for their rehabilitation and spearheading the campaign for change in Albany.  "It was a disgrace for those interred and heartbreaking for the families of loved ones," she said. "A tremendous amount of progress has been made to rehabilitate both facilities, costing taxpayers more than $2 million.  "It had to be done and was obviously the right thing to do given the circumstance. But we need to make sure this never happens again."
STUNNED BY BURDEN
Under state law, operating and maintenance costs for the two facilities were passed to local municipalities in 2015 after the two mausoleums, along with a crematory in Ellenburg, were declared abandoned by the state due to disrepair and inadequate revenues and funds to cover future obligations.  The state ordered the towns of Plattsburgh and Ellenburg to assume responsibility for the facilities within their borders.  Leaders in both towns were stunned by the unexpected burden, as they were handed the financial challenge of extensive repairs.  The mausoleum on Tom Miller Road in Plattsburgh, with a total 1,488 spaces, and the one in Ellenburg, with 1,259 spaces, both needed new roofs and considerable work inside.  The state justified declaring the facilities abandoned because:
The Whispering Maples Board of Directors failed to set aside adequate funds to cover the costs of pre-need (before death) sales of crypt markers and pre-need sales of rights of interment, with liabilities listed at $140,800 and $190,000, respectively, for a total of $330,800.
Financial assets as of June 1, 2015, totaling $296,974, were not adequate to cover pre-need liabilities, and the Permanent Maintenance Fund was also underfunded.
As well, the state said at the time, Whispering Maples had failed to repay loans it was allowed to make from the fund and hadn't made regular bank deposits, with a resulting liability of more than $200,000.
ABANDONED DUTIES
In late 2015, Town of Queensbury Cemetery Superintendent Connie Goedert became the court-appointed receiver in charge of the Whispering Maples facilities. The towns successfully sought to delay responsibility until the mausoleums were brought up to code, as the situation had developed while the state was in charge of oversight.  With strong encouragement from Sen. Little, the state provided $2 million for repairs and renovations and $300,000 for perpetual-care costs.  "The owners of Whispering Maples Memorial Gardens failed families and members of our community when they made the conscious decision to abandon their duties," Jones said in the release.  "The legislation signed into law (this week) is crucial to ensuring that this does not cost taxpayers money in the future and that the memory of our loved ones will be respected and upheld."  Little and Jones said the new law will protect taxpayers and municipalities, as well as better ensure that those who have died will not have to endure a similar indignity, nor their loved ones the distress felt by families over the Whispering Maples situation.  "The resting places of our loved ones should always remain well maintained and cared for," Jones said.
'MORAL THING TO DO'
While mausoleums have proven successful as cemeteries as part of larger financial plans and as an additional burial option, standalone mausoleums have proven unsuccessful when constructed as a sole cemetery entity, lawmakers said.  Plattsburgh Town Supervisor Michael Cashman applauded the collaborative local and state efforts to "right the wrongs of the past."  At the mausoleum on Tom Miller Road, "the majority of the work has been completed," he said Tuesday.  Both Cashman and Ellenburg Town Supervisor Jason Dezan advocated for change in Albany, sharing their experiences of how abandoned mausoleums can potentially devastate municipalities and loved ones alike.  And, he said, "the general response was we have to stop this from happening again.  "Those structures represent loved ones — grandparents, parents, children and veterans — of our community," he said, adding that fixing the mausoleums' deterioration "was the moral and ethical thing to do."  Cashman applauded Little and Jones's efforts in banning future standalone sites "to protect future communities from this happening to them."  Dezan didn't immediately return a call requesting comment. The law went into effect upon the signature of Gov. Andrew Cuomo. 
Editor Suzanne Moore contributed to this report.
Famous Mausoleums
Posted on October 3, 2018
Wikipedia says that a mausoleum is an external free-standing building constructed as a monument enclosing the interment space or burial chamber of a deceased person or people. A monument without the interment is a cenotaph. A mausoleum may be considered a type of tomb, or the tomb may be considered to be within the mausoleum. Some of the most famous mausoleums in the world include the Mausoleum of Augustus, Grant's Tomb, Lincoln's Tomb, Saints Peter and Paul Cathedral, Tomb of Cyrus, Hamilton Mausoleum, Palmer Chapel Mausoleum and the Lenin Mausoleum. If you want to see inside large mausoleums built for famous Americans, watch this video. Other famous mausoleums located around the globe include the Anıtkabir, Humayun's Tomb, National Pantheon of Venezuela, Qianling Mausoleum, Ho Chi Minh Mausoleum, Castel Sant'Angelo, Tomb of Jahangir and Mausoleum of Genghis Khan.  They are some of the most elegant pieces of architecture on the planet.  The term "mausoleum" comes from the Mausoleum at Halicarnassus, the grave of the King Mausolus, who was a prominent Persian ruler during the 4th century BC. Other notable and famous mausoleums include the  Mausoleum of Mohammed V, Mausoleum of Hadrian, Kumsusan Palace of the Sun, Artigas Mausoleum, Imam Husayn Shrine, Royal Mausoleum of Mauretania, Mausoleum of Diocletian, Holy Cross Mausoleum, Bourguiba Mausoleum, Mausoleum of the Shirvanshahs, Shah-i-Zinda, Great Pyramid of Giza, Terracotta Army and the Taj Mahal. Rome Monument of Pittsburgh is one of the leading mausoleum designers in North America. The company produced a video that showcases large fancy mausoleums styles designed and built as monuments for the entombment of famous Americans.  You can view pictures of the free-standing stone buildings and look inside these famous family mausoleums. You can even find out how these famous tombs and interment spaces were designed and constructed, how much it cost to build these historic mausoleums, and what it costs to build a beautiful private family mausoleum in 2018.  Rome Monument, headquartered in Pittsburgh, is a mausoleum designer, construction company, contractor and builder with over 80 years of experience as a design/builder of private family mausoleums. The company builds single, 2 person, and family/estate mausoleums for 3 or more interments for both traditional and cremation burials. Mausoleums are free-standing cemetery buildings that contain the grave, tomb or burial chamber of the deceased. A large mausoleum can also incorporate other elements, such as a chapel or a niche for cremated remains.  Our mausoleums can be adorned with beautiful custom designs, etchings, engravings, bas reliefs, statues, 3D carvings, and symbols and imagery that convey the specific nationality or religion of the deceased.
See Inside Large Mausoleums Built for Famous Americans
Published on October 1st, 2018
This video, produced by Rome Monument, showcases large fancy mausoleums designed and built as monuments for the entombment of famous Americans.  View pictures of the free-standing stone buildings and look inside these famous family mausoleums. Find out how these famous tombs and interment spaces were designed and constructed, how much it cost to build these historic mausoleums, and what it costs to build a beautiful private family mausoleum in 2018. The video features the Lincoln Tomb, Grant's Tomb, William McKinley Tomb, the Royal Mausoleum of Hawaii, Will Rogers Shrine of the Sun and the Lillian Russell Moore Mausoleum.  Rome Monument, headquartered in Pittsburgh, is a mausoleum designer, construction company, contractor and builder with over 80 years of experience as a design/builder of private family mausoleums. Click here if you want to see what a mausoleum interior looks like.  Included in the video is aerial video footage showcasing large mausoleums built by Rome Monument for notable, but not famous, Americans and their families. 
State Regulation of the Death Care Industry Varies and Officials Have Mixed Views on Need for Further Federal Involvement
Published on December 15, 2011 by the U.S. Government Accountability Office
Excerpt: The extent to which the federal and state governments regulate the death care industry funeral homes, cemeteries, crematories, pre-need funeral plans, and third party sales of funeral goods varies, as does the extent to which regulation has changed since GAO last reported on the regulation of the death care industry in 2003. The Federal Trade Commission (FTC) continues to annually conduct undercover shopping at various funeral homes to test compliance with the Funeral Rule. Of the over 2,400 funeral homes that the FTC shopped since 1996, the FTC reported an overall compliance rate of about 85 percent. With respect to state regulation, consistent with GAOs findings in 2003, the way in which states regulate the industry varies across industry segments and states. Also, the extent to which state regulators reported that they had specific rules or regulations for each industry segment in both 2003 and 2011 varied. Most consistent across states in both years was reporting that there were specific rules or regulations for funeral homes (94 and 95 percent in 2003 and 2011, respectively). In contrast, 77 percent of state regulators of cemeteries reported that their states had specific rules or regulations for cemeteries in 2003, and 88 percent reported this in 2011. Certain state regulators also reported that their states made various statutory or regulatory changes since 2003, primarily to clarify legislation or regulation or to enhance consumer protections, and that they believe these changes strengthened their regulatory program to varying degrees. State regulators reported that these changes came about for a variety of reasons, including accounts of desecration of human remains or proposals from state agencies and industry groups. More >
New Life in the Death Care Industry
Written by Mark Cussen, Published by Dividend.com on July 22, 2015, Updated by Sam Bourgi on April 11, 2018
Posted on September 28, 2018
Excerpt: Death is big business. The U.S. death care industry alone is said to produce well over $20 billion in economic activity annually. This figure is expected to rise substantially as more Americans enter old age.  In the United States, the total death rate per 1,000 is 8.44, with the number of deaths topping 2.7 million annually. Multiply that by the cost of a funeral (which can range between $8,000 to $10,000) and suddenly you're talking big business. In fact, funerals are among the most expensive purchases consumers will ever make—(luckily, you won't be fretting the bill).  With those kinds of numbers, opportunities for investment abound with a few relatively large companies, most of which are publicly traded and control most of the businesses that sell caskets and granite for memorials. This article will look at industry trends, some of the biggest companies in the space and the dividend potential. More >
Dealing With Death in Long-Term Care
Published By U.S News & World Report, September 4, 2018, Written By Kaiser Health News, Contributor
Posted on September 28, 2018
Excerpt: Some facilities are looking to break the silence surrounding death in nursing homes and assisted living centers. Death and its companion, grief, have a profound presence in long-term-care facilities.  Other best practices include offering support to grieving residents and relatives of the deceased, recognizing residents' bereavement needs in care plans, and having a protocol to prepare bodies for final viewing.
Social Platform Is Announcing Deaths Through Funeral Home Partnerships
Posted on September 28, 2018
Death announcements created with Everdays app, which launched on September 20, 2018,  assist family members manage and communicate the news of a loved one's passing. It also helps other users stay update about deaths within their social circle. Everdays is promoting a dashboard that funeral homes use to create and send obituary infor to their customers via a text message or email. About 1,000 funeral homes use the web based system. The new mobile app takes the process a step further.  Everday is used to send funeral messages, funeral invitations and to preplan for a funeral. The clever app guides people through the process of sending funeral messages or funeral invitations.
VA to Let Vets Pre-Select Cemetery Burials Before Death
Published By Military.com
Written By Amy Bushatz
Excerpt: A rule change at the Veterans Affairs Department will allow veterans to apply for burial in national cemeteries before their death, rather than requiring family members to apply on their behalf after it.  Veteran burial benefits previously were approved at the "time of need." For families, that meant waiting until after the veteran died to apply for the benefits via fax or email by sending in a copy of the veteran's DD-214 or separation documents and then following up by phone.  The rule change instead allows veterans to be approved for burial in a VA national cemetery "pre-need," or before death, through a form submitted by fax, email or mail. The form can be filled out by the veteran or by someone else on his or her behalf.  More than four million people are buried in VA cemeteries. More >
How To Personalize A Cemetery Monument or Headstone
Written By Rome Monument
Posted Here On September 24, 2018
Personalize a monument, gravestone, grave marker or cemetery memorial with your loved one's favorite Bible verse, stanza of poetry, song lyric, catch-phrase or life's motto. If you and your family are having a difficult time deciding what epitaph or wording to have inscribed on your loved one's memorial, please read the examples below for ideas. Listed here are commonly used epitpahs which you can see on the actual memorials and monuments if you peruse our "Design Gallery."  Military headstone inscriptions frequently include abbreviations that denote the branch of service, war service and awards. The ranks included the Air Force, Army, Army Air Corps, Army Air Forces, Coast Guard, Marine Corps, Merchant Marines and Navy. Click here for a list of the most commonly inscribed abbreviations placed on Government-furnished headstones and markers.  If you are at a loss for words and would prefer to have some assistance, feel free to call the main Rome Monument office in Rochester, PA at 724-770-0100 and ask for Vince Dioguardi or Chris Morgan. Either of these compassionate gentleman will be happy to help you with this emotional process.
View Pictures Of Headstone Endearment Phrases, Verses, Sayings and Epitaphs For Cemetery Monuments 
Overlooked Orleans: Choosing A Headstone Was Serious Business
Written by Matt Ballard
Published by The Daily News (Batavia, NY) on August 27, 2018
Posted Here on September 5, 2018
ALBION — the final tour of Mt. Albion Cemetery this summer was Aug. 26, travelling a path across the western end of the cemetery. Over the last several weekends, I found myself intrigued by the visual representations of social and cultural changes throughout the cemetery.
The earliest sections of the cemetery are characterized by a lack of uniformity, whether one looks at the varying size of lots, the random distribution of lot numbers, or the diverse styles of monuments. As one travels into the "newer" sections of the cemetery, lots are set out in uniform size, orientation, and cemetery monuments appear more similar to one another.
While preparing for these tours, I stumbled across excerpts from a Sears, Roebuck & Company catalog for marble cemetery monuments. An individual could purchase a headstone of modest size at a cost of $7 to $8, plus additional rates for lettering and shipping. A later catalog distributed in 1906 provided prospective customers with samples of granite monuments, a relatively new business venture for the company.
One particular example from the catalog is reminiscent of some larger stones found within Mt. Albion. The "Art Renaissance" model is similar in style to that of the Alfred Skinner monument, although the ornamentation is far simpler with the catalog model. Customers could choose from several different sizes, running anywhere from $100 (or $2,768 with inflation) for a 4 foot 10 inch tall monument weighing 1,800 pounds to $312.30 (or $8,638.00 with inflation) for a 9 foot 2 inch tall monument weighing 11,680 pounds.
Production for a monument of this size required 12 weeks from quarry to cemetery, which included cutting the stone, lettering the face, and shipping by railroad. Typical lettering costs for granite ran anywhere from 12 to 72 cents per letter and customers could select typeface ranging in size from one inch to six inches in height. For raised lettering, prices ran anywhere from 45 cents to $2.78 per letter ranging in size from one inch to 8 inches. Old English, German, Gothic, and ornamental lettering would cost customers nearly double the price of traditional fonts, so an individual could easily spend more than the cost of the stone itself when adding text depending upon the length of names, dates, and epitaphs.
Although standardized mail-order monuments were an option, many people preferred individualized monuments that displayed the artistic talents of local monument dealers.
A particular memorial, standing upon lot 879 and paid for by Elizur Kirke Hart, is perhaps one of the most stunning and ostentatious monuments in the entire cemetery. Designed by Charles Diem of Albion in 1879, the large granite monument cost Hart roughly $7,900. Although the total amount spent on the memorial would run upwards of $236,000 today taking inflation into account, the artisanship and labor required to replicate such a beautiful piece of art would likely require double that amount at minimum. The monument stands upon an 8-square-foot base of granite with an eight-foot tall statue of "Hope" resting on top.
The statue stands as a symbol of the virtue of hope — the desire and expectation of receiving something. In relation to cemetery symbolism, this often reflects hope for eternal happiness and divine union. Hope is one of seven Heavenly Virtues including Faith, Hope, Charity, Fortitude, Justice, Temperance, and Prudence; Faith, Hope, and Charity (or Love) are considered the three Theological Virtues.
Held in her left hand is an anchor, a traditional Christian representation of hope as it often represented safety. In the Catholic tradition, the anchor is symbolic of the execution of St. Clement of Rome by Emperor Trajan, who was tied to an anchor and thrown into the sea.
In this depiction, Hope is dressed in a stola, the female counterpart to the Roman toga, with her right hand over her breast as a representation of faith. In other depictions, her index finger points to the sky as a representation of the path to heaven.
A similar, smaller statue stands upon the gravesite of David Jones and James Whitney near the Soldiers & Sailors Monument. On that particular example, the large anchor rests at Hope's feet with a chain attached.
Charles Diem was also responsible for a number of other strikingly beautiful monuments throughout the cemetery including the marble tablets found within the Soldiers & Sailors Monument, the large bald eagle draping a mourning cloth over the monument of Col. Robert H. Graham (just west of the tower), and the stunning marble baldacchino that stands on the Sanford E. Church lot. Of course, Sears, Roebuck & Company could not replicate the beauty and complexity of these monuments.
I Remember You. Do You Remember Me? What Headstones Say and Mean: About Designs, Symbols & Epitaphs
Produced by Rome Monument
Posted Here on 09/05/18
This video takes you on a virtual flythrough tour of an historic cemetery with its wide and wonderful diversity of cemetery monuments, headstones, gravestones, and statues. You'll discover that a headstone can say so much more about the deceased than just the name, birth date and death date. 
What should a headstone say? It should say how much one loved in life and how much one was, and still is, loved by family. It can convey one's accomplishments, the hobbies and pastimes they participated in, the sacrifices they made for their country, the faith they shared, and so much more. A monument says whatever you want it to say, and it speaks through its personalized design elements. 
How would you like to be remembered? How would you like to remember a loved one? Watch this video to see how Rome Monument can help you make your cemetery monument a beautiful expression of what you want to remember and what you want to be remembered for…forever. 
Published by U.S. Bureau of Labor Statistics | Division of Occupational Employment Statistics
Posted Here on 08/21/18
Despite Decades-Old Law, Funeral Prices Are Still Unclear
Published by National Public Radio on 02/08/17
Posted Here on 08/21/18
Excerpt: A federal regulation called the Funeral Rule is supposed to protect consumers who have lost loved ones. Among other things, it requires funeral businesses to provide potential customers with clear price information.  But an NPR investigation found that the rule goes only so far in protecting consumers, and that its promise of transparency often goes unfulfilled.  As recently as the 1960s, the association barred members from advertising prices. It agreed to end the ban in 1968, only after being sued by the U.S. Department of Justice.  That culture of secrecy persists in what's now known as the death care industry. A kind of strategic ambiguity about prices is part of the business model.  "The consumer stands firmly in 1951, because that seems to be the technological level and the transparency level that the majority of American funeral homes are stuck at," says Joshua Slocum, executive director of the death care watchdog Funeral Consumers Alliance. More >
Academic Articles | The Funeral and Cemetery Law Blog
Tanya Marsh is the creator and primary author of The Funeral and Cemetery Law Blog
Posted Here on 08/21/18
Published by PR Newswire on 02/28/18
News Provided by Wake Forest University School of Law
Posted Here on 08/21/18
Half In US Choose Cremation As Views On Death Change
Published by CNN on August 9, 2017
Written By Susan Scutti
Posted Here on 08/21/18
Excerpt: Does faith matter?  Cremation is the prevailing practice in places where the custom is ancient and most of the population adheres to Hinduism, Sikhism, Buddhism or Jainism. Many Americans of Japanese descent, for example, routinely opt for cremation just as they might in Japan, where cremation is nearly universal.  Other nations with high cremation rates -- 80% or higher -- include Taiwan, Hong Kong, Switzerland, Sweden, South Korea, the Czech Republic and Thailand.  Although nonreligious Americans are more likely than others to consider cremation, the proportion of Americans who feel that religion is an important part of a funeral has decreased from just under half in 2012 to slightly less than 40% in 2016, according to the report.  While more than three-quarters of Americans identify themselves as faithful to one religion or another, fewer than 40% of Americans feel religion is an important part of a funeral.  The breakdown of religion in the United States includes 22.8% who are unaffiliated, describing themselves as atheists, agnostics or "nothing in particular," according to a Pew Research Center study. Following non-Christian faiths are 5.9% of Americans, who include Jews, Muslims, Buddhists and Hindus. The largest group is Christian: 70.6% of Americans. Of these, nearly 21% are Catholics, their large number influencing the shift toward cremation.  The reason? In 1963, after centuries of insisting on full-body burials, the Vatican lifted the ban on cremation. More >
Ashes To Ashes - Cremations Become A Popular Choice In Southwest Michigan, U.S.
Published by The Herald-Palladium on 02/11/18
Written by Tony Wittkowski
Posted Here on 08/21/18
Excerpt: Nearly everyone in the 20th century who died in the United States was buried in a casket.  Only 4 percent were cremated 50 years ago, at a time when the practice was considered unorthodox. Today, the country cremates half of its deceased.  Cremation rates vary widely across the world with some countries like Japan and Thailand having a rate higher than 95 percent, while other countries like Italy, Ireland and Poland are at or lower than 10 percent. Factors for such a disparity among countries include culture and religion, as the cremation rate in Muslim and Roman Catholic countries is much lower due to religious sanctions on cremation. Certain religions such as Islam oppose cremation, while Hindu and Buddhism encourage cremation – which may explain why Japan, whose culture practices Buddhism and Shinto, has a nearly 100 percent cremation rate.  Judaism has historically taken a strong stance against cremation, though Reform Judaism has begun to accept the practice more. More >
On Yizkor, realizing that if 'life is with people,' in Judaism, death is too
Published on May 17, 2018 on the Arizona Jewish Post.
Written by Gila Silverman, a research associate at The Hadassah-Brandeis Institute, Brandeis University, and a visiting scholar at the Arizona Center for Judaic Studies.
Posted Here on August, 21, 2018
Jewish mourning is guided by two principles — kavod hamet and nichum aveilim — honoring the dead and comforting the mourners. Neither of these can be done alone. Like so much of Jewish life, we need other people to respond Jewishly to death. A well-known book describing life in the shtetls is called "Life is with People." And from a Jewish perspective, death is also with people.  Mourning is by definition a lonely experience, as we try to adjust to a life without someone who was important to us. But Judaism ensures that we are not alone throughout this process. From the moment of death, actually from the moments preceding death, through the funeral, and the shiva, through the month or year of saying kaddish, and to the ongoing rememberings of yahrzeit and Yizkor, if we mourn as Jews, we don't do so alone. In fact, we can't do so alone. More >
The Death Care Industry: A Review of Regulatory and Consumer Issues
An Article in The Journal of Consumer Affairs Vol. 41, No. 1 (Summer 2007), pp. 150-173, published by Wiley, a global provider of content.
Posted on 08/21/18
Abstract: Although virtually every person in the United States will purchase or consume a funeral-related product or service, relatively little is understood about the processes a consumer undertakes in making these expensive decisions in stressful circumstances. Regulation of the industry has been contentious from the outset, and there have been numerous questions as to regulatory effectiveness. This article outlines and discusses issues related to the death care industry with particular attention to consumer interests. 
Planned Mausoleum Will Provide Catholic Options For Cremation And Full Burials
Published by The Rhode Island Catholic on May 10, 2018
Posted Here on August 13, 2018
Islamic Influences In The Death Care Industry
08/13/18
Forest Home Cemetery in Milwaukee, Wisconsin decided to offer green burial to stay viable in the death care industry. More cemeteries are going green. The cemetery, which was established in 1850 by the founders of Milwaukee. Nestled within the 167-year-old Forest Home Cemetery is Prairie Rest, a cemetery reserved for natural burials. Forest Home Cemetery's green burial site is a traditional Muslim-style interment.  A natural burial is an environmentally-friendly approach to burial. In the United States, a bio-degradable burial container is used, such as seagrass, willow, bamboo, or pine wood, with biodegradable shrouds. In a green burial the body is not embalmed with a traditional formaldehyde-based solution. Instead, a non-toxic solution is used. Also, the body must be buried in a container that is 100 percent biodegradable.  Also, no toxic chemicals or vaults are used so that burials will have minimal impact to the prairie.
Nearly every religion has specific and meaningful traditions and customs around death.  Funerals in Islam (called Janazah in Arabic) follow fairly specific rites, though they are subject to regional interpretation and variation in custom.  While Green Burial is a new phenomenon in the United States, Muslims consider this a "natural" method, that matches the guidelines of Islamic law, practiced for over 1400 years. As Green Burial becomes more available, more Muslims will look to locations like Forest Home Cemetery for burial that fulfills all aspects of Islamic law. Muslims believe that cremation should be forbidden. Cremation is also prohibited by Jewish law. Cremation is acceptable in Buddhism.  The only time that cremation is acceptable in the Islamic faith is when there are breakouts or epidemics of disease and infection or if there is not enough room for burial, as is the case in much of India.  Historically, the Catholic Church has not supported cremation. However, these days it is acceptable for a Catholic to be cremated.  Forest Home has seen an increased interest in people of the Muslim faith to be buried at the traditional cemetery areas and in the Green Burial section. Being a non-denominational cemetery, it accepts all religions and faiths, and by offering green burial it opens a natural option for all those choosing the location to be their final resting place.  Traditionally, Muslim funeral traditions prohibit the erection of a large monument on the grave or elaborate grave decorations.  The Muslim Cemetery of South Florida, the only fully Muslim cemetery in South Florida, is dedicated entirely to Muslim burials.
How To Establish A Career And Make A Living By Working In The Death Care Industry
08/10/18
You don't need to be fascinated by mortality to consider a career in the death care industry. The death care industry is more than dealing with dead bodies and families in grief. Working as a mortician is not the only career available in the death care industry. Helping families care for their dead or helping families memorialize their loved ones is an option. If dead bodies make you sick and you don't think you would like putting makeup on dead bodies, you probably should not enroll at the Cincinnati College of Mortuary Science. If you are artistic, you can take a cemetery memorial design course through the Monument Builders of North America and become a certified memorialist. You can design a new style of casket and then start a manufacturing company. Or you can sell handcrafted cremation urns, jewelry and keepsakes online. 
If you are in the early stages of considering the death and funeral profession, you have a number of options for jobs. You can become a funeral director (mortician/undertaker), certified preplanning consultant (CPC) or embalmer. A new type of civic profession is a 'Funeral Celebrant' which is somebody that officiates a non-religious funeral, and works with families to create a proper ceremony for the deceased. If you want technical job, you can study to become a crematorium operator or technician. If you are a natural born salesman, you can sell headstones for cemeteries or monument retailers by working as a sales representative or sales consultant. If you like watching crime scene investigation television shows, you may think that the job of a coroner or forensic pathologist sounds interesting. If you like being outdoors, you can get a maintenance job in a cemetery. If you find social work appealing, you can become a grief support counselor or bereavement counselor. If you are good at handling stress and anguish, you can make a good living working at a hospice facility. If you like working with your hands and and are strong, you can apply for a stone mason/memorial mason/monumental mason position, monument builder postion, or monument delivery and installation position.
There are a wide variety of positions open to individuals that want to make a living by working in the death care industry. 
Even With The Rise In Cremation Rates, There Is Still A Lot Of Money To Be Made In the Death Care Industry
08/08/18
Even as cremation rates skyrocket, at the expense of traditional burials, services related to death still produce substantial revenue and profits for funeral homes, cemeteries, and memorial makers.  The death care industry has been disrupted by rising cremation rates and changing attitudes among young people about funeral practices and environmental impacts.  Although people who work in the funeral industry, for generations, assumed that the death care industry was safe from the whims of supply and demand because "people are never gonna stop dying", the death care industry needs to revise its traditional outlook and evolve to keep pace with current economic realities, in particular, the rise in cremation rates. The average cost of a funeral is $7,323, according to The National Funeral Directors Association.
People that are not end-of-life providers often think that working in the industry is depressing. However, many cheerful people provide memorial services, provide internment services and create memorial art. Because customer service is an essential part of deathcare, a friendly disposition on the part of funeral home employees, cemetery administrators and monument designers often results in contradictions of industry stereotypes. While many deathcare practitioners, memorial artists and cemeterians who work in the death care industry do so because they work in a family business, others do it because they can make some good money providing funeral services, operating cemeteries, building private family mausoleums, selling caskets or custom designing headstones.   
Cremation is now America's final disposition of choice. Many cemeteries, funeral business and monument builders are being challenged by the rise in cremation rates and need to adapt to stay viable. Many of these firms in this historically fragmented marketplace are small, locally owned, family-owned independent companies.  The rate of cremation surpassed that of burials in 2015, according to a report by the National Funeral Directors Association (NFDA).  The NFDA also projects that in 2018, more than half of consumers will choose cremation, and by 2030, over 70 percent of consumers will opt for cremation. Monument makers such as Rome Monument, based in Pittsburgh, PA, are now selling cremation monuments, cremation memorials and cremation headstones to take advantage of the market opportunities dictated by the rise in cremation rates. Companies such as Rome Inspirations are selling cremation keepsakes, cremation jewelry and cremation urns. 
To offset the decline in revenue from traditional funeral services, funeral homes are now offering more products and services. Some even partner with monument makers to sell flat bronze and upright granite grave markers. Rome Monument is a wholesale granite monument supplier that sells memorial products and provides value added services to monument dealers, cemetery management organizations and funeral homes. In 2016, the annual revenue of the U.S. funeral industry amounted to about $14.2 billion; this being generated from 15,818 funeral homes, approximately 7,000 crematoriums and cemeteries and over 4,000 industry suppliers.  Hillenbrand Inc., a global diversified company, sells more than 800,000 of the 1.8 million caskets sold in the United States each year through its Batesville Casket Company.
Financial companies and banks, with regulatory and compliance expertise, provide fiduciary services, investment management and recordkeeping services to members of the death care industry. Companies such as ClearPoint (formerly Forethought Federal Savings Bank), specialize in funeral and cemetery trusts, and other services that meet the requirements of funeral and cemetery professionals across the United States.
Financial opportunities in the death care industry remain available even though the industry is undergoing a significant transformation. Mergers and consolidations continue. Large chains are buying and managing locally owned funeral homes and cemeteries.  Websites such as Legacy.com lead the online death marketplace, providing obituaries, digital memorials, floral arrangements and selling ads. Even Walmart is taking a share of the death care industry away from funeral homes and related companies by selling low-priced caskets online.  Carriage Services has adapted to changes in the death care industry by providing prefunded funeral and burial services.  This allows people to plan ahead by purchasing interment rights, grave sites, mausoleums, and crypts in advance.  A significant portion of revenue for 1-800-Flowers.com comes from the funeral business.  
Rock of Ages, a provider of granite used for memorials and mausoleums, operates quarries and manufacturing facilities.  The company's revenue comes from selling raw granite and the manufacturing and selling of its final memorial products to independent retailers. To take advantage of death care industry trends, monument retailers such as Milano Monuments, based in Cleveland, are now selling inspirational and religious gifts. Changes in the death care industry are taking a toll on monument makers. According to Lisa Troost, president of the Peter Troost Monument Company, there used to be 100 monument makers in Chicago, now there are five. The company operates 26 locations in four states.  In February, 2018 Matthews International Corporation announced that the Company has acquired Star Granite & Bronze, based in Elberton, Georgia, for $41.2 million.  Amazon.com has also played a role in the changing economical landscape of the death care industry. It sells caskets, embalming tables and pet urns online. StoneMor Partners L.P., a major player in the death care industry, provides a broad scope of products and services through the ownership, development, and operation of cemeteries and funeral homes in multiple states. Customers are able to plan and pre-purchase their burial plot, casket or urn, vault, mausoleum space, and other details connected to a burial.  Some financial analysts think that Stonemor has a lot of upside.
Companies such as Service Corporation International (SCI), the largest provider of deathcare products, funeral, cremation and cemetery services in North America, continue to profit from funeral and cemetery services, even with the rise in cremation rates.  On May 29, 2013, SCI, America's largest provider of funeral, cremation and cemetery services, acquired the second largest, Stewart Enterprises. The company stock has a market cap of $7.2 billion. Not bad for a company in the death care industry. 
An Overview Of The Death Care Industry
Written by William Cronon and Published at williamcronon.net
Posted Here on August 6, 2018
The business of running funeral homes and cemeteries is just that, a business. While some cemeteries like Forest Hill are publicly owned, funeral homes are nearly all private businesses. The American "death care industry," as it is commonly called, produced nearly 12 billion dollars in economic activity in 2007, and that number is expected to climb to nearly 25 billion dollars by 2020.  These numbers include the costs of caskets and headstones, the wages of the cemetery laborers who dig the graves and maintain the grounds, the salaries of funeral directors, and equipment such as crematoria or embalming fluid.
THE DEATH CARE INDUSTRY BY THE NUMBERS
The Bureau of Labor Statistics does not keep aggregate data on the Wisconsin death care industry, but some numbers are available for individual occupations. As of 2013, the Wisconsin economy supported 790 morticians, undertakers, and funeral directors. Around 60 people in the state held jobs as funeral service managers, people who work as the business directors of funeral homes. One can make a good living as a funeral service manager. The mean wage is around $80,000 and the highest paid managers in the state earn close to $140,000. Another 500 people make their living as funeral attendants. They carry the caskets, arrange flowers, organize receptions, and do other support work that makes funerals and burials possible.
FUNERAL HOMES: A FAMILY AFFAIR
While many industries are busy consolidating ownership into fewer and fewer hands, most businesses in the death care industry continue to be family-owned or small businesses. Over 85 percent of the roughly 20,000 funeral homes in the country are privately owned. Many death care employees, however, belong to an aging demographic. Funeral home directors tend to be over 55 and many in the industry feel anxious about recruiting enough younger people to replace these directors when they retire. One factor discouraging new recruits may be that funeral directors work long and irregular hours because they must respond to calls at all hours of the day. Statistics about cemetery ownership are harder to come by. There are more than 120,000 cemeteries in the United States and while some are privately owned, many are owned by municipalities, religious institutions, families, or non-profit organizations.
While a wave of consolidation ran through the death care industry in the late 1980's and early 1990's, it has not turned out to be as profitable as corporations like SCI had hoped. The Economist reported that SCI's strategy had been to "grow by acquisition and cut costs through consolidation." During the rush to buy up independent funeral homes SCI and others appear to have both overpaid for the businesses they purchased and overestimated the amount of savings they could generate. This resulted in SCI taking on too much debt, a problem that the Great Recession compounded. However, they have recently resumed acquiring many funeral homes and cemeteries across the country. While their reach is limited here in Madison, in communities like West Palm Beach, Florida, SCI owns more than 60 percent of the area's funeral homes.
One reason for the staying power of small businesses in the death care industry is their geographic specificity. Cress Funeral and Cremation Services, for example, maintains eight locations in Wisconsin and three of their facilities are located here in Madison. You may notice the Cress facility on Speedway Avenue across the street from Forest Hill cemetery. Bill Clark, a funeral director at Cress, reports that families tend to look for a funeral home in their neighborhood, which is one reason why many smaller funeral service businesses remain. Madison supports at least twelve different funeral homes scattered around the city. Consolidating multiple funeral homes into a central location may push away potential customers.
Cress has built their business by acquiring other family-owned funeral homes in the area. They purchased the Speedway location from the Frautschi family in 1977. The Frautschis had run a funeral home business in Madison since 1869. Six other Cress locations were also purchased from family-owned funeral home businesses. Clark said that across their eight locations, their company handles about 1300 deaths each year. This is significantly higher than the 113 deaths per year that the average funeral home manages. Owning eight funeral homes allows a local company like Cress to emulate some of the strategies that corporations like SCI employ. For example, while Cress maintains several facilities in Madison, all the preparation of bodies and cremations happen at one location.
CHOOSING BETWEEN CEMETERIES AND FUNERAL HOMES: THE WISCONSIN CO-OWNERSHIP LAW
Geographic specificity raises the question, why not offer funeral home services at cemeteries? Many states take that approach, but Wisconsin prohibits the practice. Since the 1930's, Wisconsin law has banned a single company from owning both funeral homes and cemeteries. Nine states have similar laws, though Wisconsin's is one of the strictest.
The law has been a subject of contention between funeral directors and cemetery owners. Cemetery owners claim that they need to have access to increased revenue streams due to increasing financial stress. Many cemeteries are funded through an endowment and returns on investments pay a substantial portion of their operating costs. Each time the stock market drops sharply, as in 2008, the financial health of cemetery endowments is put at risk. Furthermore, with cremation now more popular than burial, fewer people are purchasing space in cemeteries and those who do often buy smaller plots.
Funeral directors, however, support the law, claiming cemeteries that also run funeral homes would have an unfair advantage. They give two main reasons. First, cemeteries tend to pay reduced property tax rates. Second, while cemeteries often have space to accommodate funeral home facilities, it would be much more difficult for a funeral home operator to buy a large chunk of land inside city limits to enter the cemetery market. At least in the short term, abolishing the co-ownership law would benefit cemetery owners more than funeral home operators.
Since the 1980's, cemetery owners have repeatedly pushed to have the co-ownership law overturned. Legislation to overturn the law has been introduced in the Wisconsin statehouse at least four times. It has failed to pass each time. In the fall of 2014, the owners of Highland Memorial Park cemetery in New Berlin, Wisconsin filed a lawsuit challenging the constitutionality on the cross-ownership ban. Their lawsuit claims that the law unduly restricts their right to earn a living guaranteed by the due-process and equal-protection clauses of the Wisconsin Constitution. As of this writing, the lawsuit has not been resolved.
CREMATION TRENDS
In Wisconsin, more people now choose to be cremated than buried. The National Funeral Directors Association estimates that in 2015 about 54 percent of Wisconsinites who die will be cremated. Around 38 percent will have their bodies buried in a casket. Others will choose to be entombed in a mausoleum, to donate their body to science, or to be buried at sea. Wisconsinites may be disappointed to know that burial in the great lakes is not an option as burial at sea is only legal in international waters. Nationally, more and more people are choosing cremation. In 2000, only about 26 percent of bodies were cremated. Now, over 45 percent choose to be cremated and it is estimated that by 2030 over 70 percent of Americans will choose to be cremated when they die.
Funeral Services Stock Outlook: Shift in Trend Dims Prospects
Published By Zacks Investment Research on August 1, 2018
Posted Here on August 6, 2018
Companies operating in the funeral services industry prepare the deceased bodies for burial or cremation and organize memorial services. As death is inevitable, demand for this industry's services never exhaust. In fact, players in the industry generate significant revenues from the entire funeral process that entails high costs associated with embalming, caskets, vehicles, funeral staff and equipment among others.  Markedly, the U.S. funeral services industry generates more than $16 billion in annual revenues, with $8,000 being the average cost per burial. However, the industry has turned quite competitive of late, owing to consumers' rising inclination toward cremations over traditional burials. Further, use of alternative channels, such as e-commerce, to buy funeral related products has increased competition.  Increased demand for cremation has been weighing on revenue per client of the funeral services industry, which is expected to witness a slowdown over the 2018-2023 period. Cremations cost significantly less than traditional funerals, with the average cremation service cost being roughly $2,500. Though a rise in mortality rates and the aging baby boomer population is likely to work in favor of the industry, increasing preference for cremation is expected to hinder growth.  More >
Posted on August 6, 2018
Millennials Impact On The Death Care Industry
Written by by Wayne Heaton, CPA and Published by WithumSmith+Brown
Posted Here on August 6, 2018
Millennials can be defined as a "generation marked by an increased use and familiarity with communications, media, and digital technologies. In most parts of the world, their upbringing was marked by an increase in a liberal approach to politics and economics." No industry is exempt from their influences, including the death care industry.  Millennials impact will change the way business is conducted in the funeral home and cemetery industries. As one of the largest generations in history is about to become the prime spending source, it is important to be cognizant of their ideas and beliefs and be prepared to adapt as necessary to meet their needs. Millennials have been raised in a period of unprecedented technology growth and are considered the most marketed generation of all time. As such, their spending habits and beliefs have been impacted in ways that no generation has before. This will impact the way business needs to be conducted in the death care industry. As providers of death care services, you need to consider the following when working with this generation of consumers;
Your marketing approach will need to include both traditional and nontraditional services that can provide a unique memorial experience. A non-traditional venue (even a home funeral) as opposed to a funeral home may be a desirable option. It's all about the "experience."
Take advantage of available technology. Funeral services can be live streamed on the web to allow those unable to attend due to distance or work requirements to pay their last respects;
Update the look of your funeral home. No one looks forward to visiting the traditional funeral home.  It needs to be a welcoming place for those attending. Why not allow the family to personalize the space for their service?
Update your website to make information easy to find. "Experience" pricing and "product" pricing should be detailed and available.  This generation has grown up with online purchasing and remember, even Costco sells caskets.  Some millennials may even want to make a casket themselves for their departed relative;
Millennials are not as religious as previous generations. As such, they are more open to cremation than even the baby boomers. Cremation is friendlier to the environment than the traditional burial.  It also allows for the creation of creative and personal monuments to the deceased.  THINK GREEN!  They certainly do.
Gone Fishin' – But Not Forgotten
Written By By Molly Mitchell and Published by the Arkansas Times on July 26, 2018
Published Here on August 6, 2018
Glory Boats are caskets for outdoorsmen.  In arguably the most Arkansas spin possible on the creative culture of disruption, a new Little Rock start-up makes caskets shaped like fishing boats for die-hard outdoorsmen and women who want to sail into eternal glory on their most beloved earthly vessel.  Modeled after classic aluminum jon boats, Glory Boats (also the name of the start-up) are made from steel, will fit in standard burial vaults and are lined with a choice of three different camo patterns. Woodland camo is the most popular. Marsh grass camo is meant to appeal to duck hunters, and a hot-pink number is meant to appeal to the ladies (though, while a few women have opted to be buried in a Glory Boat, none so far have gone for the pink).  At $2,800 per casket, Glory Boats fall about in the middle of the going rate for caskets in Arkansas.  More >
Posted Here on August 6, 2018
Body Of Dead Teen, Honored With 'Extreme Embalming,' Is Posed With Video Games, Sunglasses, And Snacks
Written by Elise Solé And Posted on Yahoo Lifestyle on July 9, 2018
Posted Here on August 6, 2018
A family whose teenage son died honored his memory in an unusual wake: His corpse was positioned in a chair facing a television screen, a video game controller in hand and his favorite snacks next to him. Renard Matthews, 18, of New Orleans, La., was robbed and shot to death on the evening of June 25 while walking his dog. Matthews, whom a neighbor described as "a nice young man," loved football and basketball; his favorite athlete was Celtics guard Kyrie Irving, his mother, Temeka, told a local news station, WGNO. On Sunday, his wake presented a faithful reflection of his low-key lifestyle. The family had Matthews embalmed and placed in a stance that was typical for him. He was seated in a chair, wearing an Irving jersey and sunglasses, with a PlayStation controller in his hand, facing a television playing the Celtics. He was flanked by Doritos and soda. The unique custom has been called "extreme embalming," reports ABC News, and honors the deceased in personalized ways. It's particularly popular in Puerto Rico, where a handful of creative services have won attention.   More >
Cremation Rates On The Rise, Forcing Cemeteries And Funeral Homes To Adapt
Written by By Lindsey Fafoglia and Published by WREX on July 30, 2018
Posted Here on August 6, 2018
ROCKFORD (WREX) - More people are choosing cremation over burials, according to the National Funeral Directors Association. The rate of cremation is over 50 percent for 2018, and is expected to increase to 80 percent by 2035. One cemetery manager said she notices the trend here in Rockford. "I've been here for two years, and in the last year itself I have seen an increase in cremation rates," Kirsten Spurlock from Scandinavian Cemetery said. "We do a lot more cremation burials than we do anything else these days."  Spurlock said in the past, the cemetery would have around 15 burials a month, and now they do about 15 cremation burials a month and only 5 full burials.  "The roles have completely reversed," she said.  She said a lot of younger people are just sending cremations to the cemetery and surpass having a service, while older generations still want a full burial and full funeral service.  Cemeteries have done mostly burials for the past few centuries, so this drastic change in preference has forced burial grounds to adapt. "We've created places in the cemetery, our cemetery specifically, for cremation burial only, and we are creating more spaces as we speak," Spurlock said.  Kristan McNames, the funeral director at Grace Funeral and Cremation Services said she believes the drastic increase in cremations is due to financial situations, and preference of the aging population, among other reasons. "People sometimes choose cremation because they are transient, they don't know if they are going to spend the rest of their career or lives here in Rockford, and they still want to have their loved one's remains in their possession," McNames said. Cremation also allows families to have delayed services, as well as save thousands of dollars on casket, vault and other burial expenses, McNames said.  Both funeral homes and cemeteries are starting to adapt to the new trends, which is something they haven't had to do in centuries. "They typically have just had full burials for the past, we've been around since 1872 I think, and it has been straight full burials until now," Spurlock said. 
Pictures of African American Mausoleums in Historic Cemeteries in Jacksonville, Florida
08/06/18
Pictured here are African-American mausoleums in Jacksonville, Florida. See pictures of the exterior and the interior of the Art Deco styled Lewis Mausoleum which was designed by architect Leeroy Sheftall and constructed in 1939 for the family of Abraham Lincoln Lewis. The Lewis Mausoleum, a private family mausoleum, is located in Memorial Cemetery which was established in 1909. See a picture of the Ervin Mausoleum which was constructed in 1934-35 for the family of Louis Dargan Ervin. This mausoleum was constructed following the death of his wife, Elzena G. Ervin. Louis Ervin died in 1964 and is interred in the Ervin Mausoleum as well. See a picture of the Art Moderne-inspired Craddock Mausoleum which was built in the late 1930s to mid 1940s by James "Charlie Edd" Craddock. See a picture of the Langley Mausoleum, which is an Art Modern/Art Deco structure constructed between the mid-1930s and mid-1940s. It was built for the family of William Edward Langley.  Jacksonville Mayor Lenny Curry on Monday unveiled his budget.  It includes a multiyear program that involves about $10.9 million over four years for restoration of Pinehurst Cemetery, Memorial Cemetery, Sunset Cemetery, Old City Cemetery, Hillside Cemetery and Mt. Olive Cemetery.
Costly Clinton Twp. Crypt Spurs $10M Lawsuit
Written by Robert Snell and Published By The Detroit News Published On July 27, 2017
Posted Here On August 6, 2018
Clinton Township — A man wants $10 million from a local cemetery he says tried to force him to build a $900,000 mausoleum and then threatened to remove valuable decorations, including a life-size Mother Teresa statue, according to a federal court lawsuit.  West Bloomfield Township lawyer Joseph Dedvukaj says Clinton Township-based Resurrection Cemetery tried to force him into building the pricey mausoleum last year.  The mausoleum, as initially designed, would have spanned 24 burial plots and cost so much money it would have been more expensive than all but four homes on the market in Clinton Township.  Dedvukaj wants an order declaring that the cemetery staff's threats to remove the bronze Mother Teresa statue and a granite sculpture of the Virgin Mary and Jesus Christ violate constitutional protections guaranteeing freedom of religion and expression.  The lawsuit details the dark side of the luxury mausoleum trend popular among wealthy baby boomers, a trend coinciding with a revived real-estate market in Metro Detroit, where homes for the living are setting record prices.  The initial design called for an $858,000 mausoleum featuring a statue of Mother Teresa. The finished mausoleum is considerably different. The Dedvukaj "family estate" mausoleum is comparatively modest and lacking some of the more novel amenities featured in luxury tombs nationwide, including electricity, transparent domes and man caves. "For people of significant means, that purchase is not unusual," said Ron Browning, founder and chief executive of Forever Legacy, a Texas-based mausoleum builder. "For those people, the idea of having an eternal building where yourself, significant other and family can rest seems fairly common."  The Dedvukaj legal fight dates to fall 2014.  Dedvukaj is Albanian and Roman Catholic and wanted to build a private family mausoleum before his parents died. The Mother Teresa and granite sculptures were an essential design element and would help protect the Roman Catholic rights and privileges of the dead and grieving relatives, Dedvukaj wrote in the court filing.  He contacted Resurrection Cemetery, a nearly 300-acre graveyard that is the final resting place of the late Congressman Harold Ryan and actor Frank Nastasi, who voiced the dog "White Fang" on the TV show "Lunch with Soupy."  Cemetery officials told Dedvukaj "in the private family estate section there is no limit to what you can do," according to the lawsuit.   Cemetery officials had their mausoleum vendor design a tomb that included the Mother Teresa sculpture, a patio and towering columns, the lawsuit alleges. Cemetery staff said he could add the granite sculpture of the Virgin Mary and Jesus Christ and showed him a vendor's brochure, Dedvukaj alleges.  The mausoleum price tag: $858,366.  The price "shocked" Dedvukaj, according to the lawsuit.  He told cemetery staff that an outside vendor could build a less expensive mausoleum.  The cemetery staff insisted on using Resurrection's own vendor for the tomb, citing the company's "perpetual guarantee," according to the lawsuit.  Dedvukaj eventually agreed to use the cemetery's vendor to build the mausoleum.  Dedvukaj bought 24 spots, enough space to fit a crypt built for four.  He asked cemetery officials for assurance that he could add the bronze Mother Teresa sculpture and granite sculpture of the Virgin Mary and Jesus Christ, according to the lawsuit.  The staff insisted sculptures and statues were allowed "as long as the merchandise was not offensive to the Catholic faith," Dedvukaj alleges.  Before finalizing the purchase, Dedvukaj "expressed concerns about the prices for the merchandise and protested the fact that (Resurrection Cemetery's) vendors had to be used since other non-Resurrection vendors were substantially less," according to the lawsuit.  Despite his concerns, Dedvukaj signed the paperwork, saying he was "vulnerable" and had "serious concerns that his father could pass away at any moment."  Dedvukaj did not build the mausoleum as originally designed, instead settling on a dramatically downsized tomb. It is unclear how much he spent on the mausoleum.  Dedvukaj did not respond to messages seeking comment.  Last year, the patio and foundation were installed. Dedvukaj hired an outside company to build the statue and sculpture.  A cemetery official told Dedvukaj he needed to pay 15 percent of the value of the decorations, according to the lawsuit. Dedvukaj protested, saying the fee was illegal.  He sued Mt. Elliott Cemetery Association, which includes Resurrection Cemetery, on June 20 in federal court.  The cemetery association wants the lawsuit dismissed, saying most of the complaint is based on state law claims, not federal law.  "Notably, the complaint does not allege that (Dedvukaj) was never informed of this fee requirement before he purchased the land," the association's lawyer Gregory Meihn wrote in a response to the lawsuit. "Despite the length of the complaint and numerous claims, (Dedvukaj) has not provided a sufficient factual basis to show plausibility for any of his claims."  Generally speaking, cemeteries charge a 15 percent fee for perpetual maintenance, said Bert Edquist, former president of the Michigan Cemetery Association.  It is not unusual for tension to exist between cemetery officials and relatives who want to personalize gravesites, Edquist said.  "Everybody wants something unique and, sometimes, it doesn't fit with the cemetery," he said.  Edquist, who runs a cemetery in Niles, in the southwest corner of Michigan, draws the line at gravesites customized with curse words, though he wouldn't specify which ones.  "Most of them," he said, "I wouldn't repeat in front of people."  The only private mausoleums for sale at Edquist's cemetery are small and less expensive than the one Dedvukaj built.  "They're only in the $30,000 range," he said.  "Buyers think 'I can do whatever I want,' " Edquist added, "but the cemetery still owns the property."
Wife's Bronze Grave Marker Matches Husband's Veterans (VA) Headstone
08/02/18
The flat bronze veterans style grave marker, pictured here, memorializes the wife of a Navy Veteran, Betty M. Fleeger (May 20, 1933 - June 22, 2014). It is an exact replica of the type furnished by the United States Department of Veterans (VA) affairs to her husband, Charles D. Fleeger (March 6, 1930 - January 3, 2001). The inscription on Betty's VA style headstone includes her name, birth date, death date and five words endearment, "Beloved Wife, Mother and Grandmother". A cross was also cast into Betty's bronze plaque. Her husband, and beloved companion, served in the United States Navy during the Korean War. Betty's grave marker was designed and manufactured by Rome Monument to match her husband VA headstone. Charles Fleeger's VA headstone design includes his name, birth date, death date, a cross and his military designation, "PI 2 US NAVY KOREA".  Betty was laid to rest, next to her husband at the St. Peter's Reformed Church Cemetery in Zelienople. The flat bronze grave marker is 24 inches long, 12 inches wide and has a 3/4 inch rise. The weight is about 18 pounds. Anchor bolts, nuts and washers are used to attach the bronze plaque to a 28" x 16" concrete base. Wives and family members of veterans order flat bronze grave markers from Rome Monument that match the free headstones for veterans. Rome Monument sells, designs, manufactures and installs copies of Government-furnished headstones and bronze niche markers that honor wives, spouses and companions of U.S. military veterans.  Rome Monument also designs and manufactures custom U.S. military headstones and memorials for veterans. Click here to download VA Form 40-1330, Claim For Standard Government Headstone or Marker.  As a side note, the VA also furnishes bronze medallions, upon request, to be affixed to an existing, privately purchased headstone or marker to signify the deceased status as a Veteran. This device is furnished in lieu of a traditional Government headstone or marker for Veterans who served on or after Apr. 6, 1917, and whose grave in a private cemetery is marked with a privately purchased headstone or marker.  For more information on ordering a bronze or granite grave marker that matches the design of veterans grave marker or U.S. Military headstone for a veteran, spouse or dependent, click here.
Companion Monument For Veteran And Wife Features Two Bronze Plaques Mounted On Granite
08/01/18
Pictured here are two bronze memorials mounted on one piece of granite. This type of arrangement is often called a "companion monument" because a husband and wife are both memorialized on the same piece of granite. The bronze grave marker on the left was furnished by The U.S. Department of Veterans Affairs to the family of Paul R. Harmon (1925-2016). Mr. Harmon, who lived to be 90 years old resided in Economy, Pennsylvania. Paul, a U.S. military veteran, was a member of Our Lady of Peace Parish. Rome Monument manufactured and installed the replica of Mr. Harmon's bronze veterans grave marker, shown on the right in the image above. The bronze plaque on the right pays tribute to Paul's wife, Patricia A. Harmon. Rome Monument specializes in replicating VA headstones, bronze veterans grave markers and U.S. military memorials and monuments. The bronze companion flat headstone memorial was installed on a Mahogany granite surround. This companion headstone was designed for a veteran and spouse. The epitaph etched on the companion flat headstone, reads "Loving Husband & Father" and "Loving Wife & Mother". This bronze companion flat grave marker is installed at Sylvania Hills Memorial Park in Rochester, Pennsylvania.  For more information on ordering a bronze or granite grave marker that matches the design of veterans grave marker or U.S. Military headstone for a veteran, spouse or dependent, click here.
Placing Flags Next To Military Headstones And Veterans Memorials
08/01/18
Wives of U.S. veterans frequently order matching bronze VA headstones from Rome Monument because they want their grave marker to match their husband's military headstone. Typically,  wives, family members, American Legion members, cemetery maintenance workers, Boy Scouts, Girl Scouts, Cub Scouts, church members or volunteers will place small U.S. flags in the ground next to veterans grave markers on the 4th of July and Memorial Day to honor and show appreciation for veterans and the United States of America. In some cases, medallions ensure that veterans' graves are identified so that flags can be placed beside the tombstone. Rome Monument specializes in war memorials, Armed Forces and military memorials for public spaces such as city parks and government building properties. These memorials commemorate the achievements of an important local public figure or group of people who served our country faithfully in the Army, Navy, Marines, Air Force, or Coast Guard. They may also commemorate an important military event that has special meaning to the community. 
Medallions Ensure That Veterans' Graves Are Identified
08/01/18
The federal government has long provided free grave markers for honorably discharged veterans, including flat stone markers, upright stone markers like you'd see at Arlington National Cemetery, or bronze plaques in two sizes. But not every veteran or veteran's family chooses these options."What we've found is that there are so many veterans [who have] bought their own markers," Fernald said. "There are all different reasons for that." For example, many people like to have their markers purchased and in place before they die. Some may be matching stones with a family plot or may not care for the designs of the government stones. But when volunteers come around on Memorial Day to plant flags on veterans' graves, those without markers identifying them as veterans get missed.  "I know probably half of veterans we meet with families already have their own stones," he said. "Every Memorial Day, we always get a complaint: 'Why didn't they know that my husband was a veteran?' If it's not a veteran stone, they wouldn't know that. This is one way to signify that."  Now, families of deceased veterans can request the DVA's new bronze medallions instead of stones, which can be easily affixed to existing headstones and ensure veterans in private cemeteries are properly identified. The medallions are available in three sizes: 1.5 inches, 3 inches, and 5 inches. The medallions come as a kit with all mounting hardware and instructions. Using the included epoxy, anyone can easily affix the medallion to the headstone. If you'd prefer to use the included screws, the DVA recommends hiring a stone mason or monument company, as it requires drilling into the stone with specialized drill bits.  Families can request the medallions through their funeral directors, who can help them file the right forms, but there are two requirements. First, the veteran must have died on or after Nov. 1, 1990. Second, the family must have a copy of the veteran's discharge paperwork. For military veterans, this is a DD Form 214 (Certificate of Release or Discharge from Active Duty); for National Guard veterans, this is an NGB Form 22 (Report of Separation). Whether stone markers or medallions, Fernald said the government has always provided top-notch materials. "Since I've been a funeral director… they've never cut back on the quality of these things," he said.  Brookings-Smith Funeral Director Chris Bowers has a unique view from both angles. He grew up in a funeral-home family before joining the Army in 1970. He worked in personnel and logistics, some in field artillery, and served with combat engineer unit. Most of his duty was stateside, but he went to Germany once and to Canada several times. He retired in 2000, a Chief Warrant Officer 5. Then he joined Brookings-Smith.  "I was getting ready to retire, wondering what I was going to do, this is something I knew how to do," he said. "So I went to school, got my license."  His military service has always been strong in his mind, however. A few years ago, when he heard about the funeral directors working at Dover Air Force Base who hadn't had time off due to the heavy workload as bodies of service men and women came back from Iraq and Afghanistan, he took a week off to go down and volunteer his time as a civilian funeral director.  "I knew that they were having people come in just so that people who worked there full time could take vacation time," he said. "So I went down over the Fourth of July one year, worked for a week. It was a quite an experience." Bowers really appreciates the medallion project.  "I think it's great — to honor the veterans so that those that have purchased their stones by themselves because they wanted something specific can identify them as being a veteran," he said.  "It just makes it so they can put that flag there [on Memorial Day]," said Fernald, "to give them the dignity and respect they deserve."
Watch Rome Monument Build A Private Family Mausoleum On YouTube
07/31/18
In this video, Rome Monument takes you through the steps on how a mausoleum is designed and built. It follows the construction of a Greek Neoclassical-style mausoleum for the Pappan family of Pennsylvania that was installed in Beaver Cemetery, Beaver Pennsylvania in 2015. Rome Monument is a mausoleum construction company, mausoleum contractor and mausoleum builder with over 80 years of experience as a design/builder of private family mausoleums for cemeteries and memorial parks.
Bronze 'Star:' Phoenix Man Thanks Veterans By Restoring Their Bronze Grave Markers
07/30/18
On Veterans Day this weekend there will be the usual parades and speeches, as well as the freebies and discounts for veterans as a way to say "Thanks for your service." But a Phoenix man who never served in the military himself found a unique way to say thanks to those vets who are no longer with us.  "I have a sanding paper attached to a holder, and what I'm doing is sanding left to right on this," said Tom Pawlak as he repeated the motion, left to right.  "And then I brush on the wax."  After about a minute, he declared, "OK, we're done. That's it."  And just like that, he turned a headstone from dreary gray, to a deep, gleaming brown with shiny bronze lettering.  "William Slocum," he read. "He was in Vietnam — bronze star, purple heart. He was born 1947, to 1967 ... Just over 20 years old."  In the grave next to William lies a Harold Jennings. But you have to strain to read his name, because his headstone isn't sanded and waxed yet. It looks like concrete — not bronze.  "It's not supposed to look like that," Tom explained. "That's from having hard water sprinkled on it. If you had a black car and you sprayed it with water twice a day for … fifty years on that one, it would be coated with gray.  We're in Greenwood Memory Lawn, a huge cemetery in Phoenix. In this section, small American flags stand at attention behind each headstone. But no one is tasked with maintaining the markers. So over time they just … fade.  "Over 100 degrees for a lot of days, and it eats up the clear coat on it."  Then Tom came along.  "I was watching this TV program, and dignitaries were out here. You know, all lined up in a canopy and they're giving their talks. And they pan down to the marker, and it looked terrible. I go, 'I can't let it sit.'"  That marker would be the first he restored in Phoenix since moving here from Chicago.  "Private 1st Class Oscar P. Austin," Tom read from the shiny bronze marker. "Jan. 15, 1948. He passed on Feb. 23, 1969. He was a poor black kid from Phoenix. Went to Phoenix Union High School. He was just an average guy. He joined the Marines and went to Vietnam and he saved a bunch of guys. And months later, another fire fight. Marines don't leave people behind, so he was dragging the second guy back, and somebody was ready to shoot the guy that he had. A grenade exploded, he was pretty torn up, and he jumped in front and took the bullet."  Tom didn't know Oscar's story before kneeling down to clean the marker. But he was curious when he saw something after sanding the letters. "Medal of honor and purple heart, like, who is this guy, Oscar Austin?" There have only been 3,517 medal of honor recipients in U.S. military history. So, Tom hopped online to do a little digging. It turns out, Oscar has a Navy destroyer named after him, too.  "USS Oscar Austin. So I just sent a message, I restored the marker, would you like a picture of it?" Tom said. "The commander calls me back. Thanked me over and over for doing it."  Then that commander started restoring markers, too, starting with his father's. Tom had his first volunteer for this mission he calls "Restore Bronze". This was a few years ago. Now Tom says he spends his time helping thousands of volunteers across the country get involved, and restoring not just headstones but other veteran memorials and monuments.  "At the state Capitol I've done every name of every soldier that died on the USS Arizona when it was sunk in Pearl Harbor. And when I saw the Iwo Jima one that was all green, I said I'll donate the wax for that. And I said I'll come out and wax it, and I found out each statue was 30 feet tall. I said, woah, you've got cranes for that!"  By Veterans Day 2018 the goal is to restore the grave markers for every soldier killed in action during the Vietnam war. It's more than 55,000 soldiers. Then he wants to work on everyone from the Korean conflict; thousands and thousands of people he's never met and stories he hasn't heard of.  "I've only met about 5 people of markers that I did," Tom said. "But they're all memorable - every one of them."  This weekend, Pawlak will be here at Greenwood — learning some new names.
Order A Replica Of A VA Headstone or Military Headstone
07/31/18
Rome Monument custom designs and manufactures matching bronze U.S. military veterans grave markers. These "replica" memorials are normally ordered by veteran's spouses or family members.  These bronze markers are designed to match, or be similar to, an existing veteran's grave marker in a cemetery.
Local Business Replaces Veteran's Headstone For Free After Damage From Vandals
07/31/18
News Report Aired by WPXI on September 11, 2015, Amy Marcinkiewicz of WPXI Did the Story
ROCHESTER, Pa. - Months after a veteran's headstone was badly damaged by vandals, a local company in Beaver County has come forward with a new headstone and is replacing it free of charge.  Channel 11 news first told the story when the headstone was damaged on Memorial Day.  Minutes after hearing the story, Rome Monument called and said it would replace the headstone, worth $5,000, for free.  The work to replace the monument began early Friday.  "It makes me feel good that our company can help. We felt so bad for the lady," said Bill Morgan, of Rome Monument.  Carol Cable, who was the long-term girlfriend of war veteran Tom Smeltzer, expressed her gratitude for the act of kindness.  "I'm just so grateful to them for doing this for us. We would've never been able to fix it," Cable said.
Veteran Has Helped Clean Thousands Of Military Headstones In Honor Of Memorial Day
07/31/18
Jordan Houghton and others from the American Legion Post 206 in Seattle have spent their free time cleaning the headstones of veterans at the Evergreen Washelli Cemetery.  Houghton, who's worked hours trying to scrub the decades' worth of dirt and grime from the headstones, said every person buried in the cemetery "has a story" and he's picked up little pieces of each veteran's life. The American Legion Post 206 plans to keep at the cleaning effort until every last one is no longer defiled.
07/31/18
Finding Space In New York City's Cemeteries
07/30/18
It's time to rethink what we want New York's cemeteries to be in the 21st century.  Cemeteries have long served as urban escapes for New Yorkers, both living and dead. By the 19th century, the churchyards in Manhattan were overcrowded, and outbreaks of yellow fever and cholera raised anxiety about the health impacts of these festering burial grounds. In 1822, 52 casks of quicklime were reportedly dumped in Trinity Churchyard at Wall Street and Broadway to combat the offensive smell, while the fear of grave robbing for medical dissection—which sparked the 1788 Doctor's Riot—fueled the desire for more secure and peaceful places to mourn. City planners looked to the glacial ridge of Brooklyn and the farmland of the Bronx, imagining cemeteries that would celebrate the cycles of nature while honoring the end of life.  Just as the rural cemeteries of the 19th century radically reevaluated American approaches to death, it's time to rethink what we want New York's cemeteries to be in the 21st century. Hart Island, sequestered as it is and with limited accessibility, may not be a candidate for public programming, but it could be more integrated into the city with improved access, which would also alleviate the stigma of being interred in its isolated grounds.  Cemeteries can be active parts of the city, even while they honor the dead. They remind us to value our own time as well. And the best way for them to survive as places of memorialization and nature is to make them meaningful to the people who are alive now.
More Cemeteries Are Going Green
07/30/18
People enjoy meadows, wildlife and forest trails in life. Why not have them in death? Green burials are gaining in popularity across the country and Rochester is part of the movement. Four of the eight Green Burial Council-certified cemeteries in New York state are in the Rochester area.  "I definitely think that it's trending at this time," said Matt Reeves, owner of Reeves and Baskerville Funeral Homes in Wilmington, Illinois, and a spokesman for the National Funeral Directors Association. "Right now especially with the millennials, the millennials are that eco-conscious group that's upcoming."  Actually, preparing a body for green burial isn't a new trend at all. The principles have been around for centuries, it just wasn't called green burial. For example, a traditional Jewish burial would be considered "green," said Josh Miller, the fifth-generation owner of Miller Funeral and Cremation in Henrietta.  A green burial doesn't use embalming chemicals that contain formaldehyde, and caskets need to be biodegradable and built without using any metals. Pine caskets, wicker baskets, cardboard and shrouds can be green, but everything needs to decompose. Green burials are eco-friendly with minimal impact on the Earth, according to the Green Burial Council, and there are different levels of green practices. "I never wanted to be embalmed and I didn't like the fact that a lot of the caskets are made out of precious hardwood from the rain forest and travel thousands of miles just to be buried in the ground," said Jennifer Johnson, a co-founder and the burial coordinator at Greensprings Natural Cemetery Preserve. Greenspring Natural Cemetery Preserve, located south of Ithaca, opened in 2006 and was the first place of its kind in the state. Greenspring is as simple as can be for green burials and is a nature preserve for wildlife. The site has 130 acres, mostly meadows and woods — the site is surrounded by 8,000 acres of protected forests.  "The idea is to get the body back to the Earth because that's how nature handles everything. You go into the woods, and if an animal dies in the woods it goes right back to the Earth. It's such an important part of the recycling that happens because we are part of the food chain," Johnson said. Industry experts say the future of cemeteries could look a lot more inviting to visitors as many will be designed to look more like parks and appear to be less depressing while preserving wildlife.  White Haven Memorial Park looks like a park in many ways. It has a 1.6-mile trail through the woods — fitting as it's in Perinton, which bills itself as Trail Town USA. The cemetery is developed to be comforting and uplifting rather than dark and gloomy, said Andrea Vittum, president of White Haven. White Haven became the first cemetery to be certified by Audubon International in its commitment to the environment 20 years ago. The nonprofit supports environmental education and responsible land, water and wildlife management. It has certified members across 34 countries. White Haven is a hybrid cemetery that offers traditional lawn burials with vaults marked by a flush plaque, mausoleum or their specialties, a rock garden, a nature trail for cremated remains or green burial in a wildflower meadow.  "Initially I was planning on being cremated, but some friends of mine told me that it takes a lot of energy to combust the body," said Cathy Feldman of Penfield. "And because I'm all about conserving energy and the importance of the whole green movement, I thought that was the last thing I wanted to do when I pass." Feldman was getting her will in order for whenever her time comes. She didn't want to be a burden on her family and started to align arrangements this summer, she said. Feldman called White Haven and felt its options were compatible with her personal beliefs, she said.  Caring about the environment fits with White Haven's beliefs, too. About 15 years ago, with a need for new spaces, Vittum said the staff assessed, "We could either chop down the trees and mow the meadow or find a way to use them for burials."  They introduced green burial, the rock lawn and the nature trail. "We're not a traditional cemetery in most any way you can think of," Vittum said. "It is quite unique and we think unique in a good way." For instance, cemetery staff has helped nest bluebirds. Bluebirds nearly went extinct but the staff at White Haven, with the help of Audubon International, has rescued and hatched baby bluebirds and the population is now increasing. When Feldman dies, she will have a green burial and be placed in the wildflower meadow where the bluebirds nest each spring.  "(It) really gave me a sense of peace and that in my departure I wasn't going to do anything to hurt the environment, as well as help my family," she said.  Feldman is passionate about the environment and comes from a Jewish tradition.  "It just seems so right," she said of her final choice.  Using a new funeral practice also doesn't mean a person has to compromise tradition or faith. A change in the Catholic Church's guidelines led the Daleys of Perinton to select cremation and have their urns buried in the nature trail at White Haven — an earthy option, while not green.  "The church used to say you're not supposed to cremate but now it's OK," Mary Ann Daley said.  In 1963 the Catholic Church permitted cremation under certain conditions. In 2016, it clarified that cremated remains shouldn't be scattered or divided up, or sit on a mantel; they need to be buried all in one place.  After visiting, White Haven clicked with the Daleys. Their children like nature and the venue is peaceful. Plus, Mary Ann won't be far from where her parents are laid to rest in another section, she explained.  "I like trees, it was a nice shady spot and the stream just looked like someplace in the Adirondacks, practically," Mary Ann's husband, Joseph Daley, said. The Daleys picked four spots on the nature trail.  Holy Sepulchre Cemetery on Lake Avenue was the first Catholic cemetery to be green burial-certified, said Lynn Sullivan, the CEO of Holy Sepulchre Cemetery and Ascension Garden. Rochester tends to be a sustainability-conscious place, Sullivan said. In 2013 Holy Sepulchre began to explore having green burials. It later added the option at Ascension Garden in Henrietta, too.  Changes in the industry are not just about what's in the ground, but what's on it, too. "I was the person that drove as fast past cemeteries as possible, holding my breath," Sullivan said. Now she's working to make sure it's a place people want to go to, a place that feels pleasant. "For many people the first and only time they come to a cemetery is the day they bury a loved one." With the butterfly garden, eco-friendly options and tradition, "I don't think you would find it to be scary," she said.  Change takes time. Josh Miller has seen more interest in green funeral practices compared to when he started in the funeral business in 2001, but he hasn't seen a big jump at his funeral home. "My industry is really slow to change," Miller said. "Because people hopefully don't make funeral arrangements frequently, the pace of change and the dispersion of information and ideas does not move quickly. ... Green burial may increase more, it probably will, but it's a slow turn." A big difference for a funeral director using a green after death practice is preparing the body for viewing. Without embalming the body, the natural decomposing process will begin faster. Miller said the bodies have to be kept cool if there is a waiting period before any ceremony or burial, and makeup doesn't work well on cooler bodies.  Embalming bodies for burial became prevalent in the United States around the time of the Civil War. The process is used to slow down the natural processes and put some color back into the body. Embalming makes easier to have the person look as best as possible, he said. The appearance of a green practice may be harder for some to recognize. There is a personal and cultural comfort level that determines what mourners are willing to see. For people who choose to be wrapped in a shroud, like a sheet, and tethered on a board — it could be more graphic than a casket, he explained. As the body is carried it will move in the shroud. The silhouette of the body will be visible as it is carried from the hearse to the grave.  "That visual sometimes for folks at this point in the industry is more than what they're ready to handle," he said. Is cremation green?  While cremation isn't considered green, it can have green elements, such as using a biodegradable urn.  "Cremation uses far fewer resources than almost any other disposition option, but it certainly has an environmental impact," according to the Green Burial Council's website.  Cremation has vastly grown in popularity in the United States. According to the National Funeral Directors Association, the rate of cremation is projected to increase by 30 percent in the next 18 years. In 2018, the cremation rate is projected at 53.3 percent and has outpaced the rate of burials for three years. By 2035 cremation may reach 80 percent due to "changing consumer preference, weakening religious prohibitions and environmental concerns," the statement said.  Baskerville said there is another way to cremate that uses 95 percent less energy. The process uses water instead of a flame to essentially dissolve the body. The process is called alkaline hydrolysis.  New York does not currently allow flameless cremation or alkaline hydrolysis, according to Randy McCullough, the deputy executive director for the New York State Funeral Directors Association. 
2018 NFDA International Convention & Expo - October 14-17 - Salt Lake City, UT
07/30/18
The NFDA International Convention is still the place to find the most continuing education offerings, the latest in funeral service products and services and the best networking opportunities around!  The National Funeral Directors Association is the worldwide source of expertise and professional resources for all facets of funeral service. Through education, information and advocacy, NFDA is dedicated to supporting members in their mission to provide families with meaningful end-of-life services at the highest levels of excellence and integrity.
Embalming Chemicals Market – Pierce Chemicals, Frigid Fluid, European Embalming, ESCO, Trinity Fluids
07/30/18
"Embalming Chemicals Market By Type ( Formaldehyde, Phenol, Ethanol, Mixtures ), By Application ( University medical centers, Anatomical institutes, Pathological institutes, Hospitals, Funeral homes), Estimation & Forecast, 2017 – 2022″ In 2016, the funeral homes segment generated the highest revenue share in the global embalming chemical market. Among major regions, North America was the highest revenue generating market, holding nearly half of the market share, in 2016.  "Formaldehyde is the most common chemical used for embalming. Embalming carried out with individual chemicals or a mixture of chemicals, formaldehyde is an integral part of the process. However, the harmful effects of formaldehyde has prompted manufactures of embalming fluid to manufacture formaldehyde free- fluids. The sales of formaldehyde free fluids is witnessing an upward trend, even though their efficiency is low as compared to formaldehyde products."  Funeral homes account for a major portion of the global market share, owing to the rising funeral trends. In North America, almost every family prefers to have a grand funeral in a well-organized manner without any kind of mismanagement, including embalmment of the deceased. Funeral homes heavily rely on the formaldehyde based embalming fluids, along with embalming powders, concealers, cavity gels, makeover products and much more. In terms of consumption, funeral homes account for more than half of the global consumption value.  Adoption of green funeral is anticipated to hamper the market growth of embalming chemicals. The highly encouraged trend of green funerals and rising awareness regarding the harmful effects of embalming chemicals might impede the usage of embalming fluids in the funeral homes. The belief that harmful embalming chemical such as formaldehyde seeps into the soil where the embalmed body has been buried. This leads to the deterioration of the environment. This has prompted people to opt for green funerals.  North America is a mature market, gaining stability in its growth during the upcoming years. North America held nearly 50% market share, in terms of revenue, of the global market. The region is anticipated to maintain its dominance throughout the forecast period. Embalming holds a central place in American burial practices for numerous reasons. There are more than 15,000 funeral homes, and approximately 115,000 cemeteries in the U.S., of which a major per cent of funeral homes offer embalming services. Every year, a high amount of embalming fluid is used, which is equivalent to fill eight Olympic- size pools. KEY FINDINGS OF GLOBAL EMBALMING CHEMICAL MARKET, 2012-2022- According to the IFSA and japan government data, in 2016, an approx. of 37,593 families in Japan chose to embalm their loved ones. Hospitals are expected to grow with an impressive CAGR of 2.2% during the forecast period 2017-2022.  As per few Irish embalmers, almost 50 percent of Irish embalmers have started using alternatives to formaldehyde, with no difficulties. North America led the global embalming chemical market in 2016, in terms of revenue, by holding nearly half of the total share. Some key market players are Champion, Dodge, Pierce Chemicals, Frigid Fluid, European Embalming, ESCO, Trinity Fluids, Green Tech Enterprise, and Shanghai Yezeal Biotechnology Company.
Natural Burials Are Rising, And That's Good For The Planet
07/30/18
Natural burials offer a greener alternative to traditional cemeteries, but Big Funeral is fighting back. Even in death, Americans just can't stop themselves from destroying the planet, according to new research.  Right now there are around 22,500 active cemeteries in the United States. These sanitized spaces, with bunches of flowers lain among neat rows of gravestones on manicured lawns, are so closely associated with the American idea of mourning that it's difficult to imagine an alternative.  Yet the practice is deeply unsustainable. Every year, in laying their dead to rest, Americans bury approximately 73,000 kilometers of hardwood boards, 58,500 tons of steel, 1.5 million tons of concrete, and 3.1 million liters of formaldehyde. A typical four-hectare cemetery contains enough wood to construct 40 homes and sufficient volumes of embalming fluid to fill a backyard swimming pool. As the Baby Boomers start to die, these environmental impacts are only going to grow.  "People hate to think about it. They think, 'I'm going to be embalmed, put in a vault, and have a nice, dry, quiet existence for my body,' but that's a total farce," says Chris Coutts, an associate professor in the Department of Urban and Regional Planning at Florida State University. "The bodies quickly start to rot, and those fluids, if they're in the body, find a way out of the vault and into the soil, and they can create a plume. It's a concern if it migrates into water tables. The whole point of embalming fluid is that it doesn't degrade, so it's going to be around a long time."  Coutts is the lead author of a new paper examining the benefits of a greener alternative to the traditional rituals of death: natural burial. While higher-density family vaults can reduce your environmental footprint compared to an individual burial, it's still a high-impact way of shuffling off your mortal coil. Even cremation, which has doubled in popularity since 2000, leaves an environmental smudge on the Earth, thanks to its high energy consumption and the ensuing air pollution.  Increasingly, Coutts et al. have found, people are rejecting the lawn-park cemetery model, and instead choosing to commit their bodies to a wilder resting place. In most cases, this means eschewing traditional American funerary rites altogether and burying the body without chemicals in a biodegradable casket or a simple shroud. At its best, natural burial allows your death to leave almost no physical damage on the natural world, while helping to protect and conserve threatened landscapes for those still living.  One example is the 142-hectare Glendale Memorial Nature Preserve in Florida, a family farm located in an area full of endangered native longleaf pine and wiregrass. The plan for the cemetery called for 80 percent of the land to be restored and conserved as natural habitat, with around 28 hectares set aside for natural burials. Add-on items include coffins constructed from old bookshelves, while the conserved habitat is also available for recreational activities including hiking and camping. Telling ghost stories remains optional.  John and Bill Wilkerson, the brothers who run the business, say that the income they've generated from the burials has allowed them to resist the financial pressure to sell the land to developers—a proposition that was adamantly opposed by their late parents. The lawn-park cemetery in America might feel like an inescapable ritual, but the idea is relatively recent, arising in the 19th century, as urban elites grew increasingly affluent. Rural cemeteries like Mount Auburn in Boston or Laurel Hill in Philadelphia were not only useful for memorializing the supposed importance of the deceased bourgeoisie, but also for providing their surviving relatives a pleasant getaway from increasingly crowded cities.  The practice of embalming grew popular around the time of the American Civil War, Coutts adds. "They needed to preserve and ship the bodies back to wherever they were going to be buried, and embalming became prevalent. It's the common expected practice, but it's really just people going through the motions: It's what we've always done, it's what we continue to do, but that's changing," he says.  This resource-intensive method of burial is far from universal across the globe. Muslim communities practice natural burial as a "basic religious obligation," according to Coutts and his fellow authors, while in countries such as Australia, grave sites can be reused for new inhabitants after a certain amount of time has elapsed. In the Peruvian Amazon, before the arrival of Christian missionaries, bodies were lain among the buttress roots of large trees. Some Tibetans practice sky burials, placing the corpse on a mountain and allowing it to decompose gradually.  The first natural burial site in the U.S. was established in 1998 in South Carolina. There are now 162 natural-burial providers in the U.S., of which 99 are hybrid cemeteries, offering both natural and traditional burial. A further 54 offer exclusively natural burial, while nine are active conservation burial sites.  Yet America's lucrative death-care industry is fighting back, determined to protect a billion-dollar market by perpetuating the idea that a resource-intensive funeral is the only guarantor of lasting peace. Indeed, hybrid burial sites are mostly a way for the sector to cash in on the growing popularity of natural burial, a form of greenwashing that offers little in the way of concrete benefits, says Joe Sehee, who founded the Green Burial Council, which certifies natural burial sites, in 2005.  "There were people who just didn't like the idea [of natural burial]," Sehee says, "people within the industry, particularly people who liked the merchandise-based model of death care: chemical, casket, and vault companies."  Perhaps more sinister than this greenwashing are the attempts by the funeral industry to lobby for new regulations that will protect its economic position. There are very few federal laws around the handling of the dead, with states and local governments generally left in control. Around half of U.S. states regulate the amount of time that a body can remain un-embalmed, yet no states require a body to be buried in a coffin. Only a handful of states forbid bodies being buried outside of established cemeteries.  This loose legal framework bodes well for natural burial, and badly for Big Funeral. Correspondingly, the mainstream funeral industry has lobbied state governments to pass legislation protecting its share of the market, such as mandating embalming, only permitting burial in established cemeteries, and requiring the involvement of a licensed funeral director to perform tasks that could ordinarily have been performed by the next-of-kin. Restricting citizens' freedom to access natural burial is bad for the environment, and could deter those who might have chosen this wilder option because it was cheaper than a traditional plot.  Coutts himself, after years of studying the benefits of a natural burial, sounds almost excited by the contribution he will be able to make to conservation from beyond the grave. "I've often just dreamed about walking out into the desert with a bottle of water and just sitting under a tree and waiting for it to come," he says. "But that would be a luxury and it's probably not feasible. I have it in my will that I want my body to be buried naturally in a conservation burial ground."
2018 Monument Builders of North America Design Award Winners
07/30/18
The winners of the 2018 MBNA Design Awards along with the award winning monuments can be viewed here. The winners are listed below.
Rome Monument Now Specializing in Military Headstones, VA Headstones and Bronze Veterans Grave Markers
07/30/18
Due to an underserved market for military headstones and bronze veterans grave markers, the management team at Rome Monument decided in 2018 to focus a portion of the firm's marketing and production resources to selling military grave markers and replicas of VA headstones. According to the U.S. Department of Veterans Affairs and the National Cemetery Association, memorial headstones and markers, for individuals or groups, are furnished for eligible deceased active duty service members and Veterans whose remains are not recovered or identified, are buried at sea, donated to science or whose cremated remains have been scattered. For a variety of reasons, veterans and their families are now ordering customized U.S. Military headstones and memorials from Rome Monument because they can not get what they want from the U.S. Department of Veterans Affairs. Directors of local VA offices are now referring families to Rome Monument in an effort to be of assistance to families that want a replica of a military headstone or a VA headstone. Spouses or other family members related to a veteran can now order a matching bronze military veterans grave marker by calling the company at 724-770-0100 and talking with Vince Dioguardi or Chris Morgan.  Rome Monument designs and manufacturers bronze grave markers for veterans of who served in the U.S. Navy and U.S. Army.  Relatives of veterans can order a bronze U.S. Army military headstone for a veteran or spouse from Rome Monument to match the design of the headstones and grave markers provided by the Department of Veterans Affairs (VA). Rome Monument customizes military headstone inscriptions for veterans and their spouses. Rome Monument provides many options for military headtone designs. Rome Monument also cleans military headstones on behalf of cemeteries and families. If you want to know how to get a military headstone, call Rome Monument at 724-770-0100 and ask for Vince Dioguardi or Chris Morgan, or the download VA Form 40-1330 (Claim for Standard Government Headstone or Marker). Either Vince Dioguardi or Chris Morgan can provide information related to military headstone abbreviations or military headstone quotes. Rome Monument specializes in designing and manufacturing flat bronze grave markers and bronze veterans grave markers.  To order a bronze veterans niche grave marker to match the bronze niche markers provided by the type provided by The Department of Veterans Affairs (VA), call Rome Monument at 724-770-0100 and ask for Vince Dioguardi or Chris Morgan.  Bronze niche markers are available from Rome Monument or The Department of Veterans Affairs (VA) .
Bronze Niche Markers
Bronze niche markers are used to mark cremation niches or columbaria used for inurnment of cremated remains. If the bronze niche marker will be placed in a private (not a national cemetery, state Veteran's cemetery, or military post/base cemetery), the style chosen must be permitted by the cemetery administrators. The veterans bronze niche grave marker pictured here is 8.625" x 5.625". Rome Monument can customize any religious symbol, emblem of belief or inscription on a military or VA headstone. The VA offers 66 religious symbols for tombstones.  To order a bronze veterans niche grave marker to match the bronze niche markers provided by the type provided by The Department of Veterans Affairs (VA), call Rome Monument at 724-770-0100. 
Headstones For a Veteran's Grave
The VA will provide a government headstone or marker for a veteran's grave.  Rome Monument also provides replicas of government headstones and grave markers for veterans and their spouses, although the cemetery monuments are not provided for free. The VA will inscribe free of charge the name of the deceased, the years of birth and death, the highest rank held and the branch of service. The VA will ship the headstone or marker anywhere in the world. Rome Monument can also ship bronze veterans grave markers anywhere in the world. There cannot be any headstone or marker already on the grave. Setting it in place is the responsibility of the family. When burial is in a national cemetery, the grave marker provided by the VA is provided and set in place by the government. Rome Monument collaborates with families to provide headstones for veterans that never received a proper cemetery memorial. Although Rome Monument was not involved, a Civil War veteran was given a headstone over 100 years after death. Rome Monument also repairs VA headstones and military headstones, in some cases free of charge.
Law Enforcement Monuments and Memorials
Many U.S. veterans move onto a career in law enforcement after they serve in the military. Rome Monument also designs and manufactures monuments and memorials that honor people who serve in law enforcement. Rome Monument built the Penn Hills Fallen Officers Monument. Rome Monument specializes in designing and manufacturing veterans grave markers, veterans headstones and veterans memorials.  
Engraving of Death Dates On Veterans Headstones and Military Grave Markers
Gravestones remain incomplete for a number of reasons. The surviving spouse named on a pre-engraved headstone gets re-married and is buried with the new partner. The person moves away, family feuds, indifference and insufficient funds are also factors.  Vince Dioguardi, co-owner of Rome Monument, based in Rochester, Pa., says that it typically, costs about $150 to add the last two digits to an incomplete death year on a granite military headstone or granite veterans grave marker that has already been installed in a cemetery.  Rome Monument provides on-site cemetery monument and memorial lettering and engraving services to families of veterans.
U.S. Military Headstones and Memorials for Veterans
Rome Monument specializes in designing and manufacturing grave markers and monuments that designate the resting place of a military veteran who served in the United States Armed Forces. These can complement or take the place of a government-issued headstone. They can be flat or upright memorials, statues, benches, or even mausoleums that incorporate Navy, Army, Marine, Coast Guard, or Air Force design elements to enhance the beauty and personalize the message on the headstone. Inscribed with beautiful etchings or engravings, they can be for any number of graves and come in a variety of styles and shapes. They often feature symbols and imagery that convey the specific nationality or religion of the deceased. You can select from a wide variety of granite colors for both traditional and cremation memorials in different price ranges. Rome Monument is truly proud to be able to honor the men and women who served our country so courageously!
Rome Monument Designs and Constructs Private Family Mausoleum Using Greek Neoclassical Architecture
07/25/18
Pictured here is a private family mausoleum designed by Rome Monument in a Greek Neoclassical style for the Pappan family. The neoclassical architectural style was used to symbolize the family's Greek heritage. This proud Greek family is from Beaver County, Pennsylvania. At the time of construction, all the family members that were planning on being interred in the mausoleum were still alive. The Pappan family took advantage of Rome Monument's Pre-Arranged Cemetery Monument Plan. As opposed to at-need monument planning, which cannot guarantee that the wishes of the deceased are expressed accurately, pre-need planning allowed the Pappan family to pre-design, pre-plan and pre-pay for a truly high quality monument prior to their passing and according to their wishes. The mausoleum was built using American Gray and blue pearl granite. The main portion of the mausoleum was constructed with American Gray granite. The blue pearl granite door was sculpted with crosses to symbolize the Pappan family's Christian faith. The two memorial benches in front were made from blue pearl granite.  The mausoleum design incorporates classical architecture by using fluted turned ionic columns as one element. The family name carved above the entrance features polished hand tooled raised letters. The mausoleum rests on a triple base course of granite. The roof stone is accented with decorative molding. Rome Monument took about one month, on-site in the cemetery, to complete the construction. The complete mausoleum required 4 large truckloads of granite. Many of the components were prefabricated in the production facility before being assembled on-site. Rome Monument is a mausoleum construction company, mausoleum contractor and mausoleum builder with over 80 years of experience as a design/builder of private family mausoleums for cemeteries and memorial parks.  Our mausoleum construction standards are rigorous and meticulous. Watch a video to learn how to purchase a private family mausoleum.
 
07/24/18
St. John/St. Joseph Cemetery To Break Ground On $500K Mausoleum And Gazebo Project
07/24/18
The Saint Joseph of Arimathea mausoleum will be built at the St. John/St. Joseph Cemetery in Hammond, Indiana. The mausoleum — featuring a gray granite base with red granite crypt and niche fronts — will be built on a 10-acre plot of land.  The mausoleum will feature 80 companion crypts, 111 single crypts and 240 niches, sized for either singles or companion cremation urns, along with family name engravings.
Nanuet: Family Says Decomposing Body Fluid May Have Leaked From Mausoleum
07/24/18
Raymond Accolla and his older brother Sebastian claim that bodily fluid is leaking from a casket in their private family mausoleum. The 12-foot-by-22-foot granite mausoleum, built in 1999, is located in St. Anthony's Cemetery in Nanuet, New York. "Famiglia Accolla" is carved above the walk-in mausoleum entrance. The mausoleum can hold 12 caskets. The brother's are upset with the cemetery administrators because they feel that the money they paid for 'perpetual care' was not used to address their concerns about decomposing body fluid leaking from the caskets. St. Anthony's pastor, the Rev. Joseph J. Deponai, stated in an email, "cemetery mausoleums, their construction, and their maintenance, are the responsibility of the family, not the cemetery."  A mausoleum is a free-standing cemetery building that contains the grave, tomb or burial chamber of the deceased. To learn more about body decomposition, read 'Nine Things About Human Decomposition'. Cemeteries have been sued after remains have been found 'dripping' out of a casket before. Click here to learn about exploding caskets.
Mausoleum Design Plans
07/19/18
Rome Monument drafts mausoleum design plans using CAD software and present these drawings and renderings to clients for approval before beginning construction.  Click here to see a preliminary family mausoleum construction design plan made using a CAD program.  The mausoleum construction drawings produced by Rome Monument submitted to clients include precise dimensioned architectural plans, structural plans, electrical plans and mechanical specifications. Click here to view pictures of mausoleums designed and built by Rome Monument. Rome Monument designs and constructs one crypt mausoleums, two crypt mausoleums and family mausoleums.  Rome Monument uses a CAD program to create blueprints, sketches, scaled renderings and drawings for every mausoleum we construct. The details in these files give clients the ability to refine and approve every aspect of the mausoleum construction project. The Rome Monument mausoleum designers, Vince Dioguardi and Chris Morgan provide expert consulting services to clients so that they understand the mausoleum blueprints and essential mausoleum design concepts. Advice is provided regarding the customer's cemetery and plot selection. The mausoleum design plans are also used to provide additional information related to the costs of mausoleum construction. Rome Monument also designs columbarium and estate memorials. For elaborate multiple crypt mausoleum construction projects, Rome Monument provides precise detailed and dimensioned structural, mechanical, electrical and architectural plans to the customer for analysis, discussion and approval. 
Life Without An End Date: Notes From A Cemetery Sleuth
07/02/18
As for burial markers with incomplete death years, the Association for Gravestone Studies says they are fairly common. The Greenfield, Mass.-based group explores cemetery markers for historical and artistic perspectives.  Vince Dioguardi, co-owner of Rome Monument, based in Rochester, Pa., is a little more skeptical.  "Does it happen? Absolutely," he said. "I don't know that I'd agree that it's all that common."  The issue got extra attention 17 years ago, as pre-engraved headstones with death years beginning in 19 henceforth needed to start with 20. Mr. Dioguardi said he's seen his share of terrible looking "patch and cut" jobs, even a few cases of duct tape and markers. One AGS member in Vermont said she found a marker with the death date, "1999 + 2."  Typically, it costs about $150 to add the last two digits to an incomplete death year, Mr. Dioguardi said, including finishing the earlier work of another monument company.  Gravestones remain incomplete for a number of reasons. The surviving spouse named on a pre-engraved headstone gets re-married and is buried with the new partner. The person moves away, as Florence did. Family feuds, indifference and insufficient funds are also factors.
Penn Hills Fallen Officers Monument To Be Relocated To New Municipal Building Site
07/02/18
Penn Hills council has decided to move its monument honoring the municipality's fallen police officers to the site of a new municipal building that will be located on Duff Road.  Council's decision on Feb. 5 came after an emotional discussion of whether the monument would be moved to the new $12.3 million municipal building — on the site of the former Penn Hebron Elementary School — or would be situated at the site of the current municipal building on Frankstown Road after it is torn down.  Fallen police officers' family members were among those to make their views known.  The new municipal building, which will house police and EMS and include a firefighter training area, is scheduled to be completed this summer.  Erected in 1973, the monument is dedicated to the memories of Penn Hills police Sgt. William Schrott and Officer Bartley Connolly, who were killed in the line of duty on March 25, 1972. After Officer Michael Crawshaw was killed while on duty on Dec. 6, 2009, the memorial was expanded in 2010 and includes an engraved granite marker in his honor.  Before council made its decision, Mayor Sara Kuhn outlined a plan that would keep the monument at its present location as part of a memorial town center with a pavilion and walking path.  "This monument is to remind us that some of those who protect and serve, are killed needlessly," the mayor said. "The location was not an oversight. When it was determined that the frontage of the new building had to be reduced, we realized that the site is no longer acceptable for the monument's relocation."  Because of the sloping terrain, the location of the new building was changed. Therefore, there were fewer options for the monument's location.  "There is no leaving the fallen officers behind. The plan is to make a memorial park to remind everyone of their sacrifice," Mrs. Kuhn said.  The mayor's proposal elicited no support among council meeting attendees, which was full of the fallen officers' family members, co-workers and friends.  Representatives of the families of Sgt. Schrott and Officers Connolly and Crawshaw said they believe the monument must be relocated to the site of the new police headquarters.  "I cannot understand why no one reached out to the families, that they didn't consider our wishes. This has opened a deep wound," said Joanne Alexander, the daughter of Sgt. Schrott. "You may think it has been many years, but the pain does not lessen. The only acceptable solution is to move the monument. We feel that by leaving the monument at the present building, it will be forgotten.  "We want it to be where present-day officers will not forget their fallen brothers. We feel there is a suitable location at the new building."  As Ms. Alexander showed Mrs. Kuhn a map of the new site, Penn Hills police Officer John Debasi gave council another perspective.  "Some officers tonight were presented with certificates, but these men [Schrott, Connolly and Crawshaw] and their families made the ultimate sacrifice."  John Diogardi, representing Rome Monument, offered to do the relocation for free. "You've got a beautiful story. You've got our support," he told council.
More Than 100 Headstones Discovered In Staten Island Basement
07/02/18
More than 100 old limestone headstones are rotting in the basement of a building on the waterfront campus of Snug Harbor Cultural Center, lifted decades ago from a cemetery containing the remains of 7,000 old salts who died between 1833 and 1975 when the complex housed retired sailors.  The tombstones were removed to protect them from vandals, but now no one knows where the dead are buried.  Bruce Weir of Ohio is spearheading a drive to honor the mariners with an obelisk and a solemn service each year around Memorial Day. He is one of the descendants working with the SUNY Maritime College Library to research the lives of the mariners consigned to oblivion.
07/02/18
Rome Monuments is a cemetery headstone and gravestone retail company based in Pittsburgh, Pennsylvania.
Mission Restore
07/02/18
Mission Restore Bronze is a volunteer organization started in 2014 by Tom Pawlak, who has privately restored military markers for more than 30 years. He created Mission Restore to teach others how to care for veterans' grave markers and to honor those who have given their lives in service to our nation.
A Dying Industry? Memorial Makers Want to Avoid That
07/02/18
The granite industry in one Georgia town has long carved markers for cemetery burials. But as cremation rates reach an all-time high, how will this sector cope?  Don Calhoun, president of the Funeral and Memorial Information Council and past president of the Monument Builders of North America, estimates that by 2025, the memorialization industry's revenue will atrophy by 17 percent. 
StoneMor Appoints Joe Redling Chief Executive OfficerConflicts Committee to Evaluate Transition to C-Corporation
07/02/18
TREVOSE, Pa., June 29, 2018 (GLOBE NEWSWIRE) -- StoneMor Partners L.P. (NYSE:STON) ("StoneMor," the "Partnership"), a leading owner and operator of cemeteries and funeral homes, today announced the appointment of Joseph M. Redling as President and Chief Executive Officer of StoneMor GP LLC, its general partner ("StoneMor GP"), to be effective following the filing of the Partnership's Form 10-K for the year ended December 31, 2017.  Mr. Redling will also join the StoneMor GP Board of Directors on that date.  He will replace Interim CEO Leo Pound, who will remain on the StoneMor GP Board of Directors and is expected to rejoin the Audit Committee effective October 1, 2018.  StoneMor is the only publicly traded death care company structured as a partnership. StoneMor's cemetery products and services, which are sold on both a pre-need (before death) and at-need (at death) basis, include: burial lots, lawn and mausoleum crypts, burial vaults, caskets, memorials, and all services which provide for the installation of this merchandise. For additional information about StoneMor Partners L.P., please visit StoneMor's website, and the investors section, at http://www.stonemor.com.
The Fight for the Right to Be Cremated by Water
07/02/18
"Aquamation," a greener form of body disposal, is gaining acceptance in America. But some powerful groups are fighting to stop it.  The process also uses about 300 gallons of water per body, or three times as much as the average person uses in a day. And while replacing cremation with aquamation would have some climate benefits, they wouldn't be as huge as, say, getting rid of coal-fired power plants—which is perhaps why there are no large environmental advocacy campaigns to change the death care industry.  Processes like aquamation require an acceptance of becoming part of it.  If more people respect the planet in death, it bodes well for how they'll treat it while they're still alive.
Cemeteries Dot The Landscape Of ENC
07/02/18
It's a fact, nobody is getting out of this life alive.  What's controlable is where and how remains will be laid to rest.  Burial space has closed at three of the the U.S. Department of Veterans Affairs-run National Cemeteries in North Carolina though Coastal Carolina State Veterans Cemetery in Jacksonville has space available.  In Eastern North Carolina, the landscape is dotted with grave sites from a small burial plot on the edge of a farm to large scale, commercial enterprises where thousands of people are buried or housed in mausoleums.  Large scale commercial operations such as Onslow Memorial Park outside Jacksonville on U.S. 258 and Seaside Memorial Park in Swansboro have combined more than 11,000 grave sites filled with room for expansion. Opened in 1952, Onslow Memorial Park is an oasis off a busy highway with gravesites covered with flowers and a second mausoleum in the works.  Some in the industry feel the rising cost to embalm and bury a person in a casket is moving people to cheaper alternatives.
Video: How To Purchase a Private Family Mausoleum with Design Pictures, Plans and Costs
06/15/18
Mausoleum Construction Company
06/06/18
Rome Monument is a mausoleum construction company, mausoleum contractor and mausoleum builder with over 80 years of experience as a design/builder of private family mausoleums for cemeteries and memorial parks.  Our mausoleum construction standards are rigorous and meticulous.
Monument Company Offers Free Repair To Beaver Co. Cemetery In Need
February 26, 2018
When a large headstone got knocked over, Grove Cemetery in New Brighton, PA didn't have the people, equipment or money to fix it and needed some help.  The memorial for a man named Yee — a highly regarded doctor buried in Beaver County's Grove Cemetery in 1979 — was found knocked over.  Rome Monument fixed Dr. Yee's monument in Grove Cemetery for free.
Matthews International Announces Acquisition of Star Granite & Bronze
02/13/18
Matthews International Corporation announced that the Company has acquired Star Granite & Bronze, based in Elberton, Georgia, for $41.2 million, subject to a working capital adjustment and potential contingent consideration adjustment based on future performance. Star, a family-owned business, is a well-respected manufacturer and distributor of granite and other memorialization products to cemeteries and other customers across the United States. In the year ended December 31, 2017, Star's revenues were approximately $31.3 million and the company has approximately 200 employees.
02/13/19
Stanford's AI Predicts Death for Better End-of-Life Care
02/13/18
Deep learning AI is helping screen for ill patients who could benefit from having end-of-life conversations earlier. Using artificial intelligence to predict when patients may die sounds like an episode from the dystopian science fiction TV series "Black Mirror." But Stanford University researchers see this use of AI as a benign opportunity to help prompt physicians and patients to have necessary end-of-life conversations earlier.  For more information, read "Improving Palliative Care with Deep Learning".
02/13/18
Taking The Silver Cloud Granite Operation To A New Level
02/12/18
Since 2003, Italian stone producer Nikolaus Bagnara S.p.A. has owned the Silver Cloud granite quarry in Lithonia, GA. The site sits approximately 20 miles outside of Atlanta, and is operated by Nikolaus Bagnara's U.S. subsidiary, Broad River Quarries, LLC.  Silver Cloud granite has been around for years.  It is a staple in the monument industry and the local markets around the Atlanta metro area.  Since purchasing the quarry in 2003, Broad River Quarries has taken Silver Cloud to the world.  Eagle Granite Company, established in 1961 uses Silver Cloud (Grey Cloud) granite to manufacture monuments. Eagle Granite Company is located in Elberton, GA.
02/12/18
02/12/18
MBNews: The Official Monthly Publication of the Monument Builders of North America
02/04/18
The MBNews' mail-out circulation is about 1,000 copies. Companies that subscribe the the publication are MBNA members. Members are primarily owners of monument retailing companies such as Rome Monument.  Readers of the publication get information about memorial art, innovations and trends in the monument industry, cemetery memorial designs, monument financing programs, stone cutting and carving tools and machines and ways to improve their day-to-day business operations.
02/04/18
02/04/18
Customer Service In Deathcare: How The Funeral Home Industry Cares For The Living
May 26th, 2017
There are more than 20,000 funeral homes and more than 100,00 cemeteries in the U.S. alone, and the annual economic activity in this sector has been estimated to be north of $20 billion.