Read the Frequently Asked Questions (FAQs) about planning a Catholic funeral with answers and information on checklists, templates, worksheets, funeral readings and Catholic memorial services.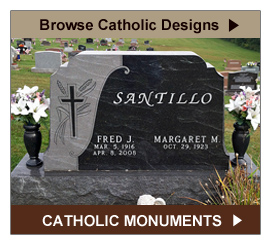 Question: How do I go about planning a Catholic funeral? Is there a worksheet, checklist or template with step by step instructions?
Answer: Since a Catholic funeral is held in strict accordance with the liturgical traditions of the Catholic Church, it is important to know the many details of a Catholic funeral service so you can plan for it in advance. The Catholic Cemeteries Association of the Diocese of Pittsburgh has a book entitled "The Catholic Record File" which tells you about Catholic burial and funeral traditions and how to deal with the numerous issues that come up surrounding the death of an individual. To order the book, go to http://www.ccapgh.org/planning-guide.asp. You will also find a very helpful list of things to do and how to do them when planning a funeral at http://www.romemonuments.com/funeral_planning_checklist_for_families.