Catholic Monument Plan TM
The Catholic Monument Plan TM  from Rome Monument in Pittsburgh, PA is a unique pre-need program that enables Catholic families to purchase a customized Catholic themed headstone before a funeral and burial occurs and pre-arrange the installation of the memorial or grave marker in the cemetery in advance.

Preplanning your Catholic cemetery headstone, marker or monument should be as much a part of planning for end-of-life as a will, insurance policy, and cemetery and funeral directives. Rome Monument's Catholic Monument Plan TM gives you and your family the opportunity to get the exact monument design you want at the price you want to pay—all in advance of your passing. You also relieve your loved ones of the undue stress and financial responsibility that comes with delaying the monument creation process until after your death. 
As opposed to at-need monument planning, which cannot guarantee that the wishes of the deceased are expressed accurately, pre-need planning allows you to pre-design, pre-plan and pre-pay for a truly high quality monument in accordance with your wishes and the liturgical traditions of the Catholic Church.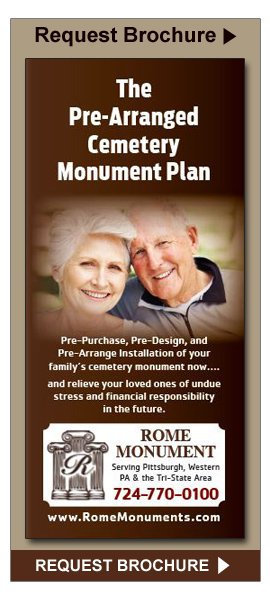 To learn more about pre-arranging your Catholic monument:   
 
The Catholic Monument Experts 
 
Since 1934, Rome Monument has been creating memorials and monuments for families of the Catholic religion in Pittsburgh, Allegheny County, and the Tri-State area including Western Pennsylvania, Ohio and West Virginia. Our exquisite Catholic memorial designs use traditional Catholic symbols, designs and imagery that are skillfully etched, engraved or sculpted onto cemetery markers, headstones, and monuments, including: flush, flat or lawn-level markers; raised and upright monuments; benches; even family and estate monuments planned for the entire family. The Cross, Jesus, Mother Mary, and angels have always been popular design choices through the years. 
How Your Plan Works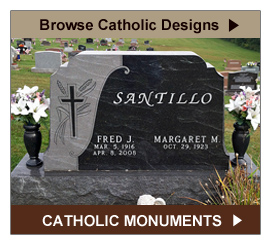 With the Catholic Monument Plan TM, you design, plan, and pay for the creation and installation of your monument prior to your passing. Everything can be completed now, or you can have the process done in stages.
1) First, you'll meet with one of our designers to discuss your options for Catholic memorial types and styles. Select from Rome Monument's exclusive Sealmark Rock of Ages granites or from our direct-from-quarry colors from around the world. —any size, shape, and color. Decisions on lettering, artwork, porcelain photos, and etched images are also finalized and included at no extra cost.
 
2) Next, our memorial artists create a
detailed CAD (computer-generated) drawing
that shows exactly what your finished monument will look like. We create as many drawings as necessary until you see one you absolutely love!  
3) Once the design is approved, our skilled artisans sculpt and carve the granite into the extraordinary monument you envisioned. Until notified to install it, we'll keep the monument safe and secure in our 30,000 square foot production and warehouse facility.
 
4) Finally, we deliver your monument to your local cemetery and install it with the same care and attention to detail that we've become known for.  
Benefits of Pre-Arranging Your Catholic Cemetery Monument
 
Interest Free Financing
Free Warehousing
Unlimited Text
Free Local Delivery
Perpetual Free Re-Setting
Free Warranty
Unlimited CAD Designs from Our In-House Artists
Direct-From-Manufacturer Pricing
Perpetual Trust Included with Rock of Ages Granites
100% of Your Funds Set Aside in a Price-Protected Account
No Middlemen: Your Memorial is Designed, Created and Installed by Rome Monument
Custom designed Catholic memorials with exclusive religious designs, artwork, and imagery 
Monument Installation Options

Select from one of four scheduling options below that best suits your needs and budget.
1) DESIGN NOW, CREATE & INSTALL LATER
Design & Select Stone
CAD Drawing Produced
Design Approved
Create & Install at Later Time
2) DESIGN & CREATE NOW, INSTALL LATER
Design & Select Stone
CAD Drawing Produced     
Design Approved
Create & Warehouse Monument
Install at Later Time
3) DESIGN NOW, CREATE NOW & INSTALL NOW
Design & Select Stone
CAD Drawing Produced     
Design Approved
Create Monument
Install Monument
4) PAY NOW, DESIGN, CREATE & INSTALL LATER
Arrange for payment in advance of any work on the monument.
Name Your Own Price
Tell us what you want to spend on your pre-arranged cemetery monument by naming your own price. We will provide you with the highest quality monument at the price you name by maximizing the grade of the granite, and the size and shape of the monument.  In addition, there is no extra charge for what goes on the face of the monument, including letters, artwork, inscriptions, etchings, and porcelain photos.
The cost of a monument is determined by:
1) Quality of Granite – the better the granite, the longer your monument will last and the less it will be affected by weather conditions, outdoor elements, etc.
2) Size of monument – this determines how much granite goes into the monument. Larger monuments require a granite base as well. 
3) Shape – Basic rectangular shapes will cost less than custom shapes that need to be sculpted. Some shapes, such as those of heart and angel-shaped monuments, are pre-cast and will cost less than custom shapes.
4) Artwork – Most monument companies charge for artwork, lettering, inscriptions, porcelain photos, and other elements that go on the face of your monument. At Rome, we do these at NO EXTRA COST to you.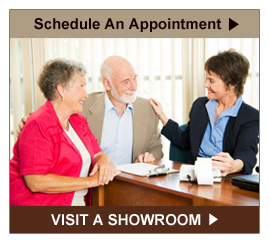 You Choose Your Payment Option
We make purchasing your monument easy! Only Rome Monument offers a no interest 24 or 36 month "Extended Payment Plan" for your pre-arranged cemetery monument. You can also choose to take care of all financial obligations by paying in full at the start of your project.  All money is held in a secure account, untouched by Rome Monument and for YOUR monument only, until the monument is installed.
How to Get Started on Your Catholic Monument Plan TM
Learn more about pre-arranging a Catholic cemetery monument by requesting a price estimate or brochure, scheduling a showroom visit, asking a question or contacting a designer. With just a click you can share images from our Design Gallery with family, or place an order online or by phone. We also offer many other cemetery monument services in Pittsburgh, Allegheny County, the Tri-State area including Pennsylvania, Ohio and West Virginia. These include free delivery and installation, memorial maintenance and on-site engraving. So make the call now to 724-770-0100. The consultation is free and we will be happy to answer all your questions. If you have other inquiries, email us at info@romemonuments.com.